Friday, March 1st, 2013
Hosting a dinner party? Got a few sample bottles that you've been meaning to taste for ages? Want to follow up an amateurish and inconclusive post on Grand Cru Chablis? A perfect storm for a blind tasting. The brief is simple: take a Chablis Villages, a Premier Cru, and a Grand Cru and see if there is a meaningful, that is to say pecuniarily justified, difference. All wines were from the 2010 vintage.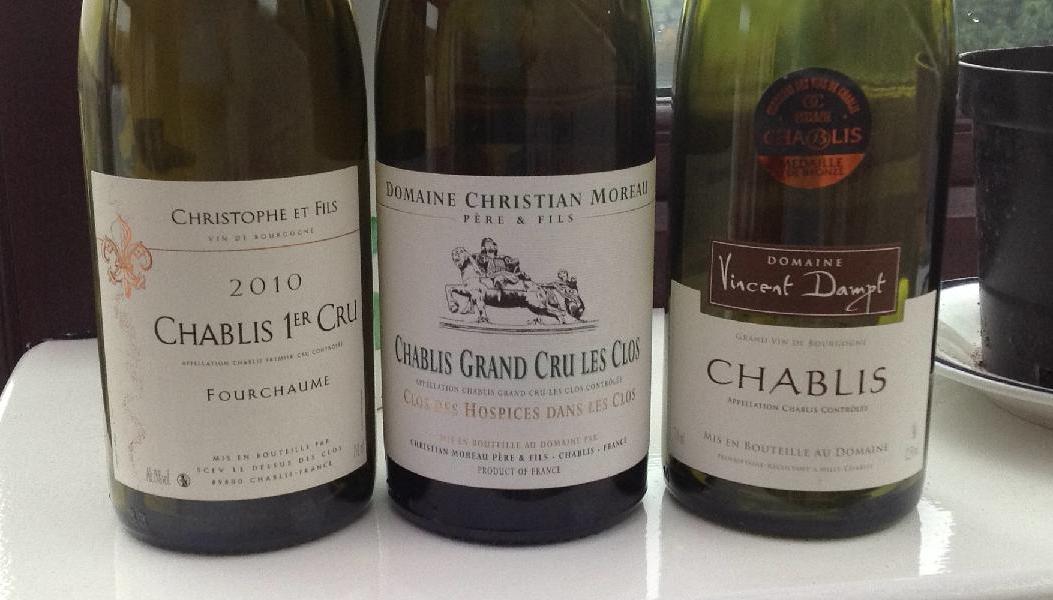 The bottles, elegantly disguised in blue carrier bags whose former contents were the meat for tonight's main course, looked like three prisoners in front of a firing squad. As the wino of the party, to be blunt, I could feel the rifles aiming in my direction. I was papping myself. Here are my notes in the order we tasted.
Wine 1: fruity but full bodied,very smooth and tastes well oaked. Not so much flinty steely pebbles as rich plummy apricot and honey. I'm guessing this is the GC
Wine 2: bit steelier but lovely acidity, not oaky. Grassy more than fruity and a little bit of afterburn in the throat. This is probably the Villages.
Wine 3: appley, some flint, quite rounded – I think this is the PC.
Wine 1 in the centre of the podium turned out to be Christian Moreau Chablis Grand Cru Les Clos, a deserved winner but at a price. Imported by Thorman Hunt & Co the RRP is £33.80.
Wine 2, on the right, is Vincent Dampt Chablis and a bronze medal winner which might explain the difficulty in differentiating it from the Premier Cru. Corney & Barrow do this at £13.95.
Wine 3 is the Premier Cru, this one a Christophe & Fils, Fourchaume that is imported by A & B Vintners and the RRP is £14.58.
The main conclusion to be drawn is that a blind tasting livens up a dinner party and focuses people's attention on the wine. It's a lot of fun. The consensus was that Grand Cru Chablis clearly stood out and is worth the extra for special occasions. Telling the difference between the Villages and the PC was very difficult and the scores were split, which is reflected in the close price range, to be fair.
So, that may be another amateurish analysis, but at least this time, it's conclusive.