In theory Dublin should be one of the best places in the world to eat shellfish, since Dublin Bay prawns and oysters are shipped far and wide.  Intrigued to see if the Irish kept any for themselves, I tracked down Ivan's in Howth (pronounced as in "hoe" not "how"), an offshoot from legendary fish and chip emporium Beshoff's that has been clogging Dubliners' arteries since 1913.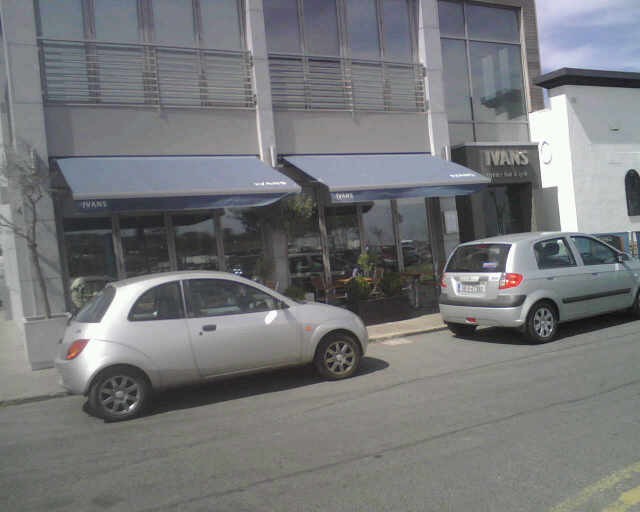 I visited Ivan's Oyster Bar and Grill on a plain Monday lunchtime towards the end of service but still had to book a table.  A bustling but airy bistro type place, it looked and felt (and smelt) exactly as a modern fish resto should, in my opinion.  Mostly hard surfaces, steel, wood, glass, ceramics gives it the clean feel necessary for getting busy with a range of almost live produce.  Simple table decor with plain but adequate eating irons and drinking vessels, the oyster bar and seafood shop next door wafting in the tempting aroma of fresh shellfish.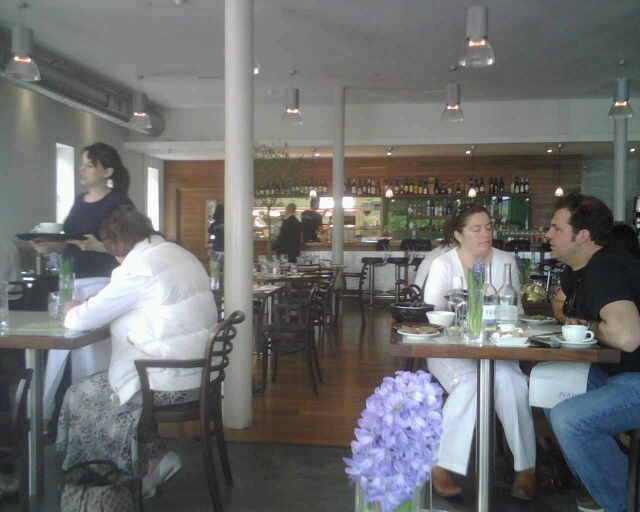 Our waiter was Hungarian and recommended that we visit Budapest, but not until we had sampled the local oysters.  The natives were out of season so being shipped in from the continent.  Clarenbridge Irish Rocks were still available and served with a choice of tabasco as standard.  I much prefer the milder green jalapeno version with oysters and the Hungarian agreed.  His knowledge of the provenance of the food was equalled only by his ability to navigate a steady bearing through the wine list.  I still regret not trying a light red wine with the sea bream with fennel and tomato dressing, but the Hungarian suggested it would be sailing a bit too close to the wind with the oysters, so I plumped for a Chablis, which is as safe with shellfish as staying in harbour.  Yawningly predictable but sure not to spoil my meal.
The oysters were chunky, salty, tasty and perfect.  I am not very familiar with sea bream which is why I chose it from the special menu.  It is not unlike sea bass, perhaps a little more delicate in texture, if not flavour.  It was pan fried to perfection
The safety net was by Domaine des Chenevières.  Chablis 2006 Frédéric Gueguen – predictably flinty and bone dry but with lemongrass and peachy notes and something a little tangy like champagne without the butter.  The finish was much shorter, though, than the aperitif (Veuve Clicquot).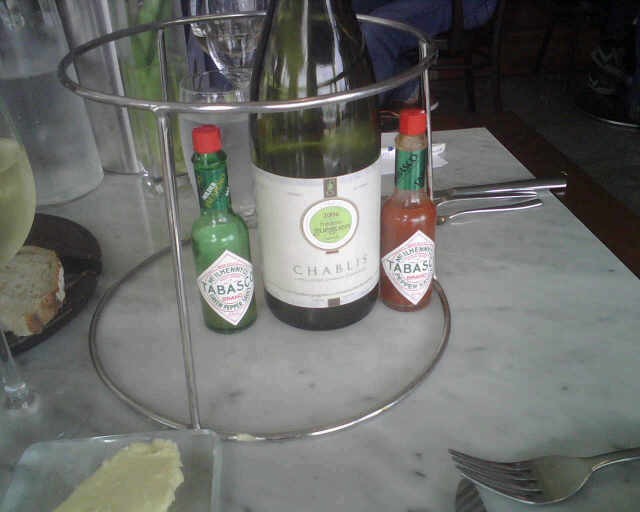 The cheese course (Irish and French) came with a glass of Muscat de Rivesaltes 2006.  Violets, white honey, sweet grapey flavours – perfect accompaniment.
The bill for three excluding service was a very reasonable €181.  A few months ago I might even have described this as quite cheap, but with the recent rise of the euro, us Brits are wincing a little when we travel the Eurozone.
To me, a good meal is one that I am still enjoying several hours later.  I write this Monday evening and the various complementary flavours continue to reverberate around my mouth and constitution like an echo in a quarry.  Digesting food is the new eating!
I so wanted to write the headline Ivan's the terrible.  But nothing is further from the truth.
Ivan's Oyster Bar and Grill, 17-18 West Pier, Howth, Co. Dublin, ROI.
T:Â  +353 (0)1 839 0285
E:  info@ivans.ie  W:  www.ivans.ie