Thursday, February 14th, 2013
Drinkable white wine at less than a tenner a bottle is getting harder to find. What if you are sick of Echo Falls, Gallo, and Jacob's Creek? What is the thinking man's oenological WAG?
From the country that is rapidly becoming the home of football, white Riojas made from Viura, Malvasia and Verdejo grapes are a good starting point, especially from a price perspective. I visited Marqués de Riscal in 2008 and was impressed by the quality of the prevailing base white wine, especially scoffed with highest quality Pata Negra cured pork. Technically this white is not from Rioja but the nearby Rueda region bit it shares all the typical features of its cousin.
Pleasantly surprised to find it at Majestic for only £6.49 I reached into the fridge for some Sainsbury's "Taste The Difference" chorizo Ibérico Bellota and unscrewed the cap.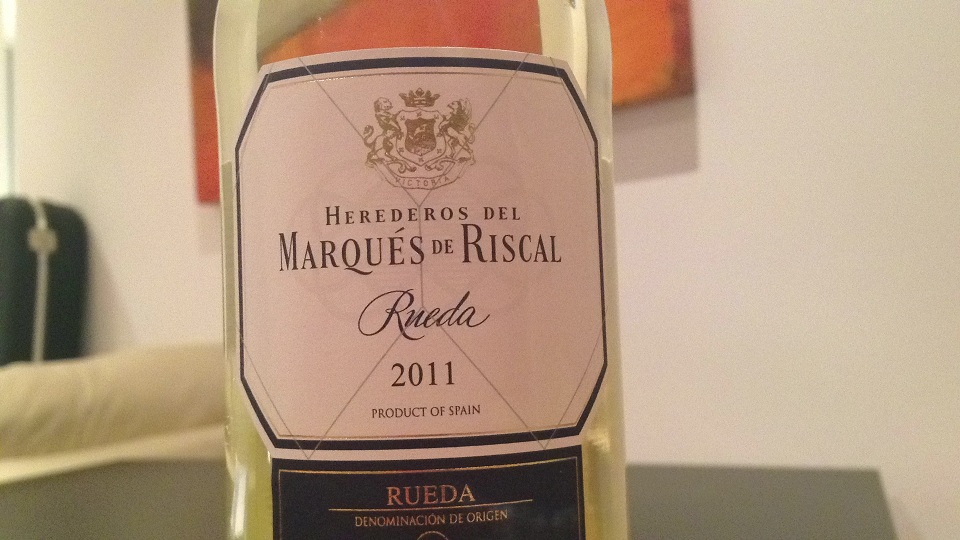 This Verdejo tastes a tad Thai: Dill, lemongrass, ginger and a touch of chilli mark out the corners of the pitch. The goalposts are stacked, not from jumpers, but pink grapefruit husks.
Fruity, fresh and refreshing, it's no wonder white Riojas are so often seen as house wines in London restaurants and frequently present the best value on the list. If you are the Thai bride of a Spanish footballer playing in England, take note.