Located in the trendy bustle of West Village New York, this place is the very representation of the feel of the area, in that it is trendy and bustling. Or, if you prefer, loud and packed with too many people.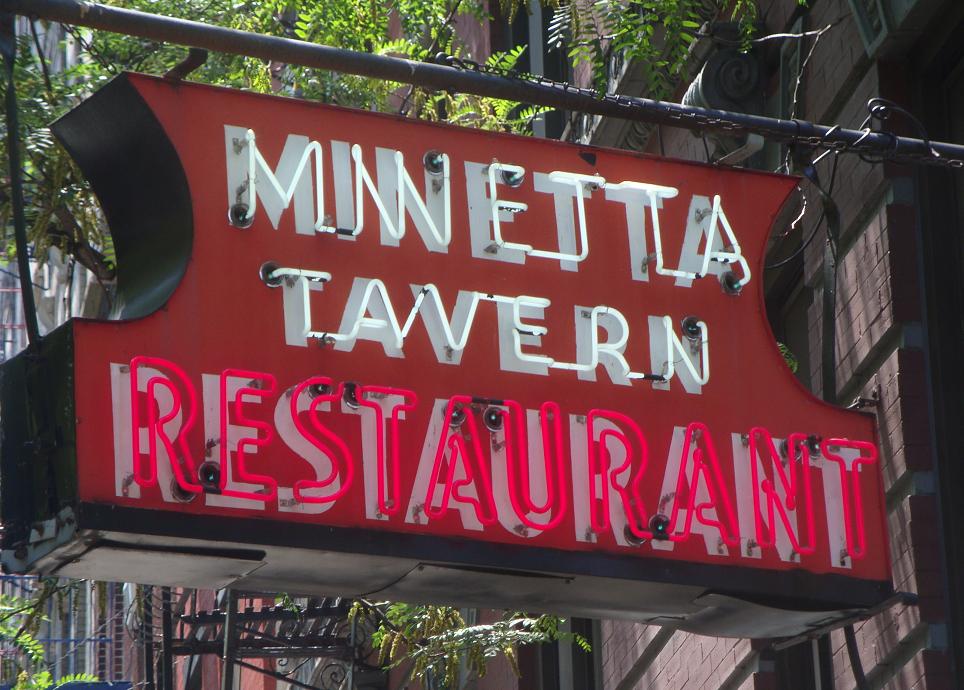 It's not just people that are crammed. Tables are less than 2 inches apart in the long line twosome area that we occupied, which has two distinct effects: Firstly, going to the loo requires a military operation that would probably challenge a crack team of US Navy SEALs. We saw numerous accidents including one frustrated guy who needed his steak replacing after it benefited from an impromptu and unwelcome red wine sauce.
The second effect is more social. In fact it IS socialising, the very act of speaking to your neighbours. We were packed into the sardine tin so tightly that we involved ourselves in the lives of our neighbours' neighbours, which slowed the table turning, much to the frustration of the seating lady who prowled and scowled until intimidation got the better of the wine induced bravado and diners one by one (well, two by two to be precise) capitulated and fled to Noah's taxi home.
My starter was seafood sausage – anaemic oceanic filling inside a real pork sausage skin, browned.  What's the opposite of pulchritude?  But it tasted amazing – A bit of Heston style genius.  Something that looks like one thing and tastes of another.  In this case a luscious combination of seafood squelch and porky sizzle.
Less successful was my bone-in New York Strip which was only half eaten due to the inconsistency of the meat.  Half the steak was feather pillow, but the other, ageing mattress.
Our new found dining pals from Nebraska (on the left) and Manhattan (on the right) were both fondly reminiscing about bygone years "before the bean counters took over the tavern". I empathise. AÂ bit more attention to giving the customer room to breathe. A little less intimidating prowling to turn the tables. A spot more focus on the raw ingredients as well as the gastronomic invention. A tad more subservience to VFM. Then I would be back soon.
Mind you, our nouveau Manhattan buddies were the ones that tipped us off that the best place for live music in the whole of New York, and possibly the coolest venue to hang out in the entire world is Rockwood on Allen and Houston. And for that alone, I would like to thank Minetta Tavern's table policy.
Minetta Tavern
113 MacDougal St
New York, NY 10012
T: +1 212-475-3850
W: Â www.minettatavernny.com