I woke up with the sweetest hangover.  The type that brings hazy memories of the day before.  Not caused by alcohol.  Oh no, something far more important.  Football.
But, one has to eat, and drink, and get on with life so, in anticipation of victory, I had booked us into Barbecoa, Jamie Oliver's new venture in Cheapside in the City.  And as a hangover cures go, you could do worse than select from the "Bites" menu.  The mountain of bread with home made butter was as filling as it was delicious.  A "portion" of pork crackling (£4) was large enough to serve 16 Northern beer drinkers based on the size of pub bags when I was a nipper.  And needless to say the flavour and crunch was in a new class, (but I am known as a bit of a porker).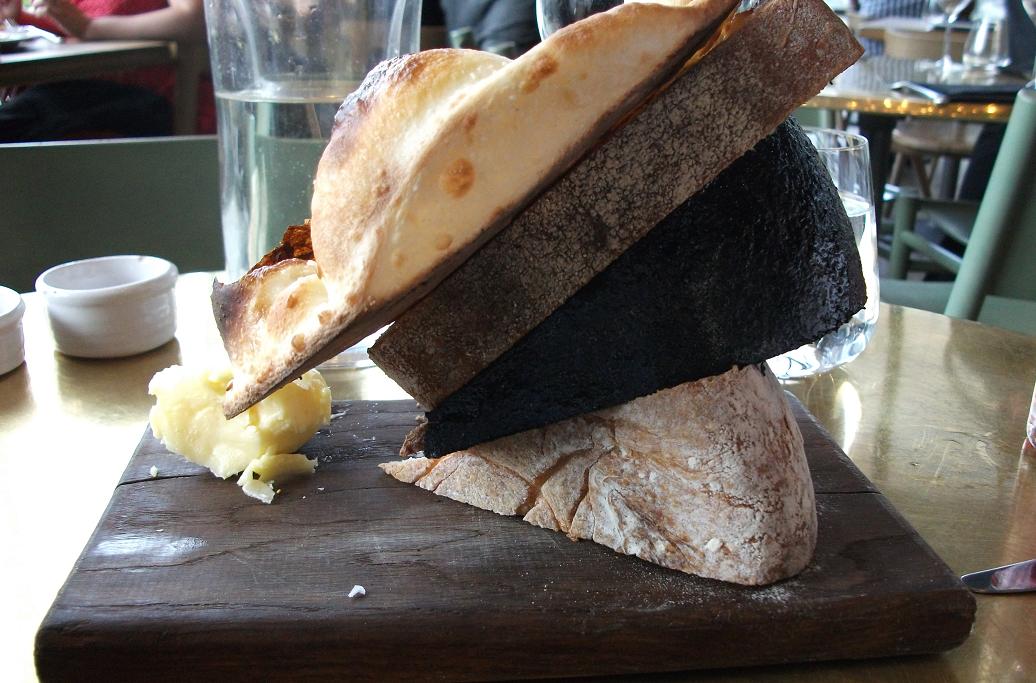 Talking of City, we wall-papered a certain team from Trafford (1-0).  City's first FA Cup final for 30 years deserved celebrating in style.  What a sight!  A 40,000 strong army of sky blue doing the 'Poznan'.  40,000 empty seats where United fans once sat humbled.  10,000 bemused neutrals realising that the FA Cup actually meant something oop North.  Wembley was an all too rare suburb of the Republic of Manchester.
And what a view on Sunday!  On entering Barbecoa, the first impression is of a well run, solid, and substantial restaurant, albeit with a bar that feels a little too small for the overall footprint.  Quickly forgotten, as the main window looks out on the eastern elevation of St Paul's Cathedral.  You might have to visit Galvin @ Windows or 40|30 to get a better perspective from your London dining table.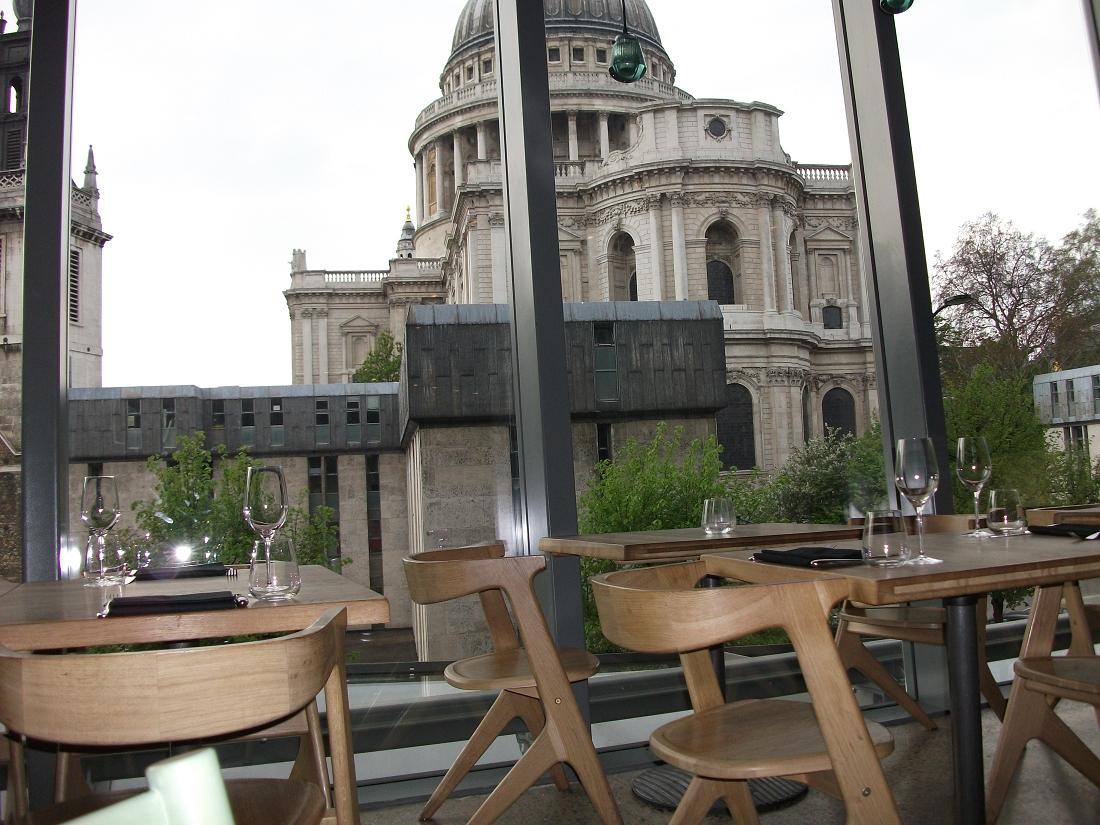 Despite being in the City, an aperitif glass of Billecart-Salmon champagne, at £11, was a fair priced way to celebrate.  So I had two.
Shown to our brass topped table by an impossibly smily waitress, I found myself playing roulette with the perfectly weighted knife that for a minimum of effort would rotate smoothly for several 'hours' in a posh version of spin the bottle.  I lost, and had to fund the bill (£178 inc service).  I was dying for English asparagus and heard it was out early.  Adam Perry Lang, the chef and joint patron, empathised but was not prepared to serve poor shoots and leave (he told me via Twitter).  By the time you read this, he may have found the quality he seeks.
Barbecoa is a meat focussed venue.  Chicken, pork, beef and lamb with an odd fish special.  Sourcing from a "butchers downstairs" this seems a genuine attempt at delivering quality, rather than sleb chefs cashing in.
I matched my champagne to oysters to start.  I matched my Lussac-St. Emilion to a rare rump.  The red wine, as ever, was served way too warm, but 10 minutes in an ice bucket didn't seem to upset anyone, least of all the wine.
Oysters were plump as promised, and tasty, but not easy to free from their shells and dress with no eating irons. Â Also, green Tabasco would be a nice addition.
Steak was rare as promised, but I probably should have ordered it blue, if it is possible to cook a picaña so.  Hawksmoor and Goodman maybe won't be shaking in their boots just yet, but it was tender and full flavoured and wouldn't have been totally out of place in a line-up against such esteemed competition.
Our waitress seemed a little cautious, for no reason.  Best service I have had in months.  The food is also excellent although, apart from the steak, a little over-seasoned in places for me.  A tad too much olive oil, a pat too much butter, a shake too much salt.  But, this place has inherited Jamie's infectious enthusiasm for people, as much as olive oil, and it is hard not to love it just for that.
There is a pretty good wine list which is reasonably marked up.  I found the Château La Claymore 2007 at Oxford Wine Co for £14.99 which implies a mark-up of almost exactly 200%, which is almost exactly the norm for London and way off the eye-watering gross margins demanded of you by Gaucho Grills, for example.
The final total was pretty reasonable for an alcohol stained, stomach bursting meal.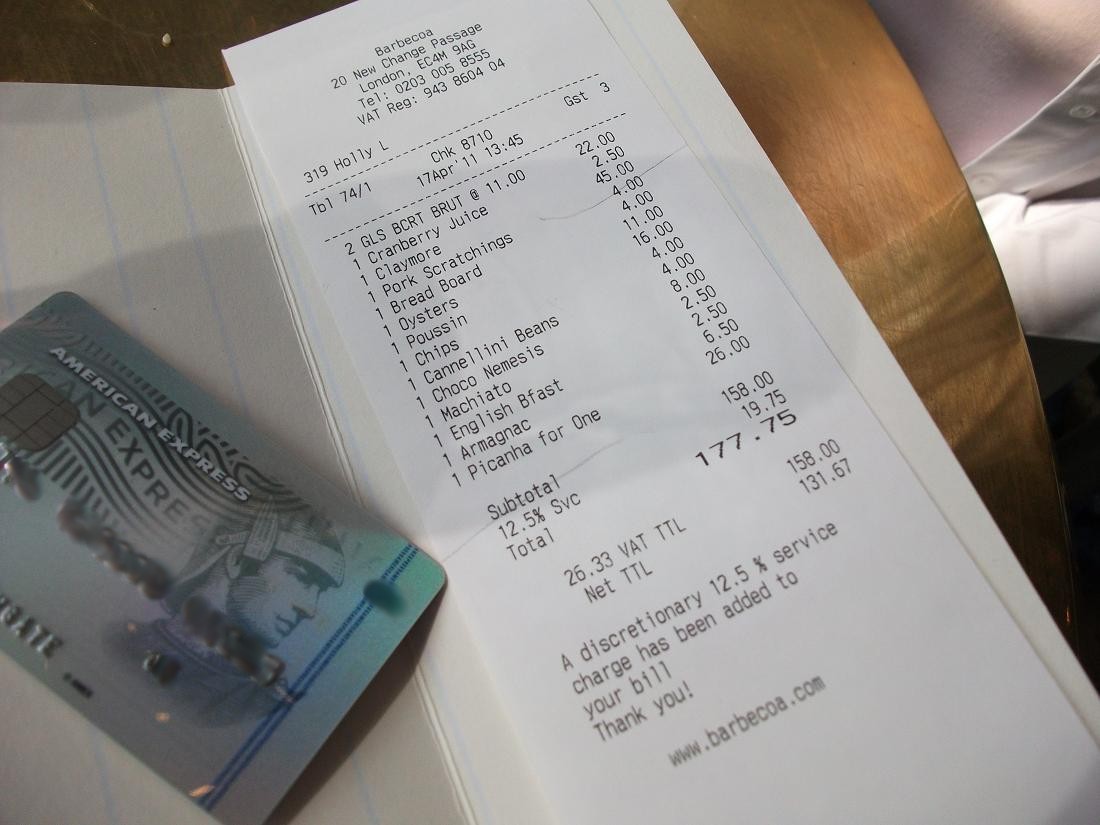 I will definitely be back.  And did I mention the view?
Barbecoa
20, New Change Passage
London
EC4M 9AG
T: +44 203 005 8555
W:Â  www.barbecoa.com