In a very twee part of London, where, in more controversial political times Tone used to live, lies a pub. Â I wonder if this was a New Labour den at some point.
Keeping my lefty tendencies to one side, (I dress to the left), I booked through Opentable and consumed a pre-match meal. Â The glorious Man City made their first Wembley visit since 1999. I made my first visit to Islington since Morgan M's in 2008.
The Drapers Arms has a decent array of beers, a pretty and well priced wine list, and a menu that people of my age can read without glasses, which is all too rare. A bottle of 2009 Brouilly was excellent value at £31, and once given 10 minutes in an ice bucket was very drinkable. After only 10 minutes it was turned from flabby Bazooka Joe bubblegum to tight candy foam teeth and who wouldn't prefer the teeth?  But, why serve Beaujolais at 25 degrees in the first place?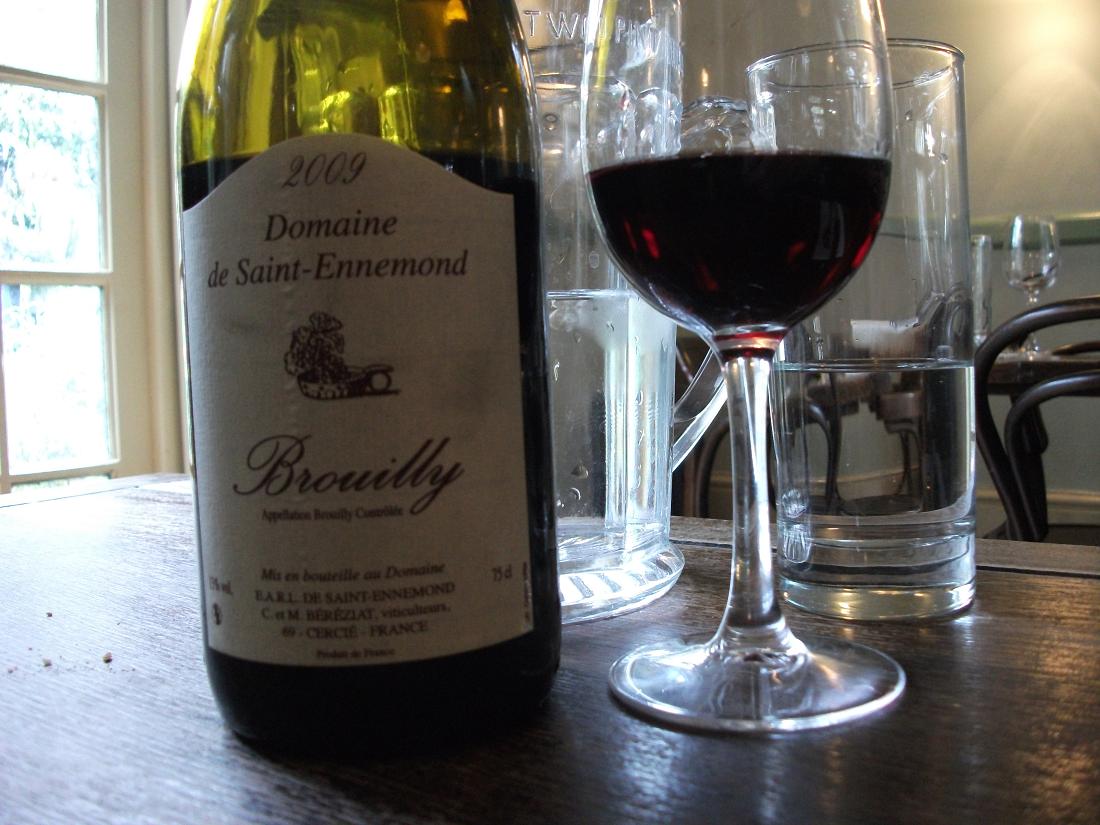 Four ducks* and 5 snails died in the making of my excellent starter served with apple type salad thingy with dressing almost as good as my own. The taste of the duck hearts was somewhere between pig's kidneys and heaven, and the snails consistency somewhere between jellied eels and rubber johnnies. An almost perfect dish. *Ok don't worry, I only got the hearts. Come to think of it, does anyone know how many hearts a duck has? I did see on answers.com a question asking how many legs a wild duck has.  Maybe my question is that dumb.
A shared main course of braised whole Guinea Fowl made for a grand spectacle and flavour, but was a little bit dry to be honest. The veg and new potatoes made up for that slight disappointment. Served altogether with a gravy, or maybe "jus", on a huge Willow Pattern platter, it took me straight back to Terence Conran's Habitat of the seventies. In fact the whole decor is a bit Old Skool and very user friendly, especially the secret garden seats which, on the day we visited, the sunniest day of April so far, were coveted by the entire elite of North London.
The desserts were mostly alcoholic which didn't please tee-total Fred. I ignored her and enjoyed a surprisingly Italian macchiato and a good French Armagnac, while a cup of English Breakfast prepared her for the game.
Our waiter knew a lot about beer and recommended a truly brilliant, fruity, hoppy, caramelly pint of Sambrook's Wandle, which, apart from Fullers, is the best London brewed ale I have ever tasted. He knew less about food.  Are the new potatoes Jersey Royals? "Not sure, but they are excellent". Wine was also an issue. Is the Beaujolais served slightly chilled? "I don't know, probably not".  Digestifs brought another interesting conversation. What Armagnacs do you have? Comes back with a bottle of Janneau VSOP. "How would you like it?". I wondered for moment and trying to sound as un-sarcastic as possible, asked if I could have it in a glass. "Oh! I wasn't sure if you wanted it in your Macchiato!" Very nice guy, though, as were ALL the staff, and I would come again for service and ambience alone.
Did City win? You will have to read my next post to find out.
Would I recommend Drapers Arms? Yes!  I wish I had a local like this. Charming and friendly with good food, tasty beers, interesting wines and lots of yummy mummies. The place reminds me of girlfriends from my yoof: Good looking, ample, ever so slightly bonkers, but in many ways friendly and adorable with very kissable lips.
The Draper's Arms
Barnsbury St
London
N1 1ER
T: +44 20 7619 0348
W:Â  www.thedrapersarms.com