Do you prefer penguins or skateboarders?  Personally I am a penguin man, although this caused a bit of controversy when I reviewed Hawksmoor.  I did, though, fall in love with the beef.  But, having revelled in Hawksmoor's meat, I felt obliged to sample what most London foodies consider to be the competition in the steak stakes, Goodman.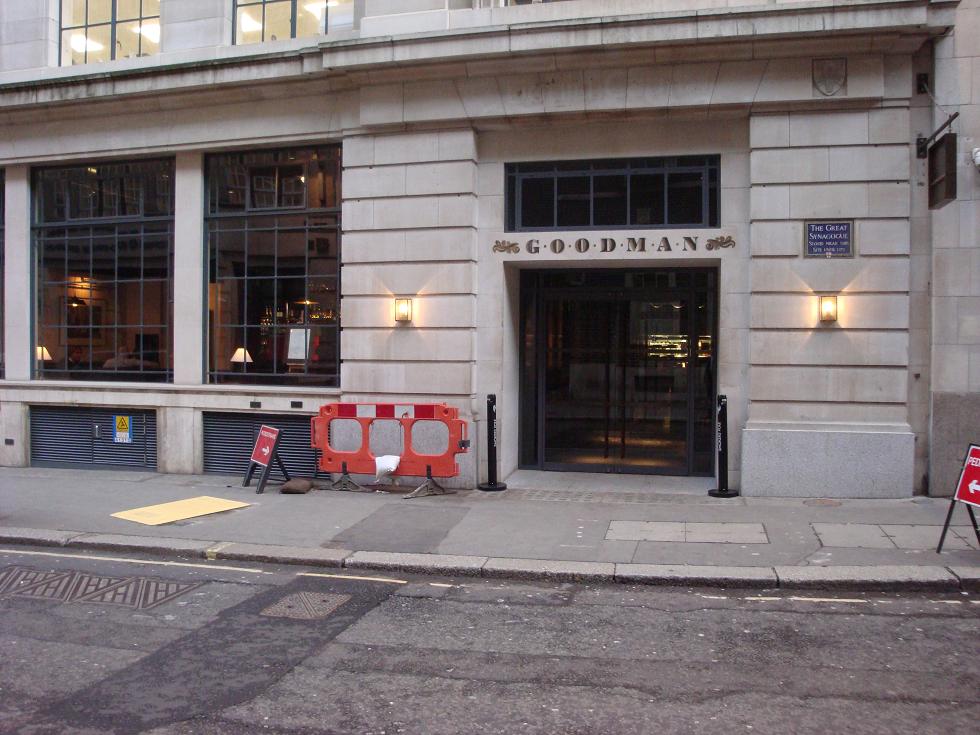 Most of the menu was USDA Angus beef on the day I visited.  Makes the mouth water, but dries the wallet.  In removing the pounds from your purse, however, it secretly gives them all back firmly (or probably not so) to your paunch.
I chose half a kilo of meat – a bone-in dry aged sirloin, @ £31.25 plus sides, water and wine.  The full bill was £95.34 including service (12.5%) and VAT (20%) for one course and one bottle, not even a coffee – quite a thump for a singleton.  But I would still argue it was good value if you can afford to sever an arm once in a while.
The meat was juicy yet jiggly, firm yet yielding, ripe yet mature, pinky yet perky.  Like an experienced stripper's tits, only more tasty (or so I've heard).
One of the cheapest wines, Catena Malbec 2008 at £38 is a markup of about 230% against Waitrose's retail price of £11.39.  Typical for Mars and London but if anyone in Manchester or Leeds tried to get away with it, they would get a sharp rap on the testicles.  However, nowhere near the eye-watering Gaucho Grill markups.
The usual #WART argument ensued as I asked for an ice bucket.  The waitress very politely told me that people complain if they serve reds any cooler than room temp (which felt like about 25 degrees to me), and therein lies the problem.  How can restaurants ignore their customers, even when they are ill informed?  "In Argentina they normally serve this at 16, so I'd like it a little cooler please," I bluffed.  The closest I've been to Argentina was seeing Evita about 20 years ago.  Anyway, I got my way without distress and the wine was ok too, but didn't go with the steak.  Maybe something a little softer next time.
The overall verdict vs. Hawksmoor?  Well, on Goodman's downside, by the end of the meal, I wished I had ordered English mustard, rather than French, and the Malbec's bitterness clashed with the juicy tender sirloin.  However, they were my choices.  What was really dire was the bland 1950's big band crooners music.  I thought I was stuck in a Brief Encounter on Bank station.
I didn't even notice the music at Hawksmoor, maybe there wasn't any, or maybe it was agreeable and discreet, unlike the service uniforms.
But these are small complaints.  Both places are equally excellent on food.  If Hawksmoor waiters dressed up, and if Goodman's music dressed down I would be happy if I dined and died at either place, when my time has come (if only my bank manager or inheritance tax planner would allow)…
Goodman, City
11 Old Jewry St
London
EC2R 8DU
T: 0207 600 8220
W:Â  www.goodmanrestaurants.com