The prevailing wealth of rich winter spices is a constant reminder that we are less than a stock market "correction" away from Christmas.  I love seasonal spicy tea blends but this year's Fortnum & Mason was a bit of a dog compared to last year's Harvey Nichols' hot stock.
The wine equivalent may well be Château D'Aiguilhe 2005, Côtes de Castillon.  This Merlot dominated Bordeaux blend is spicier than an investment banker's underpants the morning after splashing the year end bonus on a (high class) Indian meal.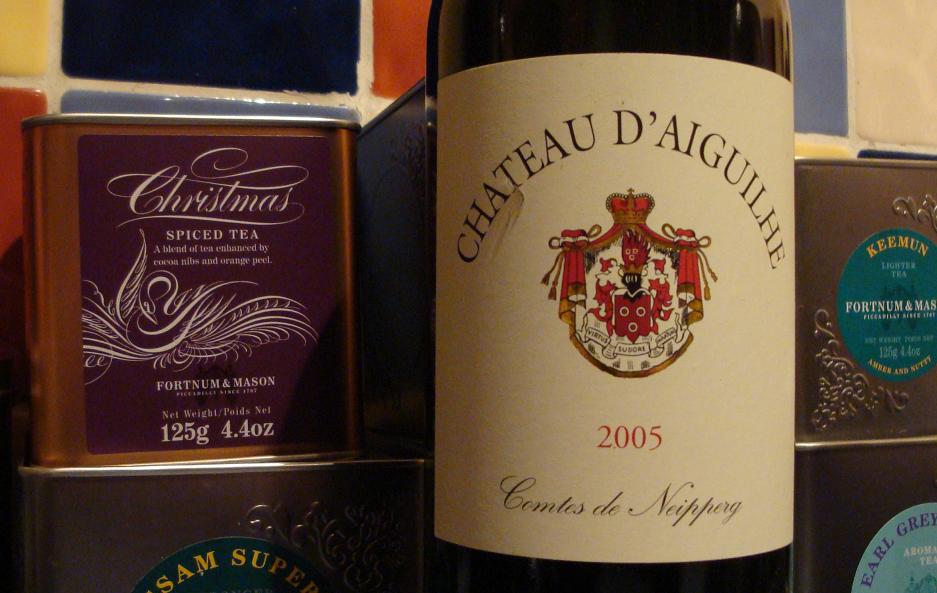 Plums, star anise, cinnamon and candied peel make for a winter warmer that is richer than Fred "the shred" Goodwin.  There is also a touch of wet cake mix which is probably an indication that the wine should be stored a bit longer – but why wait?  Drink it with spicy pasta and Alistair Darling.
I got mine from the Sunday Times Wine Club where it was a far from cheap £19.49 per bottle.  However, it is out of stock so I guess you will have to look somewhere else.  If you can find it at 20 quid (EUR20, USD20) or less I would buy some.  I've got half a case salted away in my Combine Harvester.
If you are fortunate enough to have fleeced RBS for a £703,000 (USD703,000, EUR703,000) annual pension, you should probably buy all the Aiguilhe available on the market.  I predict it will treble in price by 2020 which is the drink by date (and coincidentally my prediction for the end of the recession).