I was at Sam's Chop House in Manchester earlier this week.  Pat and Martin were kind enough to chip in and buy me a decent bottle of wine in memory of my birthday.  One from the year of my birth and reduced by an impressive £50 from the normal price.
Riojanas Monte Real Reserva 1964 had a dodgy cork, took an age to decant and was served too warm for me (about 23 degrees – I would serve at 18).  But it is probably the oldest wine I have ever drunk, so I was intrigued.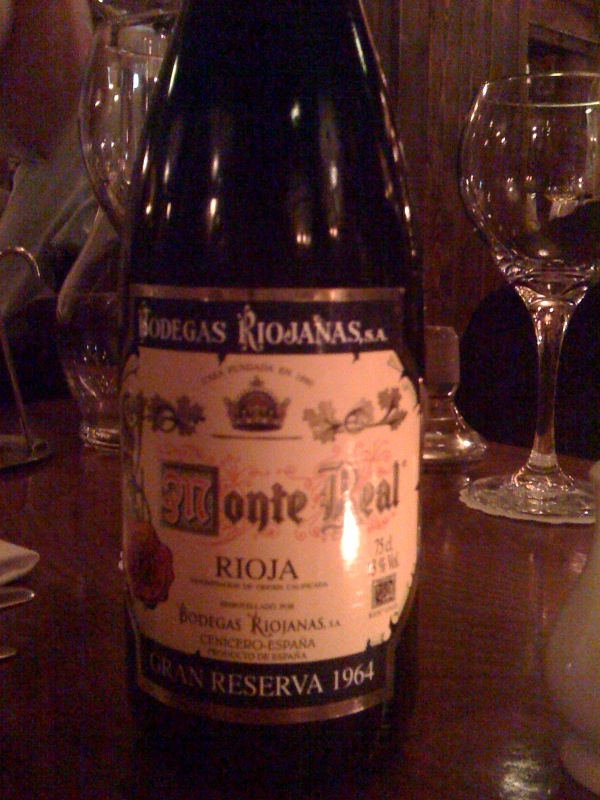 I expected a wine this old to be tawny, oxidised and slightly porty.  In fact it was very fresh, fruity and well structured.
Pat said it was smooth on first sip and then left a super rich finish.  I thought it tasted of wet Xmas cake mix, juniper berries and soft plums.  Simply gorgeous and plucked from one of the best years in all of history.
I didn't have my camera with me.  I was not expecting the surprise so apologies for the crap picture taken on my iPhone, otherwise known as my "i" on the basis of its telephone capabilities.
Okay, if you must know the wine was £99 and worth every penny.  Oh, and it went perfectly with my usual main course of Sam's legendary corned beef hash.