At some point in your life, birthdays stop being beacons shining light on a promising future and instead become lamp posts illuminating yesterday's gloomy streets.  A time to look back longingly at your youth and wonder what might have happened if you hadn't bought that Ford Escort with the faulty brakes, or kissed that fat bird with dentures behind the bike sheds at school.
But the lacerations eventually healed and I was able once again to enjoy eating the sweets of my generation without the nightmare of that mousetrap snog to haunt my tongue.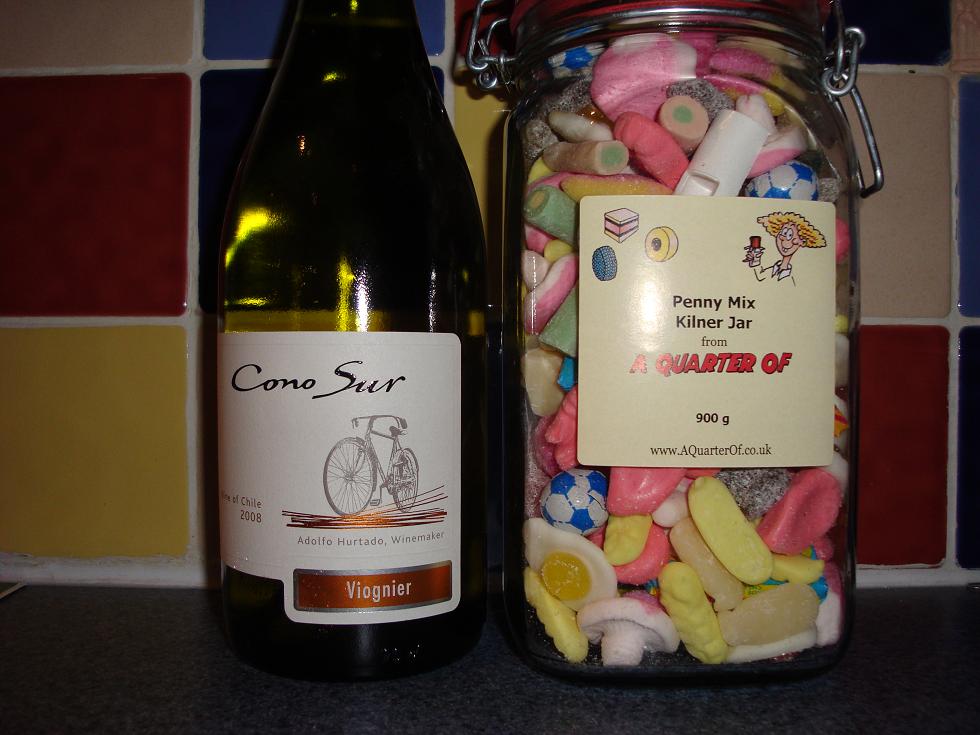 For my birthday this year, my bestest present was a jar of retro sweets:  Pineapple chunks, foam bananas, chocolate footballs, cola bottles, and even fruit salads and black jacks – all the flavours that I regularly taste in wine.
But for dinner it is an Indian takeaway and I reckon Viognier might be a good match.  I was at my local Majestic recently sharing tales of woe about over production in New Zealand in 2008, and exploring the possibility that Sauvignon Blanc might this year go the same way Chardonnay did a few years back - as popular as a white farmer at a Zanu-PF rally .  So I asked the store guy what he thought would be the next big grape.  "Viognier".  I admire his optimism but I can't see muggles taking to a grape so difficult to pronounce.  Nonetheless, he did succeed in selling me a couple of bottles including this Cono Sur 2008.
Smelling of honeysuckle, Parma violet and straw and with sticky sweet undertones of jam sponge pudding with custard in the mouth – maybe just a note of Planters Dry Roast Peanuts.  Like most Cono Sur wines I have tried, this one is well worth a go.  Cono Sur is one of the rare wine "brands" that I trust.  Majestic £6.99.  Waitrose £6.64.
I am 45 today – Happy Birthday to me!