I was going to title this post "Give me a Thai five".  There are at least that many restaurants of the genre in Manchester.  I love Chaopharaya, the offshoot of the Leeds original.  But that only opened recently.  The longest serving Thai dates from 1985.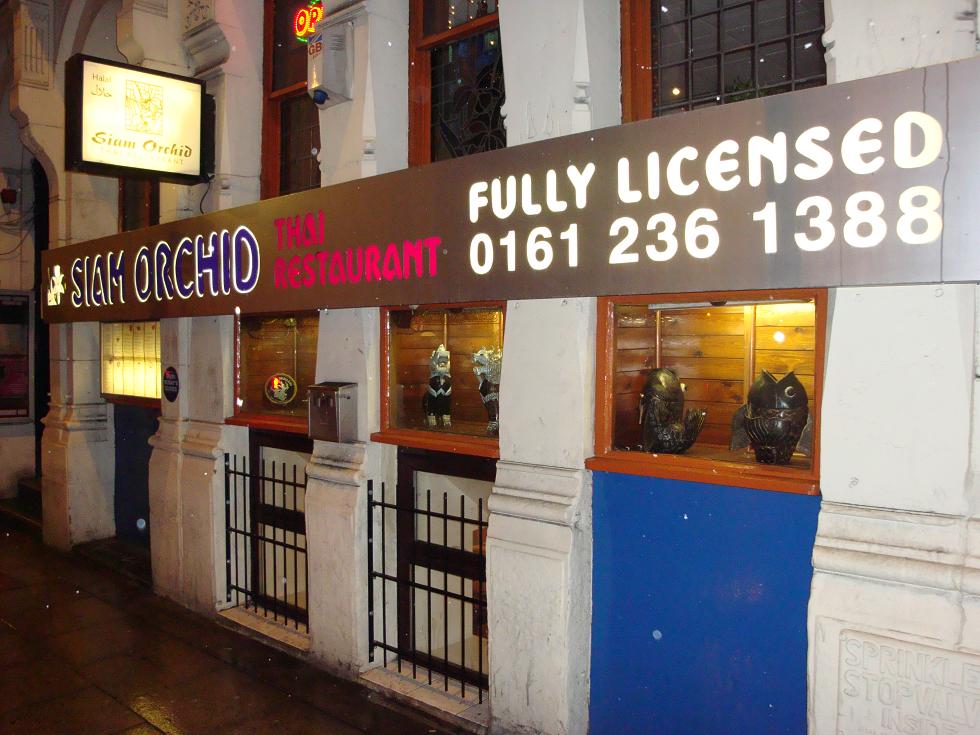 On a snowy February evening, we received a warm welcome and some superb scram.  As a lover of Thai food I am ashamed that it took me 24 years to pay my first visit to Siam Orchid.
The £18 set menu provided starters of wanton wonton, numerous spring rolls, and I give credit to the crunchy prawn crackers with various dips, but the star was chicken satay.  Skewered, spiced, oiled and grilled to soft juicy perfection, dipping these meat javelins into satay sauce that didn't immediately bring peanut butter to mind was the first time I have really enjoyed this dish.
The main courses of chilli beef, pork in garlic, and mild Thai Muslim chicken curry were all pretty good (perhaps the pork was a little chewy and bland), but I doubt we managed to eat half of the course.  The set banquet for two would challenge Ricky Hatton on one of his notorious between fight binges, with a post hunger strike Johnny Vegas in tow.
No room for dessert, then.  Off into the midwinter snow, deep and crisp and even, with plenty of fuel in our stretched bellies.
As we trotted past, I wondered if trade has been hit by the recent success of Red Chilli almost next door.  Don't wait until that place is too full as an excuse to visit Siam Orchid.  This place deserves a visit in its own right.
Siam Orchid, 54 Portland St, Manchester. M1 4QU
Restaurant: +44 (0)161 236 1388
Karaoke Bar: +44 (0)161 236 4773