Dr Thaksin sent me a text message (at his expense) with a personal invite to meet him in Albert Square after the Man City game against Valencia.
Man City invites a European team over at the start of every season for the "Thomas Cook" trophy.  Some would say that this is the only chance we get to watch any European football and I have sympathy with that view.  Valencia were the opponents on this occasion.
City lined up in a 4-4-2 formation, a welcome change to the dire 4-5-1 inspired home performances of last season that resulted in only 10 goals all season.  However, even as pre-season friendlies go, this turned out to be amongst the most non-eventful.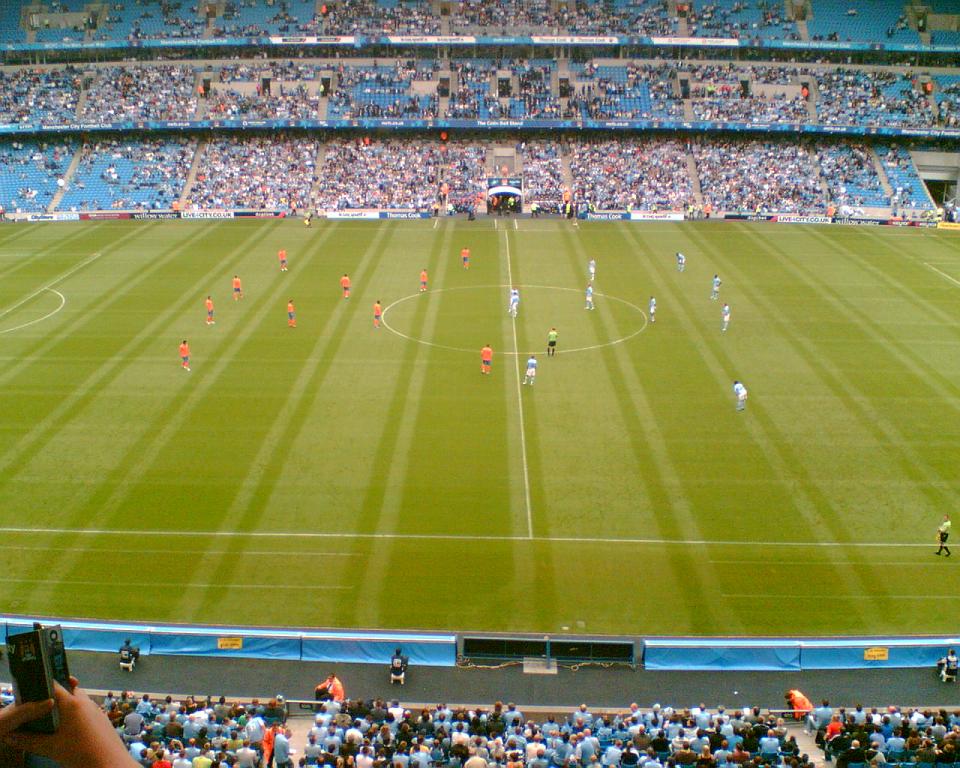 There were less substitutes than one might have expected from a Sven-Goran Eriksson friendly and most of the changes came from Valencia.  The pick of our new players for me were Geovanni and Gelson Fernandes.  I also liked Bianchi who rattled one header against the bar.  Petrov on the left wing looked a little sterile but I think he will improve.  We looked like a team that was getting to know each other – no surprise with four new signings in the last 3 days!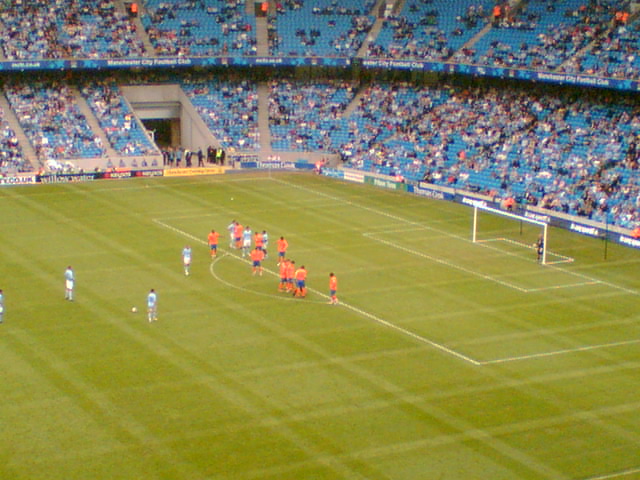 I know friendlies often lack atmosphere but there was really nothing to cheer about here.  So maybe the post match "event" was going to be the best part of the day?  We were told to expect free Thai entertainment, free Thai food, and I thought there might be some freed Thai prisoners.  Fred thought there might be a demonstration involving some ping pong balls and razor blades but I doubted that Manchester City Council would have endorsed this.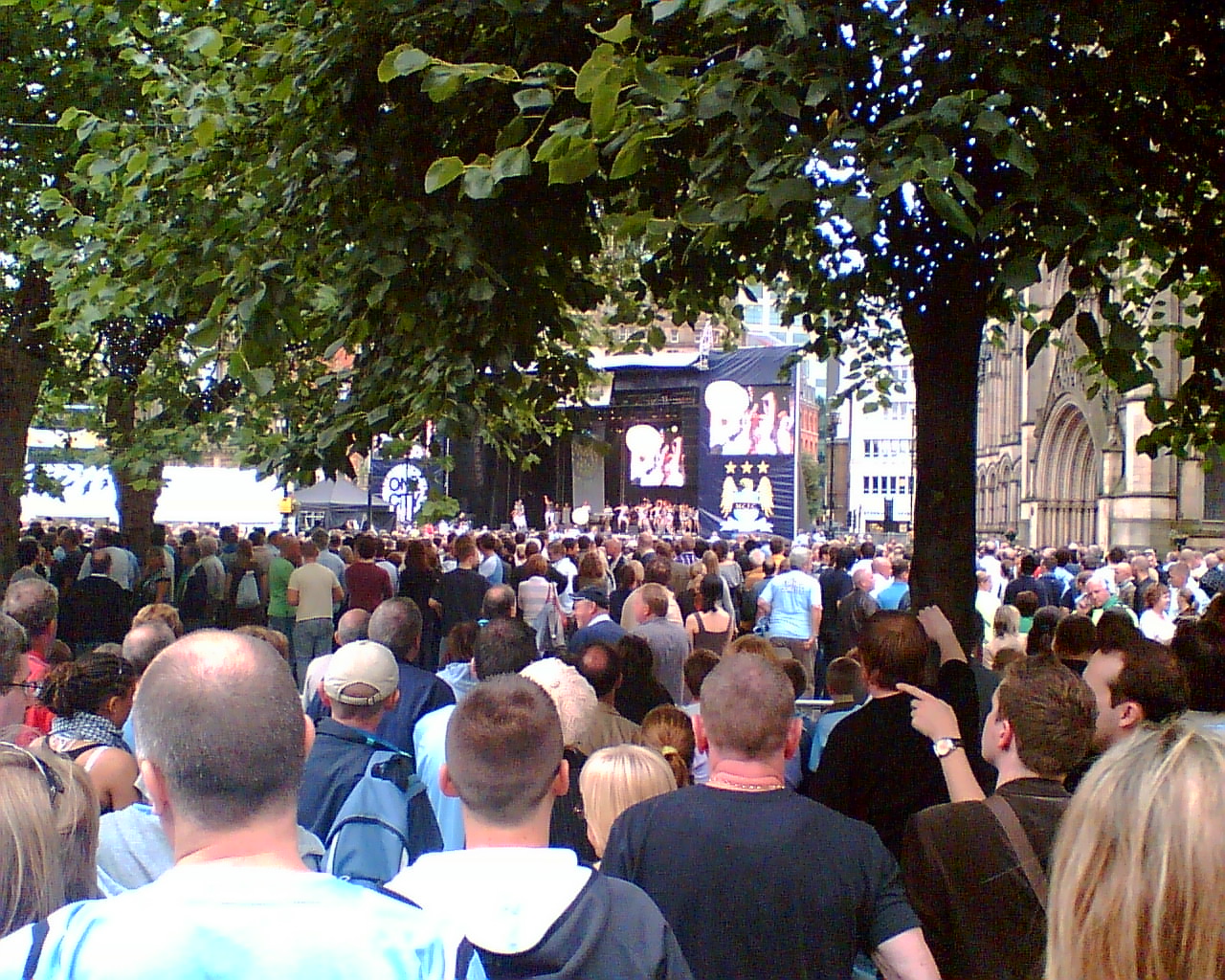 It turned out to be a bit of a farce really.  In a way, I object to the grandiose former Thai PM welcoming me to my home city.  In any case the queues for the food went right round the square and the entertainment was lining up to be a bit drab.  After some silver dressed folk did a bit of a dance, a bloke in a suit came on stage, who turned out to be the compere.  As he suddenly, and without warning, launched into the opening bars of some Elvis Presley standard we were already running for our favourite Thai restaurant:  Chaophraya, which had to be better than Albert Square Karaoke.
We discovered Chaophraya in Leeds and after astonishing success there, they opened a Manchester branch, just above another of my favourite places, Sam's Chop House.  Only one word to describe Chaophraya – beautiful.  Beautiful staff, beautiful environment, beautiful food, beautifully served and even the bill, at less than £60 for two including a bottle of wine, looked beautiful to me.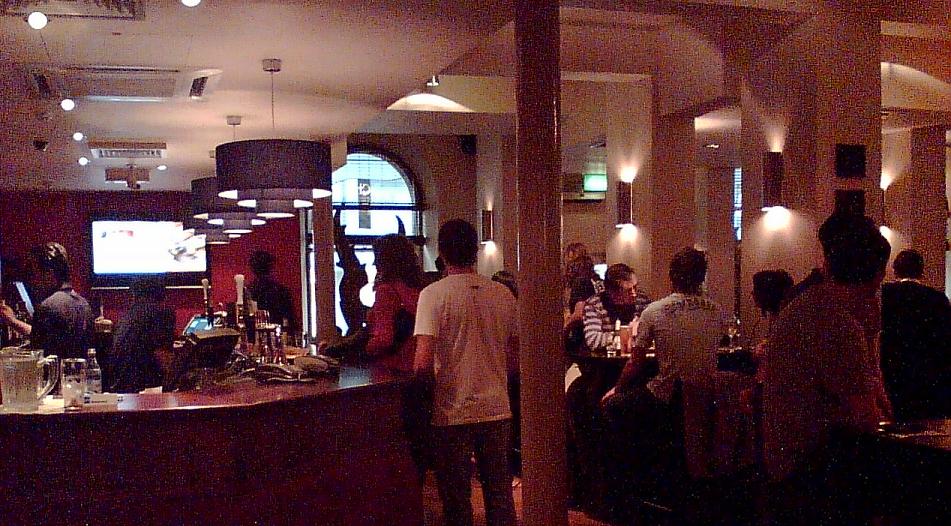 As I had chosen the steamed sea bass with lemongrass, fresh garlic, chilli and lime (a simple but simply perfect dish) I ordered a bottle of Avondale Estate Sauvignon Blanc 2005 at £19.50.  This displayed a grassy nose with hints of lemon and a slight zing to it.  The predominant flavour was of gooseberry with citrus undertones.  Went superbly with the Nueng Ma Now.
My starter had been the delightfully named Moo Yang which turned out to be pork ribs on bamboo skewers marinated in honey and coriander root.  Yum yum.
If you like Thai food you will not find a better dining experience than Chaophraya.  By every measure (and especially VFM) it scores every time.  Let's hope Man City's strikers make it a regular haunt.
Chaophraya, Chapel Walks (Above Sams Chop House), Off Cross Street, Manchester, M2 1HN.  T: 0161 832 8342.  E:  Manchester@chaophraya.co.uk  W:  www.chaophraya.co.uk