If you want to dine in a beautifully preserved piece of British Victorian architecture.  If you want to eat traditional English grub like fish 'n' chips, corned beef hash and steak and kidney pudding.  If you want to be served by professional, traditionally dressed, polite and informed waiting staff.  And if you want to do this with a cracking fine wine list to choose from, there is only one place to go.  Sam's Chop House in Manchester.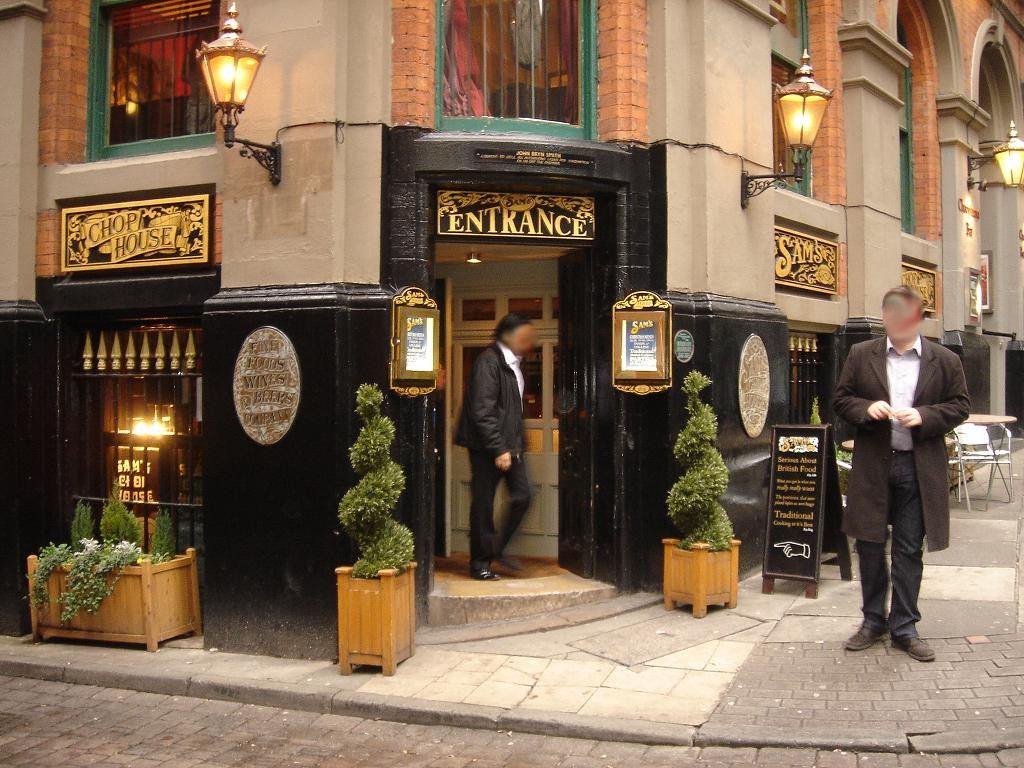 Victorian Chop Houses were places where businessmen carved out deals whilst their hosts served grilled meats accompanied by flagons of ale and bottles of fine wine.  Sam's Chop House is unique in maintaining this tradition.  Er well, except there is Mr Thomas' Chop House just round the corner but this is owned by the same people.  And there is a new Sam's Chop House in Leeds but this is a newly converted building and as Sam's pointed out, only the second branch in over 130 years.  The original Sam's has a history as a chop house dating back to 1872.
There is a lunchtime pecking order in the dining room at Sam's as I discovered when doing some business with a Manchester bank.  The best tables are reserved for regulars, the cream of the cream being a discreet booth that seemed unattainable to a simple northern boy like me.  Steve (from the bank) and I competed for the right to book that table and failed miserably until one day we lunched together and the booth was available and we sat down smiling like Cheshire cats.  Actually it was a bit of a disappointment since it is so discreet that getting service is nigh on impossible.
Back to today's visit and we sat with the good, but not the great on this occasion.  First task is to select something to drink.  Whilst the wine list is comprehensive and covers the world well (and I thought I saw some wines from out of this world), there are always bin-ends tempting the adventurous.  Being an experimentor by nature I was tempted by the Meursault Vielles Vignes 2000 Paul Garaudet.  Familiar aromas of paint stripper arose from the glass.  The sommelier agreed that the wine was spoiled and promptly brought another which was a gorgeous colour for only seven years old.  Butterscotch mousse with a hint of lemon – top notch.
The wine complemented well enough the main course of corn-fed chicken and tarragon with truffle oil and sherry vinegar, green beans mushroom and spinach.  A well constructed dish but one that is not typical of Sam's by virtue of being a bit too fussy and modern.  On previous visits I have tried corned beef hash, steak and kidney pudding, fish & chips and mushy peas, pan-fried calves liver and mash and, of course, honey & mustard glazed pork chop.  All of which are afforded much care, attention and love.  You can imagine the chef thinking twice before letting his creations leave the kitchen only to be destroyed by the customers' eating irons.
Some call it comfort food.  I just enjoy eating it, and finding wines from the enormous list that perfectly match the variety of dishes is one of the most intriguing and fun parts of eating at Sam's, which is probably why I am a regular. But I can't wax lyrical about a place without finding some fault.  The macchiato was awful – stick to simple filter coffee.
In summary, Victorian British inspired food, classy wines, traditional service, great dining room – I am in heaven when I am in Sam's.
Sam's Chop House, Chapel Walks, Manchester, M2 1HN. T: +44(0)161 834 3210 F: +44 (0)161 839 0042.
E: sams@thevictorianchophousecompany.com
W: http://samsmanchester.thevictorianchophousecompany.com