The papers here in the UK seem to be turning against Mark Hughes, embattled manager of my beloved Manchester City.  His honeymoon period as "the most promising young English football manager" is over with a lunar bump that lacks any sweetness.
The Sunday Times for example alerts Hughes to the fact he is "skating on thin ice".  The latest defeat at home by an injury depleted Everton squad has once again placed the media spotlight on him.  After all, a mentally anguished Roy Keane recently fell on his sword at Sunderland because they were languishing in the under-achieving position of bottom quarter of the table – equal on points with Man City.
It gives me only bitterness to gloat that I thought Hughes the wrong choice way back in June (before he had even been appointed).  But like all good Man City fans, I keep sailing the dinghy of naive optimism through the rough and tough waters of the Premiership perfect storm of despair.  One has to make the best of now, look to the future, place the past in perspective, believe that tomorrow will be another day (if it ever comes).  However, silver linings are increasingly less related to football, and more to do with other facets of my life.  My latest glint of sunlight peeped from behind the clouds of the top end of my wine collection, ironically squirrelled away at the bottom of my wine store.
The Charmes-Chambertin came from the Wine Society at an obscure price due to bundling a few Rousseaux together into a Burgundy Dividend offering, but I am advised the retail price (if you can find the wine at all)Â is about GBP50 – that's nearly EUR50, or USD25Â at current exchange rates, so it is held under lock and key in the Wino household.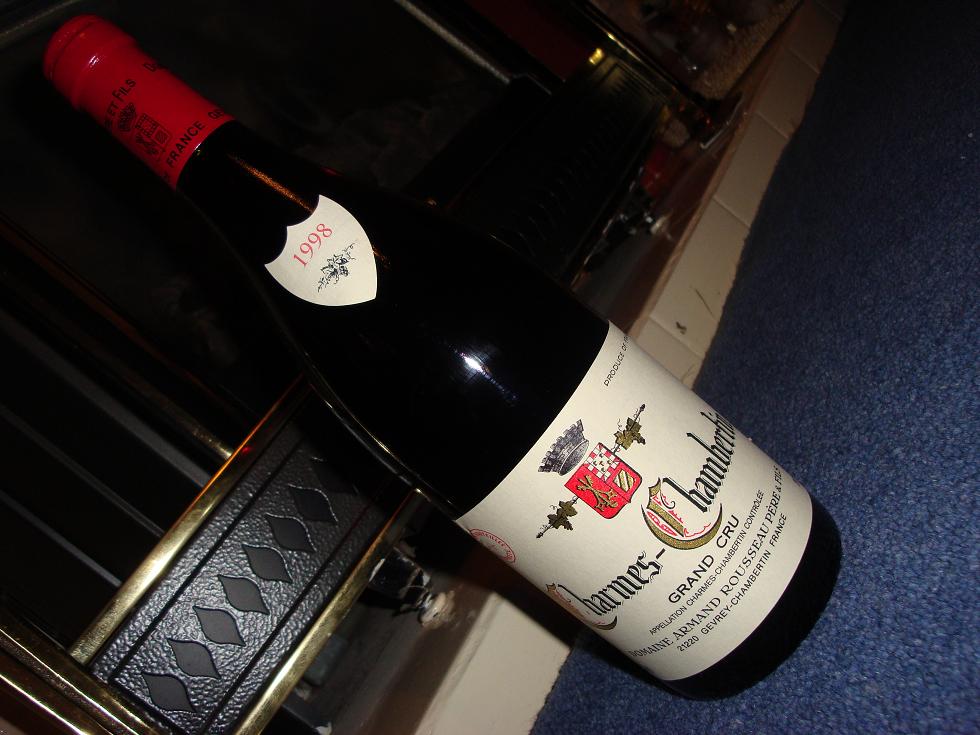 Armand Rousseau is one the classiest and sought after domaines in Burgundy.  This 1998 Grand Cru Charmes-Chambertin has a classic barnyard aroma although perhaps a few violets have started growing out of the chicken run.  To me it tasted of strawberries, blueberry muffin, smoky dark brown sugar and vanilla custard.  Super fab, but not quite as good as the 1996 I tried a few months ago.  There is a bit of zing but altogether much smoother than a typical NZ Pinot.
A lovely wine but is it worth three times the price of its Antipodean counterpart, though?  I am not sure.
This is one of the problems with sacking Mark Hughes.  Who knows if the next man will do any better, and if the money it would cost could be better invested in players.  It is ironic that Mark Hughes made his name in management through disciplinarian battling with limited resources, and sheer determination.  Maybe he has put Man City in the position where that is the only way out of our current crisis, and that makes him the ideal person for the job.  But I can't help wondering if Sven's style of management might have got more out of our prima donna players, especially the Brazilians who are renowned for preferring hot South American summers to bleak and freezing English winters.
Then again, it would befit Manchester City's chequered history to be the richest club ever to get relegated and that could be a source of new found pride amongst the fantastically well-humoured, albeit long suffering, city fans.