This could well be one of the most expensive bottles of wine I have drunk.  I bought half a dozen Rousseaux from the Wine Society for nearly £300 which compared to my average bottle price of £5 to £10, was a breathtaking purchase decision.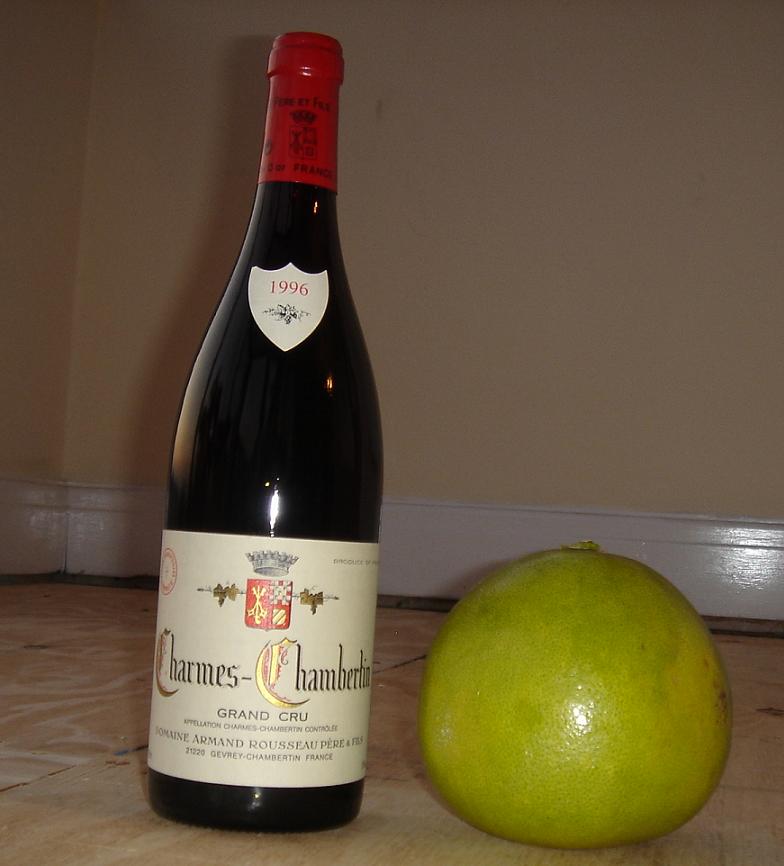 I was persuaded by the Wine Society's mention of the proper prices of the wines on offer.  I have to say that my experience of the Wine Society is that the prices are very competitive.  My mate, Alban, is a Frenchman who ships a few bottles to friends in the UK and claims he can get the best value in France.  He once offered me a Jaboulet Aîné Hermitage La Chapelle for about twice the price the of Wine Society.  Since Alban was close to the market price I can only assume that the Wine Society had laid some down and forgotten how much it had appreciated in value.  Such is the advantage of being part of a non-profit making members club!
Anyway, this Armand Rousseau Charmes-Chambertin Grand Cru 1996 according to the Wine Society, was worth £90 (approx US$ 4,500 at current exchange rates).  When opened, there was a little smokiness and pungent cabbage.  Fortunately this quickly gave way to strawberry flan with cinnamon and nutmeg.  Super smooth, plummy (in a refined way) and with a super long finish.  An excellent wine but not worth £90.
Don't get me wrong.  I drank the wine whilst eating a decent steak, and if served correctly, I might pay a decent amount for the wine.  But no more than £85 under any circumstance 😉
If you can get yourself a bottle of this wine at less than that, just sell the family silver and buy it.
The other bottles in the case were from later Charmes vintages, and I can't wait to try them (in due course, of course)…..  I'll keep you posted.