Amongst the dark satanic mills of Halifax, West Yorkshire, there are indeed some green and pleasant pastures, and nestling in the hills we found Shibden Mill Inn.  We once stopped for a quick Sunday lunch on a walking expedition and vowed to go back.  On 1 March, Fred had just picked up a brand new Mini Cooper, so a drive out to somewhere remote seemed appropriate.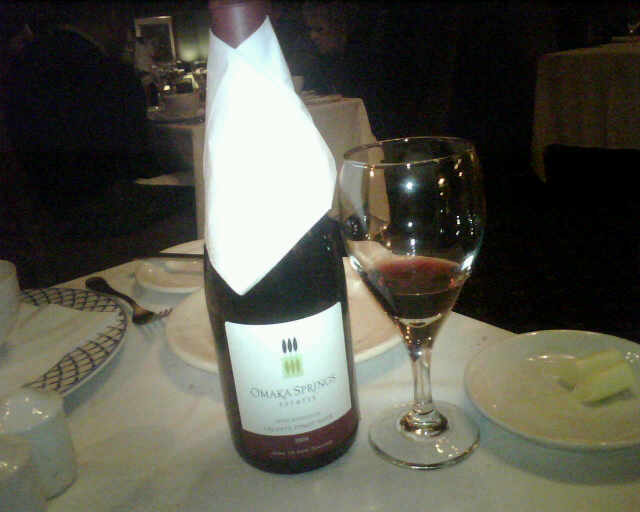 It was comfortable and relaxed and smooth with nice seats and ambient lighting, and so was the resto.  On arrival a terrible pint of Guinness in the bar.  We were then shown upstairs to our table.  I have to say I was sorry to leave the bustling and lively bar area with convivial chat and people who looked like they were really enjoying their food.
My food was great – a leek and potato soup that was more like a cappuccino.  Confit of duck, well done (as I prefer it).  A range of Yorkshire cheeses – all well served.  There was a mix up with Fred's meal (see below) which was a bit disappointing as it could have been avoided by a simple conversation between the waiter and the chef.
The wine list was super and good value.  I selected a NZ Pinot Noir from the Connoisseur Selection at £22.95.  According to this article I found online, the RSP is £9.99 which makes the mark-up a reasonable 230%.    Omaka Springs Estate, Falvey's Pinot Noir was a winner for me.  It tasted of raspberries growing out of compost and had a distinct mushroom finish.
I couldn't resist a second dip into the wine bins with a Chilean dessert wine made from Sauvignon Blanc – possibly the last grape I would have expected.  Morande Late Harvest from the Casablanca Valley was extraordinary with paw paw, honey, candied fruits, magnolia on the nose.  To the pallet Ribena and parma violets, physalis and honeysuckle.  Very unusual but matched the cheese superbly.
The first floor restaurant tried to give the impression that it was fine dining and at first it succeeded, but it let itself down in a few key details:
The waiter had no wine knowledge and no sommelier was offered.
The wine was served very very warm – I had to ask for an ice bucket.
Being allergic, Fred asked if there was any onion in the risotto and was unequivocally told no by the waiter.  In fact when it arrived it had alliumitis and had to be rejected.
I had to ask for a fork for my cheese course.
But these are all minor details that might worry you at The Wolseley, but, in a Yorkshire pub, are probably unreasonable to criticise.  So perhaps Shibden Mill Inn should stick to being a Yorkshire Pub, because it is a cracking one.  Good beers (please learn to pour Guinness though), great wine list, superb food.  I will be going back regularly but eating in the ground floor bar – more my station many would argue.  Just as Yorkshire gastro-pub dining should be.
Picture below is from the pub website, in real life it looks even nicer in the evening but I would still recommend the bar.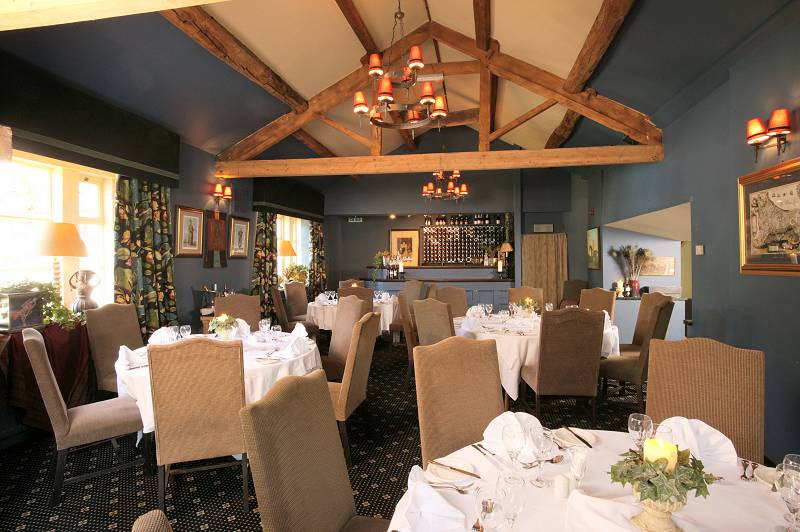 Shibden Mill Inn, Shibden Mill Fold, Shibden, HALIFAX, West Yorkshire. HX3 7UL.
T: +44 (0)1422 365840 F: +44 (0)1422 362971
E: enquiries@shibdenmillinn.com
W: www.shibdenmillinn.com.