There are occasional tiny slivers, splinters of darkness in my life, that give me a sharp reminder of what I am giving up for my work.  It's not that I resent it, entirely my own choice after all.  When I started the company in 2001, I went in with my eyes open.  I realised it would mean sacrifices.
This afternoon I took my 10 year old god-daughter to see Man City.  The look of delight on her face when City beat Spurs 2-1 was matched only by my relief at the end of an awful run of games that had put us on a snake track slithering down the league table.
Kellie came over from Dublin for the weekend with her sisters, Rebecca and Chloe – all gorgeous girls, well behaved, entertaining, polite, model children.  Kellie is obviously my favourite and she is the footie fan, tomboy, fitness fanatic, make-up-rejecting bundle of energy.
And now they have all gone and I am alone in the flat.  It's strange how lonely you can feel when sudden mayhem is suddenly replaced by a sudden quantum of solace.
So to cheer me up, apart from consoling myself that City are back on the ladder of success, I have dragged out my notes from a bottle of Shampoo I sampled last weekend.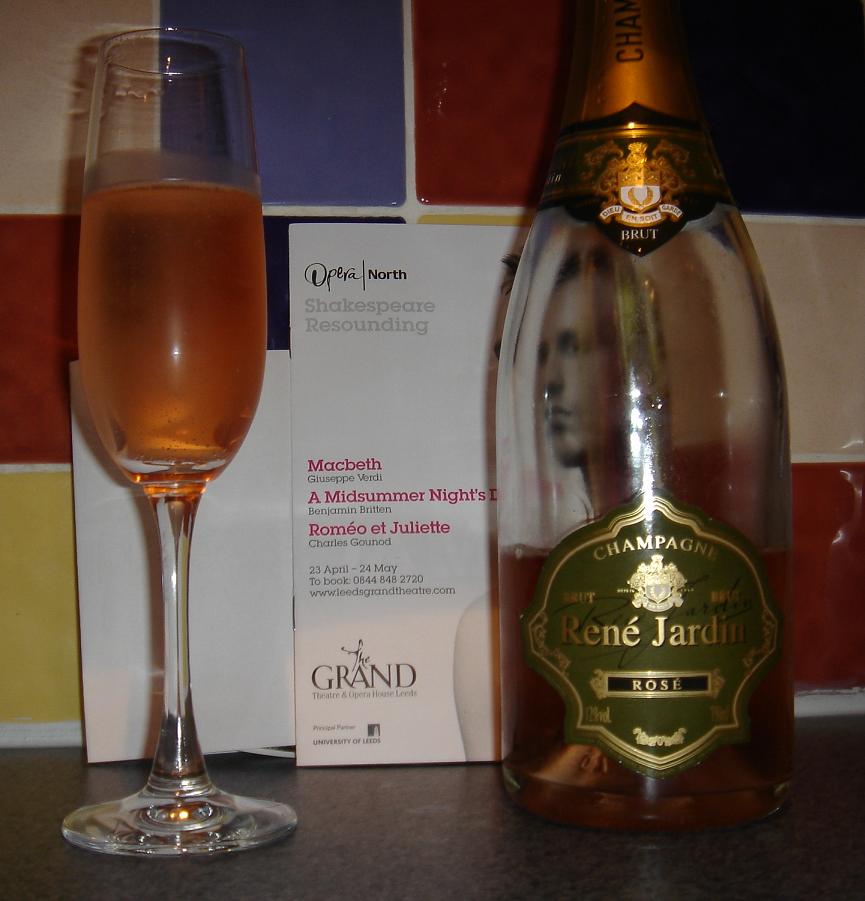 The Sunday Times Wine Club had a dubious looking offer of three bottles of Champagne for £45.  You can imagine the sort of ropey sparkling wine you could get stiffed with by accepting such an offer.  I thought I came out if it rather well, with a bottle of Pol Roger, this René Jardin rosé, and another bottle I can't remember and will look up when I get back home.
So let me say that rosé is not my favourite champagne.  After all the tinge of rouge is reminiscent of Trafford Wanderers who play at The Swamp.  And like Fergie, this wine was a little insipid.  Strawberries & cream and a touch of cassis.  A bit like a Kir Royale served to the prawn sandwich brigade.
And like the atmosphere at Old Trafford it did not inspire my team.  Nicely shaped bubbles but lank wine.  Left me feeling a bit flat, like seeing United beat City.  Fortunately Man City are the only club to take 6 points from wine expert, Alex Ferguson, this season.  He must be feeling as sick as a parrot.  But not as sick as if he had drunk a couple of bottles of René Jardin rosé…..or just said goodbye to Kellie.