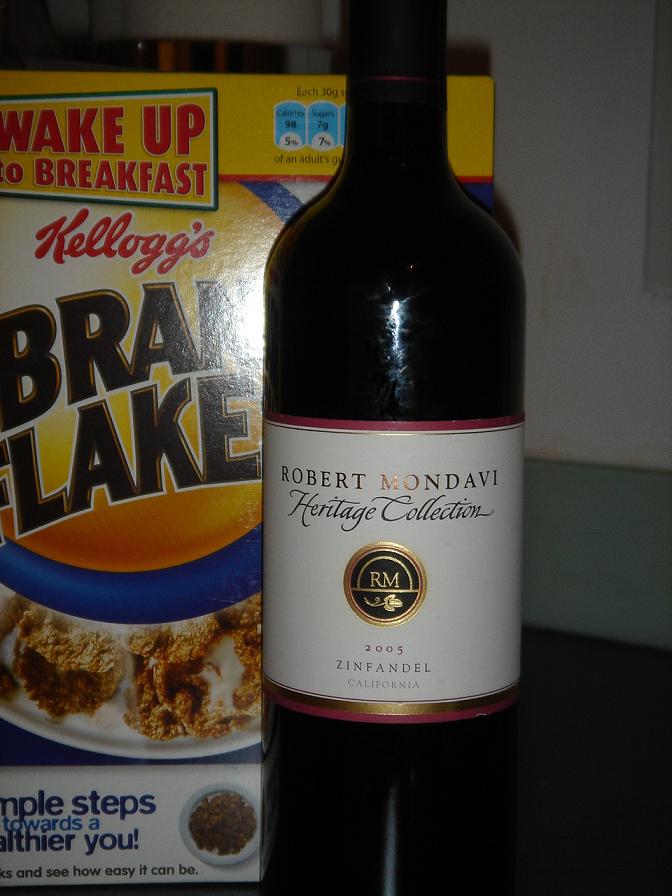 I've been a bit healthier than usual recently.  Walking up mountains in Switzerland; exercising on my cross trainer at home; eating lots of fresh fruit; cutting down on fried food; and even eating Bran Flakes.
I used to think that Bran Flakes were disgusting but, like a lot of things in life, you grow into them as you get older.  Olives, oysters, snails, mustard and Armagnac were all off my list until at least my thirties but now I love them, (not sure I will ever pick up a taste for anchovies though).
You may recall the last time I tried a Zinfandel, it was awful.
So I wonder if Zin is one of the things I will grow into after a number of tastings?
I am always keen to experiment.  I am, after all, a cultural sponge.  At least according to some of my mates (who have never been outside their own county – oink, oink, squeal like a piggie boy……).  So I dropped into my local Tesco and found this Robert Mondavi Heritage Collection 2005 at £9.99 ($200). *
Deep ruby in colour and with a smooth brambly aroma, it looked lovely, so I started to wonder if this might be my Zinfandel epiphany.  The flavour was still quite jammy but in a generally nice Fortnum & Mason way.  There is a lot more length to the wine and some interesting complexity emerges with spicy notes and perhaps some tobacco.  In the final analysis this is a nice wine and better than the Lodi, but it still not quite floating my boat.
Comparing this wine to the Ravenswood Lodi Old Vines Zin from my last post is a bit like comparing drinking champagne from a plastic wine glass, to drinking it out of a paper bag.  One is acceptable and the other useless, but neither comes close to drinking it from Russian crystal champagne flutes.
Nonetheless, I feel this marks a point of some importance in my wine tasting career, since I have found a Zin that I actually like. This encourages me to experiment further in the hope that I ultimately find one that I love.
I fully intend to explore Zinfandel and other Californian wines at source.  Especially since I met Steve and Katie in Switzerland, and they live in Sonama County and are one of a number of people who have made very kind offers of accommodation, advice, contact, friendship, car hire and lawn mowers in California.  It may take me a couple of years to find the time, but I have no excuse not to go.  And I hear that once you go to California, the border patrols will not let you out unless you can say, honestly, "I'll be back" in an Austrian accent.
* Before anyone writes in to point out that I am mathematically challenged, the conversion of £9.99 to $200 was a joke.  I am sure the current exchange rate is a temporary ruse by Ben Bernanke in the hope that Brits will buy more American wine.