"Original all American wine!".  "Pride of California!".  "Bold and not for the faint hearted…".  "What are you doing lurking around my website?"
Encouraged by various American correspondents, I promised to try a Californian Zinfandel.  I had only stopped at Sainsbury's Supermarket for 568ml of milk (remember pints?) but where there's a wine stand, there's a wino.
Apart from the ubiquitous Gallo, the only "Zin" I could find was Ravenswood Lodi 2004 Old Vines Zinfandel.  At £8.49 it is one of the most expensive wines at this supermarket but I figured it had to be worth the extra.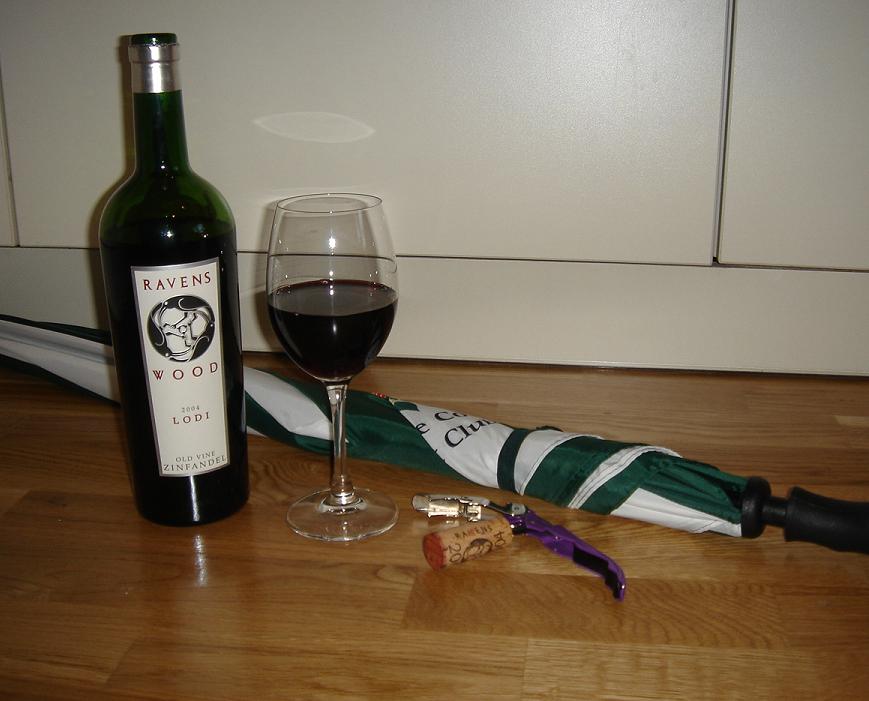 When I opened the bottle I nearly gagged.  Blackcurrant jam and bramble jelly to the extreme.  The flavour was heavily oaked, with some plum crumble but mostly just like eating jam - blackcurrant thought I.  When I got my head together I decided the first glass was not too bad.  Far from subtle but fruity, interesting and strong.
But it went downhill from there.  My fear of new world "blockbuster" wines is that they show off too much oak, too much alcohol, too much jam and the subtlety of a brick in the face.  This wine lived up to my every expectation.  One glass wonder.
On this evidence I am forced to conclude that either the Californians keep all the best Zins to themselves, or that the wine does not travel the Atlantic well.  But I refuse to give up.  I tried olives almost every month until I was 38 before I finally found one I liked.  Now I love them all.  So maybe it's just a matter of time and if at first you don't suck seed, try the grape again…