Would you pay in advance for a crap meal?
No - I wouldn't either.  However, the wine bar on review here gets away with it because the meal is actually not crap but mainly because the wine list is fantastic.
I had been to the Cork & Bottle on Cranbourn St, near Leicester Square many many times and enjoyed every occasion…well maybe except for the first time I visited, where I couldn't work out the MO for getting served!
So, since I had started my blog, and I happened to be in London, I thought I would revisit and see how the wine list compared to the last time I was there.  It hadn't changed at all – excellent!  (although it's due a change soon to be fair…. come on Don!)
I tried a bottle of Pouilly Fumé Les Griottes 2005 at £23.50.  For a Sauvignon Blanc it was not so much of the famed "cat's piss on a gooseberry bush" unless the cat had been drinking lemon juice and pissing on a grapefruit skin.  However, sharp yet mellow, and much more subtle than any new world Sauvignon I have tasted recently.  A delight, albeit served a little too cold!
The Cork & Bottle, is packed most nights as you might expect from a well established place in London's West End.  Full of arty types and journos, an occasional bon viveur, but not many normal people like me.  Nonetheless I love it, despite the cramped table I was allocated under the spiral staircase!
Run by ex-pat Aussie, Don Hewitson (who is never there these days), wines from down under are (understandably) well represented on the menu, although most other regions of the world have a fair shout too, especially France.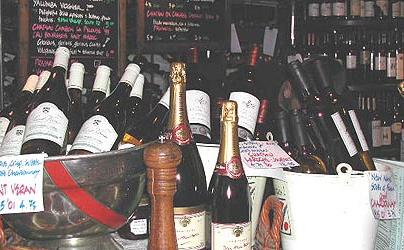 The food ranges from good to excellent but is basic bistro fare not fine dining (suits me).  As is my wont I'll try not to dwell on the food.  The scrambled eggs and smoked salmon (£9.95) were awesome and the cheese plate (£8) was great (although not very British – Cambozola, Chaumes, Epoisses – enough to stink out a cat pissing on a gooseberry bush!)
So back to the wine list which is top notch and good value.  My Pouilly Fume was followed by a glass of Quady's Orange Muscat 2005 from California (I think).  Now how many of you remember Chivers Thick Cut Marmalade?  Well this Muscat tastes exactly of that – beautiful – no other flavours that I could taste…  At £5.50 a glass or £21.50 a half bottle not too bad price wise.  And great with French cheese, (and probably British if given the chance).
I love the Cork & Bottle for the wine and atmosphere.  If I have to eat there that's good too, but a secondary consideration for me since, if I spend too much on wine, there is always a Burger King just around the corner…
My only complaint is that it looks like Don maybe heading for retirement, at least in his mind, the wine list needs refreshing soon or it will start looking like he is no longer sourcing new wines on a regular basis.
Now you don't expect me to leave without commenting on the VFM of the wine mark-up do you?  The Pouilly Fumé I found at Majestic at £9.99 a bottle.  About average at a 135% mark-up.  I found a better deal with the Château Citran 2000 at £35 which is available at http://www.everywine.co.uk/invt/lvx002144 for about £20 a bottle if you buy a case.  That's about a 75% mark-up which is proper value.  Well done Don.
Cork & Bottle, 44-46 Cranbourn St, London WC2.  020 7734 7807/6592.  www.donhewitson.com.  (Now who would be vain enough to base their URL on their own name??? 😉 )
Post script – I see the website has now moved to www.corkandbottle.net.