I did once manage to get some sort of degree from Leeds University Business School which is not exactly the Ivy League.  Still it stood me in good stead for being comprehensible – occasionally.  Sadly this was not true when I visited The Ivy with the wife.
Being in the West End we opened with a quick glass at the Cork & Bottle on Cranbourn Street and swiftly moved on to the surprisingly quiet location next to the St Martin's Theatre where The Mousetrap has been playing since 1436: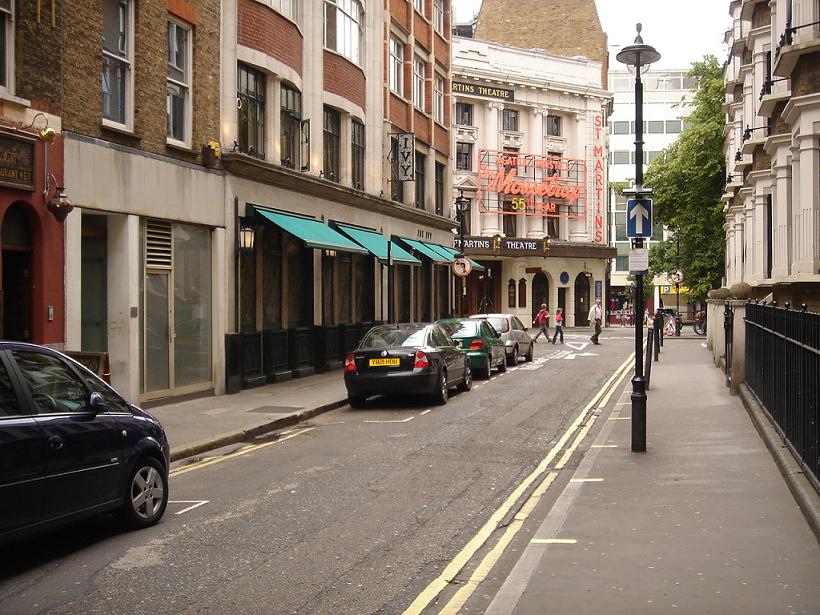 For such a well known place, the entrance is discreet, almost invisible.  I guess that makes it look even more exclusive.  I had never been before, so had no idea what to expect.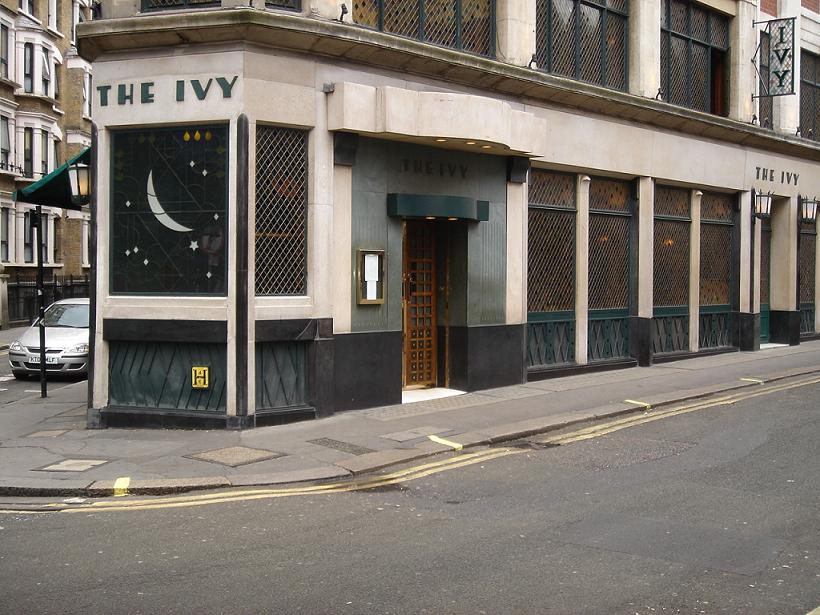 There was a Sunday lunch menu at a pretty reasonable £26.95 per head (plus service).  But that didn't mean the final bill was going to be cheap.
Our table was not ready when we arrived so I grabbed a glass of champagne, but the glass is a stupid shape.  Stupid in the sense that as you get towards the bottom, it flicks a good dose of champagne right into your eyes, just as you put the glass down.  And predictably, as I sat there looking stupid and rubbing my eyes with a napkin I heard the immortal line "yoor tebble is redeee sur".
My starter was Summer Vegetable Soup (think mushy peas but made from garden peas, but still with the butter).  Gorgeous!  This was followed by Rib of Hereford Beef (hey I only share Anne Robinson's hair colour, not her dislike of the Welsh).  The beef was really nice but the veg was unbelievable.  Do they shake MSG, or cocaine on it or something?  How do they make it taste so good?  The broad beans were legendary!  The final course was cheese (British – hooray!) with a glass of Muscat de Beaumes de Venise.
Then it started getting messy and there followed a bit of a skirmish with a bottle of 1966 Armagnac.  I thought of it as my tribute to Bobby Moore.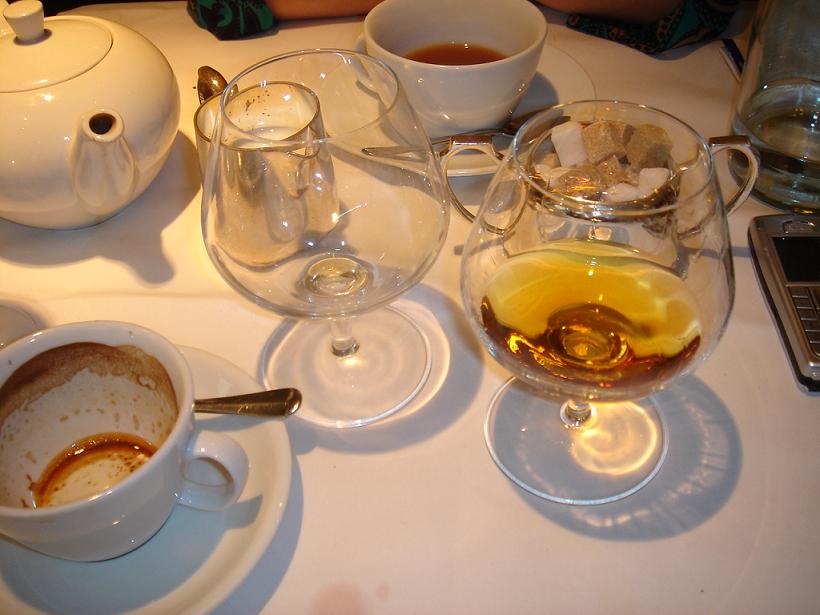 I manage to reach pie eyed status and I've not even told you about the wine yet!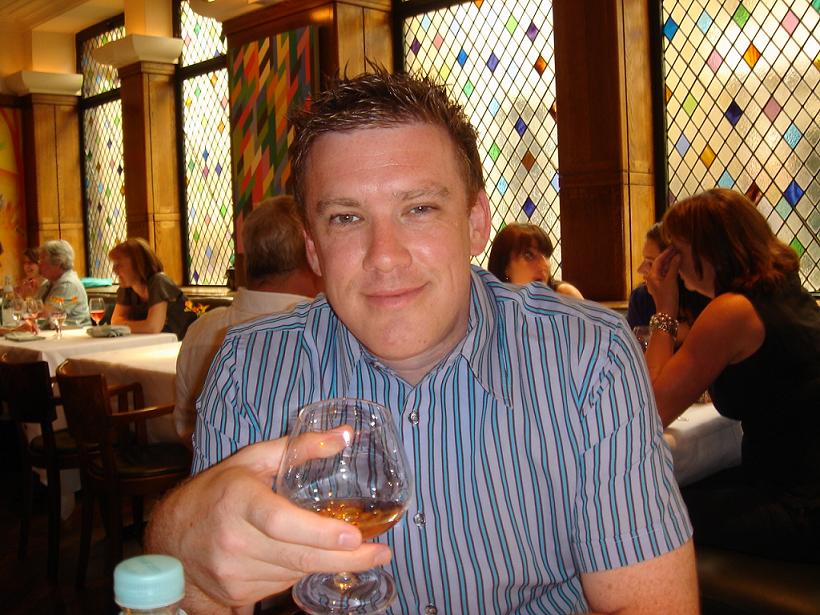 Well, it was a Nuit St Georges "Les Allots", Domaine Remoriquet, 2001.  This almost tasted like the Gamay from nearby Beaujolais so I checked the bottle again – no defo Nuit St Georges.  It started off figgy and plummy but opened up to strawberries and I don't know if it was oaked but it tasted like newish oak to me.  I found it at the ever dependable everywine.co.uk at £225 per case. This makes the mark up about 294% which is a bit on the rich side but I guess that's the price you pay for sitting with the stars. Come to think of it, where were the stars?  Not even a minor celeb (well not one that I would recognise)!  The only stars I saw were when I fell over on the way out and banged my head…
The bill came to a whopping figure. Not far short of £200 for two including service and cover charge (not seen one of those for years).  This beats our record bill from a few years back at the Cap Horn in Courchevel.  In fact if Cap Horn hadn't burnt the mussels that day, the Ivy would have lost.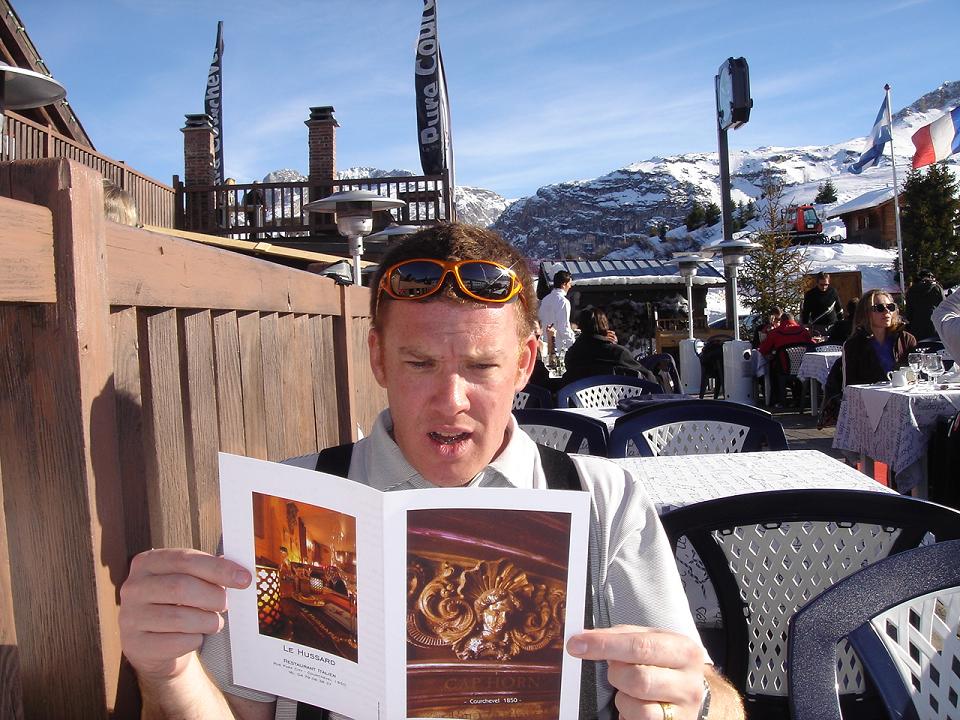 But then the Cap Horn was very funky and very cool with a Superstar DJ on a piste basher (video) and the waiters all looked like extras from Officer and a Gentleman!  Maybe I'll post on that meal one day.
As for the Ivy – you must try it once.  Not for celeb spotting but for bloody good food, excellent service, great atmosphere and dodgy champagne glasses.
The Ivy, 1 West Street, London WC2H 9NQ.  T:  020 7836 4751  F:  020 7240 9333.  www.the-ivy.co.uk.