Have you ever seen (Dr???) Gillian McKeith on "You Are What You Eat" on Channel 4 here in the UK?
She is frequently seen picking up a slice of white bread, then screwing it into a disgusting "gob" of snowball proportions and then throwing it across the room.  It makes you think just how bad white bread really is. But this is exactly how Simply Heathcotes (Manchester) served my Yorkshire pudding on Mothers' Day 2007.  Only it was colder.
The waiter appeared, to ask if everything was OK.  He was astonished at my dissatisfaction and invited the manager over.  He agreed that the Yorkshire pudding was still (fridge) cold and that someone had forgotten to re-heat it.  (Re-heat it?  Exactly how long does it take to cook a Yorkshire Pud from scratch???)  At a resto of the alleged quality and undoubted reputation of this one created by Paul Heathcote, the fact that Yorkshire puddings are reheated rather than freshly cooked really puts me off.
Mind you, so did the toilets.  A little grubby and with the cheapest possible hand towels, reminiscent of Medicated Izal toilet paper from the 1970s (which I first encountered at school).  Please do not give me cheap hand towels that don't even dry your hands.  Its better just to provide a hand dryer and no towels at all.
Having criticised Simply Heathcotes, I have to admit there were some plus points.  The beef was well sourced, nicely cooked and delicious (but cold).  The vegetables were well sourced, nicely cooked and delicious (but cold).  The bread and butter was spot on.
Actually, after my complaint the evening improved dramatically.  The cheese was all British (nice), served with a nice relish, a bit of fruitcake (nice) and a lovely glass of Italian dessert wine.  Moscato Passito 2002 Araldica Piemonte. Very impressive and priced competitively at (free of charge as an apology).
The wine with the meal was a South African number – Brampton Old Vines Red, Stellenbosch 2003. I could say that it tasted of fruit and spice but to be frank I can't really remember. I was so horrified by the poor quality of the food, I forgot.
So what about the ambience, interior design etc?  Well that sucked too.  It was so cold that most of the diners had their coats on.  The space was too big for the number of diners (about 20 in total).  The ambience was bland.  The off-white Philipe Starck plastic chairs were bland and uncomfortable.  If you are going to be funky then be funky and bold, not funky and bland.  I have seen single blokes' flats with better interior design.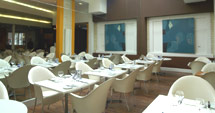 The only redeeming feature of this awful experience is that the manager realised how bad our experience was.  In between offering nearly every diner a free drink, he did actually seem interested in our satisfaction.  The (£22) bottle of wine was removed from the bill.  We were offered free digestifs (I accepted a glass of dessert wine – see above).  The overall bill was a very reasonable £35 for two dinners.
I accepted this and even left a tip.  At the retail price we would have received a bill of over £60.  I would have walked out without paying.
Simply Heathcotes, Jacksons Row, Deansgate, Manchester, M2 5WD
T: 0161 835 3536
F: 0161 835 3534
E: manchester@heathcotes.co.uk