I am reminded of the old joke where a farmer's son asks his dad how much land he will get for his inheritance. The dad kicks his son in the nuts and says "well there's a couple of achers to start with".
To get a Friday night reservation at the Three Acres, required several month's notice. Was it going to be worth the wait or would I be kicked in the nuts?
The Three Acres to which I refer, is a gastro-pub that nestles beneath Emley Moor transmitter in Shelley, 5 miles south of Huddersfield, West Yorks.  Its reputation reaches much wider than the transmitter's signals, however.
On arrival it was evident from the expensive cars in the car park, the type of clientele attracted to the place.  Are rich people good judges of quality, or just willing to waste money on being seen in the right places?
Since my main interest is wine, I must report that I opened the evening with a glass of Moulin des Monterels, Cotes de Thongues, Sauvignon Blanc 2005 (£2.75 per 175ml glass or £16.95 a bottle).  Very nice but with enough gooseberry to make you shudder.  I enjoyed this whilst perusing the wine list.  Isn't it so much more fun to choose the wine first and then find food to match?
I want to skip through the food because I actually made the wrong choices.  The Moules Marinière was way too creamy and rich, and the mussels must have been farmed off the coast of Windscale (sorry Sellafield) judging by the huge size of them.  The roast half of Lunesdale duck with apple, sage, onion tarte tatin, dauphinoise potatoes and green beans was my next choice.  The duck was beautiful but the accompaniments were all much too rich and not at all subtle.  The meal was saved by a stunning plate of English cheeses (with a glass of Muscat de Beaumes de Venise – it is really important that dessert wines be served by the glass) – delicious.  Another day, I will make more sensible choices now I know the kitchen style.
I also want to skip through the service.  Efficient and polite but quite amateur.  If you are used to eating out in London then you will find the service odd.  However, it's entirely appropriate to have a little quirk or two in a Yorkshire establishment and I enjoyed it.
Now let's turn to the wine, which is the unqualified triumph of the Three Acres.  I viewed the list for ages before choosing a bottle of Caballo Loco No. 8 NV to go with my duck.  At £39.95, it is not cheap for a non-vintage.  But it is good.  Cinammon and sultanas when first opened.  It mellowed to stewed prunes, lavender and cranberries.  A full bodied wine at 14%, it was well rounded and lasted forever in the mouth.
Now you probably know that whilst AA Gill moans about how service charges are levied and apportioned, my pet hate is wines with rip-off mark-ups.  The worst example I have found so far is the Gaucho Grill (with mark-ups of 300% and more).  The best example I have found so far is the Three Acres.
The mark-up policy is sensible and fair in my opinion.  The Caballo Loco No 8, I found retailing at Bibendum at an equivalent £18.28 per bottle.  That's a mark-up of just over £20 or 118%.
Intrigued by what appeared to be sensible pricing, I checked out a couple more bottles on the wine list.  A Cloudy Bay 2006 Sauvignon (I found this at Oddbins for £17.99) was on the list at £37.95 – 110% mark-up.
A Château Lynch Bages 1997 was £69.95.  I found this at Davy's for £39.95.  So the Three Acres mark-up is only 75%.  If you want to pay even more, however, the deal gets even better.  A 1997 Château Mouton Rothschild at £149.95, I found at Wine & Co for equivalent to £133.17.  That's a mark-up of only 12%.
Make a reservation for dinner at the Three Acres and in less than 4 months you could be enjoying over-rich food in a warm friendly environment.  Go to the bar right now, however, and you can enjoy one of the best and most sensibly priced wine lists I have yet encountered.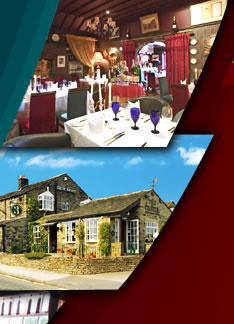 The Three Acres, Roydhouse, Shelley, Nr Huddersfield, West Yorkshire HD8 8LR. Telephone 01484 602606.  http://www.threeacres.com