OK sorry guys but it is a claret.  Most people probably don't consider Bordeaux reds to offer remarkable value for money, especially given the en primeur prices quoted for the 2005 vintage which made my eyes water.  However its probably fair to say that if you consider quality independent of price, then Bordeaux would be near the top of most wine enthusiasts' lists.
This is why, despite the exorbitant prices I broke the bank to reserve a few bottles of 2005.  Something I may post about in 2015 (if I am still alive) when they are ready for drinking…
Anyway, back to the wine in question which I opened on our balcony in the summer of 2006 with my good mate Tony the self styled Lord of St Helens and his charming wife Jeanette.
The wine was a 1982 Château de Camensac, a fifth growth wine from Haut-Medoc.  I haven't seen it for sale before or since in the UK.  I found this bottle on a trip to Bournemouth where I discovered an excellent little wine shop run by a French ex-pat whose name escapes me.  Following an extensive chat (he knew so much more than me to the point of embarassment) I was persuaded to part with nearly £30 for the Camensac and nearer £50 for a bottle of Lynch Bages 1996.
These are well beyond the top end of my normal wine budget but hey – sometimes you just get carried away in the moment.  I left the Wine Library thankful that I was flying home, as this restricted the amount of wine I could carry…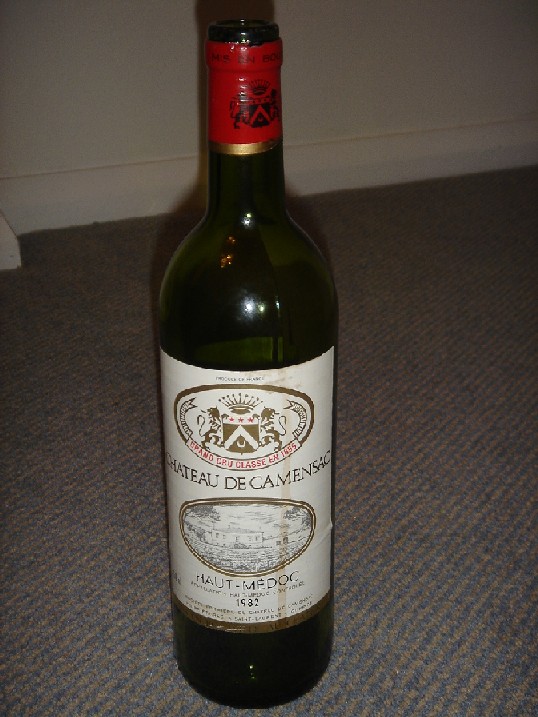 Like most Haut-Medocs it had subtlety in spades – none of that "in your face" brashness of so many New World wines.  Delicate and velvety.  An elegant lady compared to an impudent youth.  But an expensive lady to entertain, have no doubt!
The overriding message I want to get over in this post is that for the first time I realised the importance of the vintage in the quality of a wine.  1982 was considered by most commentators to be an exceptional year and good wines are still keeping well.
So to have drunk a bottle from a lesser known chateau and found it in fantastic form, I am drawing the conclusion that a rising tide lifts all boats, and that's why my "investments" in the 2005 vintage were mostly at the lower end of the price spectrum.
In the meantime, if you are the guy who runs the Wine Library in Bournemouth, please get in touch and let me know if you have any more of the Camensac left.