I started this blog on a South American theme and I am happy to keep that going for a short while because the current exchange rates are making S. American wines superb value for money for us UK winos.
I am a fairly new member of The Wine Society, (HQ at Stevenage in the UK). My first experience was of two bottles of Ch. Kirwan at a very reasonable price but sadly very badly corked.
I am happy to say that following a swift refund (no need to return the bottles) the service and wine quality since then has been excellent and I have continue to buy (er.. I mean invest….)
Recently, I have focussed particularly on S. American wines partly because of the value and partly because of a Wine Society promotion.
So this is how I encountered Cono Sur Signature, El Centinela, Sauvignon Blanc 2006 priced at £7.95 direct from the Wine Society.  This wine from the Casablanca Valley in Chile is a classic example of why you should buy wines from South America right now.
For the price, there is no doubt that you get a bloody good quality wine.  However, more importantly you get to explore a new take on old memories.
If you are a little tired of Cloudy Bay and its imitators.  If you like the fact that the Loire Valley has fought back and produced its best Sauvignons for years but still yearn for something a little different, then Chile, Argentina and Uruguay may well be for you.
I first experienced this phenomenon a couple of years ago when, thoroughly tired of the Pinot Grigio CRAP that is served in most Italian restaurants (lowest common denominator to please the fashionista), I ordered some Patrimonio Pinot Grigio (an Argentinean PG from the Sunday Times Wine Club) – it renewed my faith in PG and I would defo try again.
Same with Sauvignon Blanc.  I do love the stuff in general but too many wines have tried to imitate the Cloudy Bay marque.  Leave Cloudy Bay to their own devices and let me try something new! (by the way I managed to lay my hands on a couple of bottles of Cloudy Bay 2006 Sauv. Blanc and it IS as good as they say but at £16-£20 per bottle I think better value is obtainable).
Back to the Cono Sur. I am led to believe (by the label) that this is exclusive to the Wine Society and is somehow "a collaboration" between the WS buyer and the producer, a certain Sr. Adolfo Hurtado.  Well? Whatever! All I know is that the wine is bloody great.  Is he related to Nelly Furtado btw???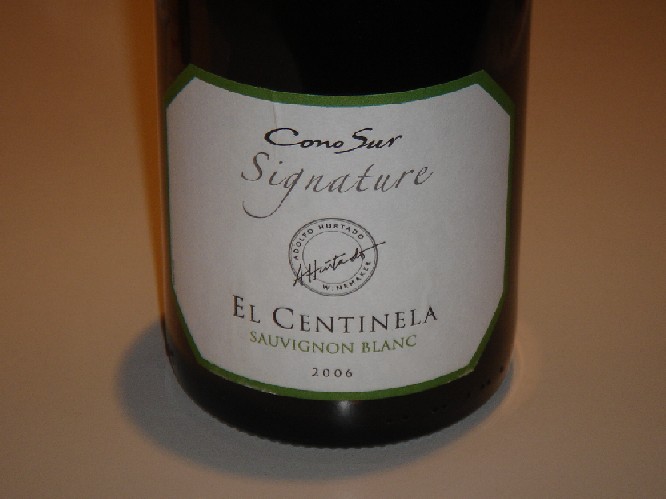 The label points to "blackcurrant leaves and gooseberries".  I have never eaten blackcurrant leaves so I can't comment, and almost every Sauvignon I have ever tasted has gooseberry flavours to some degree so what's new?  I actually tasted green apples (Granny Smiths?) and peaches.  A crisp, moreish wine that was completely different to a NZ or Loire Valley Sauvignon. Delicious and delicious.
I'd recommend this wine, but if you are not a member of the Wine Society, please recognise that some tired varietals from the Old World are being rejuvenated by the New World and I suggest that you go to your local supermarket, wine store or online dealer and try out some South American wines…. NOW!