Is it just me or is everyone suspicious of hotel restaurants?  I stay in hotels a fair bit and I go out of my way to avoid the restaurant in favour of seeking out a local resto with some atmosphere, food that's not made by the bland leading the bland, and a decent wine list.
So it was with interest and some trepidation that I found myself on the invitation list for the opening of the Queen's Grill in Leeds on 15 Feb 07.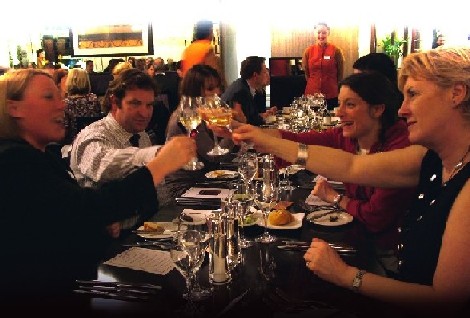 The Queen's Hotel is amongst the most prominent if not the most attractive buildings in Leeds.  The General Manager, Mark Platt explained that the building was constructed in 1937.  The art deco interiors have been tastefully and enthusiastically maintained and enhanced.  Its a favourite period of mine I must admit.
The interior decor of the restaurant is top notch as you can see below.  It really looks more like a London restaurant than a hotel.  Encouraging start then…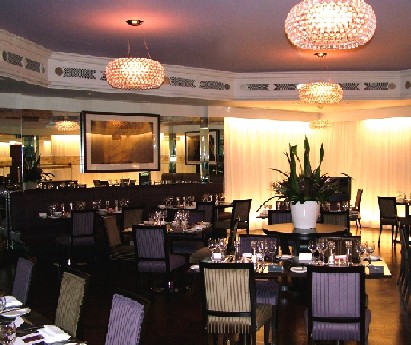 The food was the sampler menu you might have expected from a launch party but unlike London restaurants the portions were sized for the Yorkshire palate – lets just say generous.  I had to loosen my belt.
We meandered through a woodland mushroom cappuccino (do me a favour, it's a cup a soup) the consensus seemed to be to use the small spoon although some sophisticated types were drinking from the cup.  Nonetheless tasted excellent.
Wiltshire ham hock terrine, fillet of seabass, fillet of British beef, a selection of desserts and a selection of Yorkshire cheeses (YES YES YES – why buy in all that French rubbish when the Brits produce some of the best cheese in the world!)
In fact much of the fayre was locally produced and wherever you are in the world that nearly always tastes best.
The highlight for me was the seabass with wok fried greens and mint and coriander citrus dressing.  Nothing like a bit of lemon on yer fish!  This washed down with a nice Chablis (sorry forgot to note the domaine).
The other wine selected, was a Rioja.  The traditional oakiness perhaps not ideally suited to the beef in my opinion but in any case a fine wine and excellent example of the marque.
All in all I thoroughly enjoyed the meal, the wine and the company and the new Queen's Grill has challenged my perception of the hotel resto.  The other art deco location of note in Leeds is Bibi's Criterion (under the car park).  Whilst a fabulous piece of interior design, I have found the service and food to be variable.  So I'll be revisiting the Queen's Grill soon.  You should too.
Thank you to GM, Mark Platt, Sales Manager Paul Priest and the other fine company including those from Yorkshire Life (you know who you are) that made the social side of the evening so interesting.