When I am in a really good mood, my Opus Dei style self-flagellation is a mooch through the wine aisle at Sainsbury's. Brings me back down to depression with a bump. Yard after yard of unremitting boredom. Branded wines at prices that, once you have removed duty, VAT and cost of shipping, indicate an investment of around $0.20 in the actual wine. It's a bit like reading a John Major biography. Grey, grey, and thrice grey. Where is the Edwina Currie moment? Could this Yali "Gran Reserva" Carmenere (sic) be the money shot? At £9.99 for a Sainsbury wine, it better explain itself.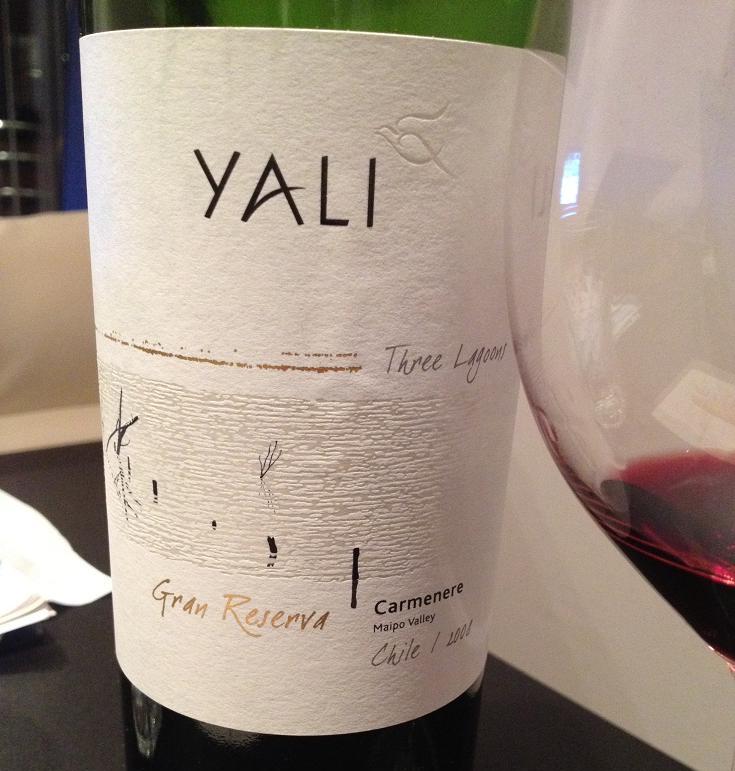 The rear of the label is all but unreadable, even with my reading glasses and a magnifying glass with a blowtorch as illumination. Fortunately, there is a factsheet on the web that reveals serious signs of marketing misdemeanour. Full of wine wank words, Yali, from wine conglomerate (wishitwas Cono Sur) Viña Ventisquero, tagline "A Step Beyond" displays a love of the "World" that draws suspicion of organic consumer manipulation. I have no idea what "Gran Reserva" means in relation to a Chilean Carménère (and the label and website disagree on the spelling of the grape). It smells fishier than one of the sturgeon no doubt farmed from any of the "Three Lagoons" on the label.
But I am not an investigative reporter. Merely a drinker, and I am prepared to take the Jonathon Porritt propaganda at face value, so it is not for me to pass judgement on wine ethics, merely whether it tastes good and represents VFM.
This wine is rich, opulent, smoky and spicy and smells of hot tarmacadam. I can taste beetroot, plums and cigars (unsmoked, and rolled on the inner thigh of a dusky maiden). I actually enjoyed it a lot and I think £9.99 is a very fair price for the pleasure. I think it should market itself on the quality of the wine rather than the vague references to tree hugging. I recommend drinking it with red meats.
Oh dear, it's got me back into a good mood. Can anyone lend me a cat o' nine tails?