The venerable Austrian wine glass maker, Georg Riedel, has made a mistake. I know this to be a fact because I have just done a taste test on a bottle of 2001 Château Filhot that I've been saving for a while. Riedel recommends a 416/33, otherwise known as a Vinum Sauvignon Blanc (left) for the noble rotten wines of Sauternes. I've just received a brace of Rheingaus (right), or 416/1 to the librarians amongst you, as a present. So I thought I would do a taste comparison and, what a shock!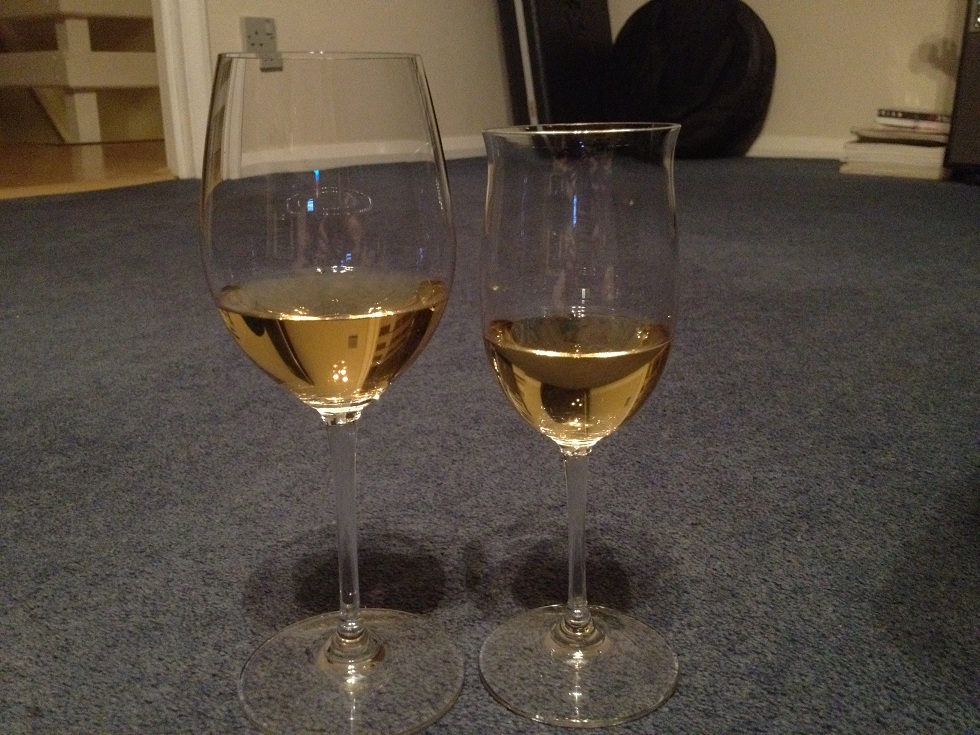 Now, when it comes to tasting wine, there are so many variables that I am certain that two people can never taste the same wine in the same way, even side by side. It's not just the terroir, the grapes, the winemaker, the storage conditions. What about the serving temperature, the glass it is served in, how long it has been opened, who you are drinking with, what you ate earlier? Indeed this experiment proved to me that even the length of time the wine has been in the glass makes a difference to the taste.
For the record, I preferred the Rheingau because it showed off the deep, earthy, waxy flavours of the Filhot – rum and raisin fudge with a hint of gooseberry. By contrast, the Sauvignon glass showed off more of the forward sweetness – toffee like with some lemon. Both very nice, but very different. Strange that, according to Riedel, the Rhiengau is designed largely for dry white wines.
Then I poured again and tasted more quickly. Subtly different again. The Sauvignon yielding more wax. The Rheingau still just had the edge though. Then I thought, hang on, this is daft! How can a glass make a difference if you swill the wine around your mouth anyway. So I passed the glasses to my teetotal wife who has a super-sensitive nose. She could clearly smell the difference. So I don't believe it is where the wine lands on your tongue, it must be the way the wine sits and 'matures' in the glass. At least, that's my theory for now.
So what have we really learnt? Every time I drink wine it will taste different – there are no real benchmarks, no real scores, just at a given point in time I will either like the wine, or love it, or I won't. But those very variables that I am flippantly dismissing do make a big difference (temperature obviously the most significant for me – see  my WART campaign).
Pretty sure the Filhot came from Costco and was delish from either glass, although can't remember exactly what I paid. Riedel glasses are probably available at Sainsbury's these days or from online shopkeepists – normally at about £10-15 per glass.