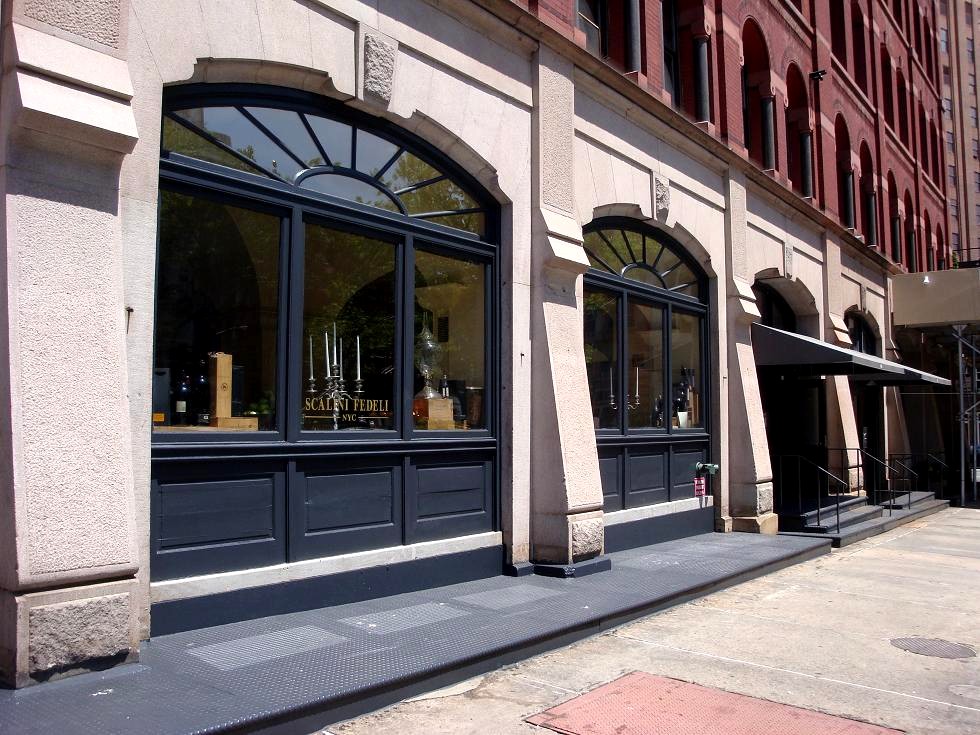 Scalini Fedeli is such a high end Italian, it could be the Silvio Berlusconi of restaurants. As I walk in, I imagine Wall St bankers taking their prey to be softened up with an expensive Chianti before mugging them for an eye-watering commission.
I reckon the waiting staff are in on the act.  They look impressively like Spatz Domino's henchmen. I wouldn't dare send anything back. Having said that, ruthlessly efficient and courteous. One of the themes of NYC service that has changed since my last visit 18 months ago (and one small part of me regrets this) is the tolerance, politeness, and friendliness you can nowadays expect even in the diners and delis.  Is there an economic down cycle or something?
Lots of seafood on the menu. I started with shrimps swimming in garlic and followed up with monkfish tails with gnocchi swimming, this time, in cream and fennel. Both delicious.
I am starting to learn that the way to avoid wine bills that Bernie Madoff could barely have afforded in his heyday, is to drink it by the glass rather than order a bottle. Most restaurants stock sensibly priced, representative and interesting choices. Three glasses of Dogajolo, an Italian white blend, came to $39 which compares well to bottles, of which there might have been only half a dozen of each colour that didn't trouble the hundred numerator.
Even with careful wine choices and adding tax and service, don't expect to eat here for less than about $125 per head. That, however, stands up fairly well to high end London places of a similar tone and cuisine and, therefore, represents value for money in my opinion for a place of this quality.
Please avoid the tiresome Flash ridden website though – just ring, or book on Opentable.
Scalini Fedeli
165 Duane Street (between Greenwich & Hudson)
New York, NY 10013
T: Â +1 212 528 0400
W: Â www.scalinifedeli.com