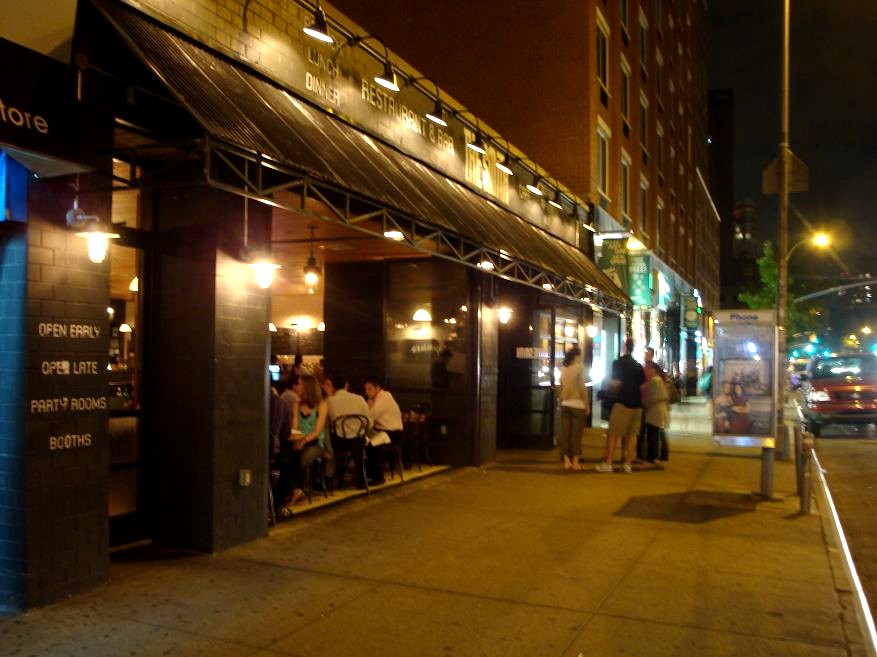 I am liking some of the trends in New York dining. Â The Smith is an exponent of many, including the provision of free and bottomless supplies of not just tap, but also sparkling water. Â Eating irons wrapped in a proper cheesecloth napkin of tea towel proportions fulfils both form and function.
Where The Smith is ahead of certain competitors is in creating a light and airy atmosphere, helped by a full opening frontage onto the achingly cool part of 3rd Avenue, and not least by giving diners the gift of space between the tables. Â Enough to escape to the toilet when needed, in any case.
The Smith is the epitome of eclecticism.  The atmosphere is trendy bistro/diner, with Parisian Café style chairs and semi- sturdy wooden tables set to a backdrop of Victorian bathroom tiles adorned by naughty nude black and white prints of the sort you would see in many a 1970's Habitat (RIP) riddled domestic toilet.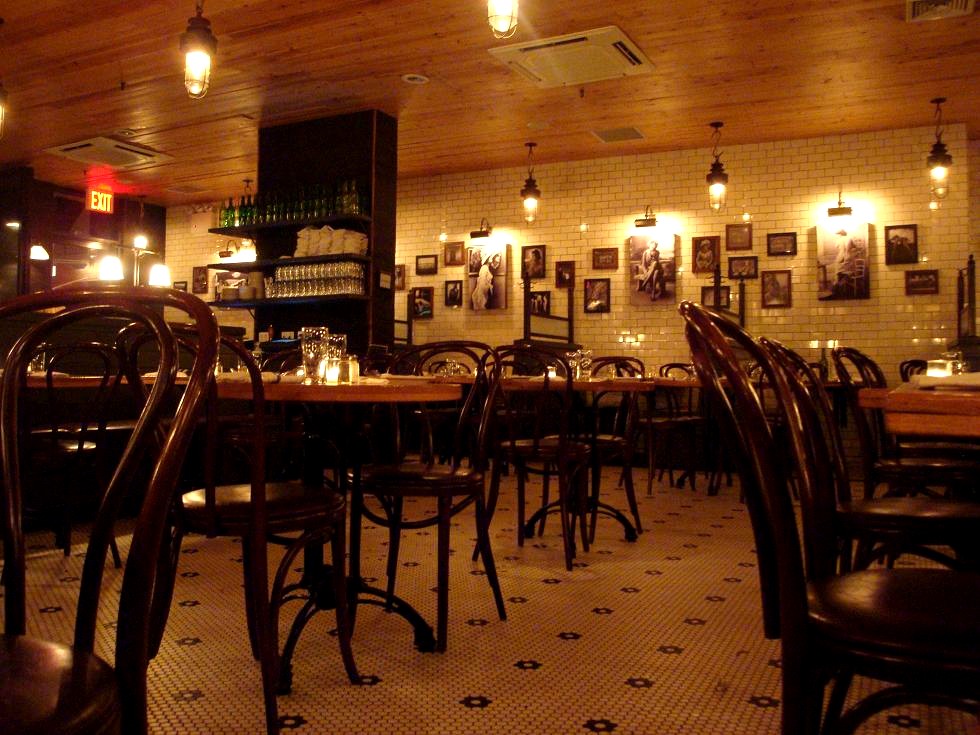 The wine list, the first thing I study at any restaurant, is inventive rather than extensive, but convenient and reasonably priced. Â Glasses of wine are in the $10 region, 0.5l carafes are about 2-3 times that.
Our Cabernet Franc at €25 per carafe had the tannins to support a steak whilst the softness to snuggle up to a pork chop.
I could bore you with detailed descriptions of the food, or I could just give you a quick list of dishes that I sampled and cover this with the advice that all were as good as I have eaten in NYC.
Starters:  Tuna tartare mixed with jalapeño spices and tomato – a protein filled fusion of Parisian days and Tokyo nights.  Calamari "Brooklyn style" was crispy pert rings of squid adorned by tomato and chilli warm salsa – a proper lip stinger on a par with a kiss from Marilyn Monroe.
Mains: Â NY Strip, seasoned perfectly, cooked precisely and tender throughout. Â Took 25 minutes to eat. Â Pork chop on a bed of mushrooms and cheese in a tortilla needed fries but otherwise was moist and salty goodness.
I can't say any more than this: Â The Smith is one of the best value places on Manhattan. Â In fact, never mind value, one of the best period. Â And definitely the coolest.
The Smith
55 3rd Avenue (10th/11th St)
East Village
New York
T: Â +1 212 4290 9800
E: Â info:ctrnyc.com
W: Â www.ctrnyc.com