If you have just scaled England's third highest mountain via Striding Edge, slipped and nearly died, wished that you owned a pair of crampons, nearly shat yourself, and in the process built up a hunger hole the size of one of Sherpa Tenzing's footprints, you could do worse than get your scram at one of the poshest hotels in the lake district, the self proclaimed inventor of sticky toffee pudding.  Make sure you take your Amex Black Card, though.  And check you are still in possession of your arms and legs on the way out.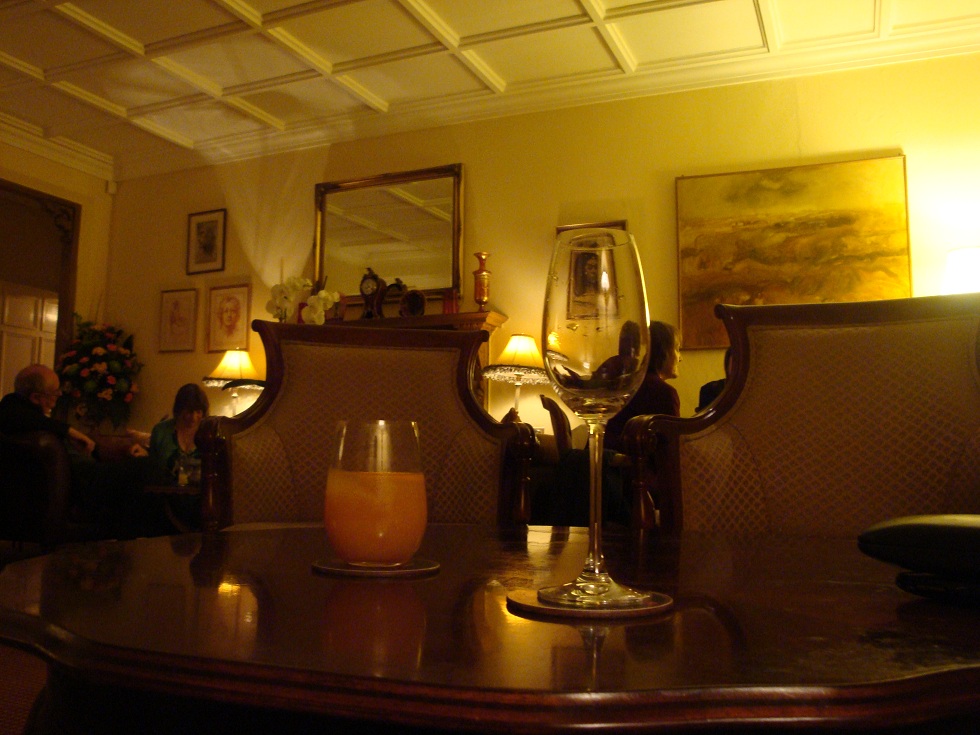 Fixed price dinner is £70 a head and the wine markups are more scary than climbing across Swirral Edge in the snow, fog and fading daylight.  But like Helvellyn, Sharrow Bay watches majestically over Ullswater with a haughty, assured and almost arrogant posture that asks "are you man enough?"
As I munched on a glorious amuse-bouche of poached salmon, I wondered if the producers of The Trip excluded this place on grounds of budget, or if Steve Coogan and Rob Brydon merely got turned away for not being serious enough.
The menu is at the posh end of fine dining and the service is at the discreet end of stuffy, but mixed with a good dose of northern friendliness.  Our waiter, Jeeves, took so much trouble to explain the history of the building (fisherman's cottage expanded over centuries by nobility) that I imagine some other punters got cold fish and warm red wine.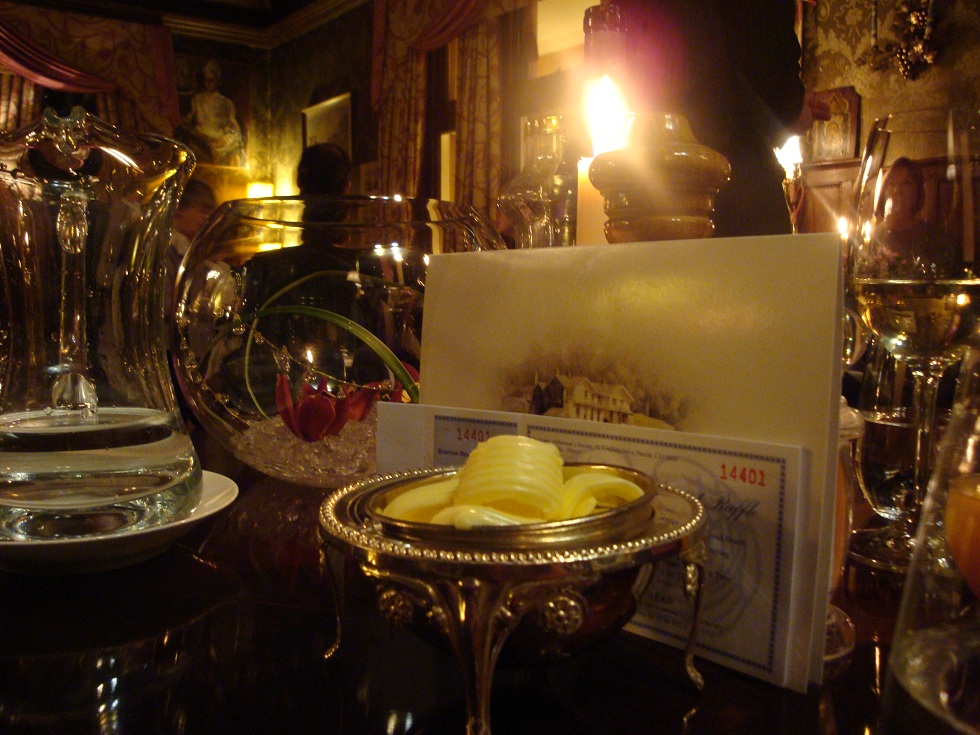 The sommelier is a nutter, though.  Disapproving violently with my endeavours to find value on the wine list (£46 Château Musar -White "barking mad, sir") in favour of a Sancerre that, surprise surprise, was a bit, but not excessively more expensive.  He was probably right that it was a better choice for my mostly fish based 7 course dinner.  The good news for Sharrow Bay is that it is hard to find the retail price online so maybe it is fairly exclusive.  The bad news is that the Ritz lists it at £62, and nobody marks up wine like the Ritz…well, except, it seems, Sharrow Bay who ask £67 for this tame but moderately tasty bottle.  Very drinkable, but you should take neither price as an accurate indication of the wine's value.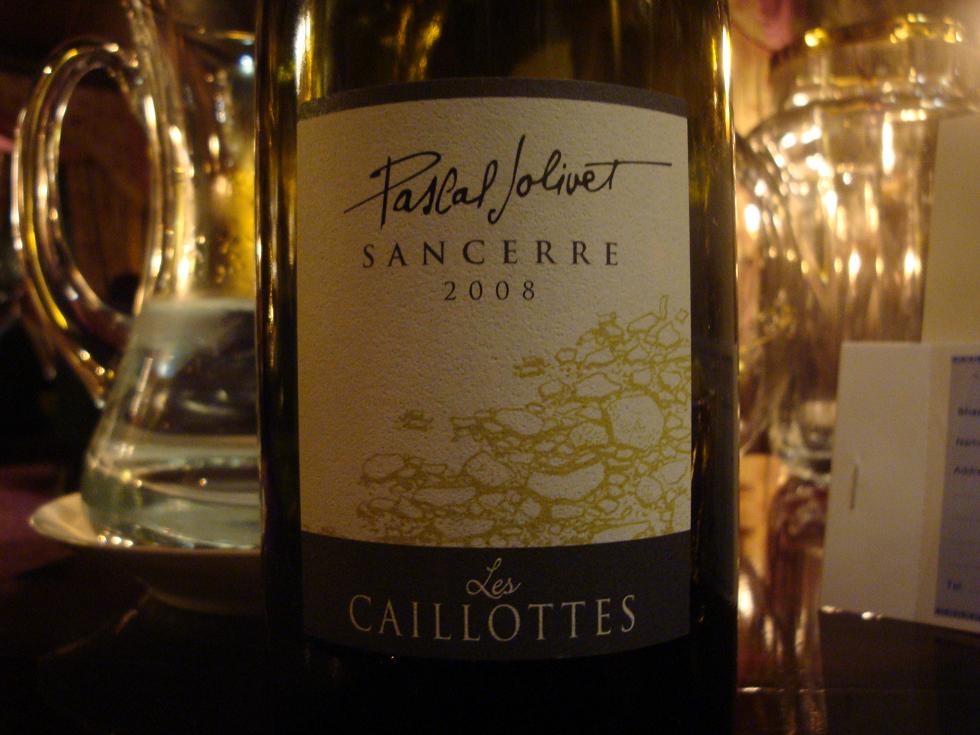 From a choice of several grand nooks, we dined in the former Billiard Room which, through an ornate panelled ceiling, there still existed a light, I mean the architectural term.  A glazed hole in the ceiling, designed to illuminate the green baize.  Presumably Victorian billiards was a daylight sport.
We ate on white tablecloths this time, and enjoyed a menu that demonstrated confident simplicity combined with quality ingredients and, surprisingly, for a meal with so many courses, northern sized portions.  I only managed cheese and dessert thanks to the relaxed service which made dinner longer than John Holmes but more enjoyable (for me at any rate).
With time to people watch, earwig, soak up the history and pass remarks about the staff at the same time as enjoy their company, this would have been an easier review to write had I not (a) complied with the no phones at the table rule; and (b) got so drunk that I couldn't read the menu.  Fortunately I stole a copy to look at later.
The sort of food you can expect to find at Sharrow Bay would be a starter of roasted quail breast with truffle fettuccine and wild mushroom sauce.  Or a sautéed scallop, thyme fondant potato and shallot purée.  A second course of plaice on pea risotto.  A simple but stonking sorbet followed by a main of Sea Bass, parsnip purée, wild mushroom fricasée and lemon grass sauce.  Or meat feasters could order Tournedos of Scottish fillet steak, roasted shallots, braised ox cheek, marinated cherry tomatoes and red wine sauce.  Or Best end of Herdwick Lamb, wild mushrooms, artichokes, broad beans, dauphinoise potato and white wine and rosemary sauce.  Or noisette of local venison with ravioli of girolles & spinach, butternut squash purée, braised sherry lentils and brandy and port sauce.  Not for the faint hearted!  But now you are nodding off.
I couldn't really fault any of my dishes in presentation, taste or portion size.  However, the next course was a demonstration of everything that's good about England.  It is getting gloriously ever more difficult to find French fromages (yawn) on top end menus in my experience.  Les anglais have more varieties.  YES!
The Nutter disagreed with my choice of a glass of Muscat de Beaumes de Venise with the English cheese and brought me a free glass of something dark as his recommendation. Â I finally found a little recognition from him, after pronouncing it a Pedro Ximenez before it even reached my nose.
Whilst I preferred the Muscat with the Stinking Bishop, I had to agree that Pedro rode a donkey through the warm chocolate and ginger pudding with vanilla ice cream. Â A rare wine match for rich chocolate.
The bill for two including alcohol and service was a snooker shy of £250 which is, I believe, the most that has ever left my wallet for a single meal, and yes, I have been to Galvin @ Windows.  Which leaves the tricky question, is it worth the money?  I think for an occasional treat, maybe a 50th wedding anniversary for example (where you would also be amongst the average age of the diners, only adding to your pleasure), it's one of those places where even mere Muggles should visit at least once.
Sharrow Bay
Lake Ullswater
Cumbria, CA10 2LZ
T: +44 (0) 1768 486301
E:Â  info@sharrowbay.co.uk
W: www.sharrowbay.co.uk