I've been impressed by Café Anglais on a number of occasions but I thought it was famous for roast chicken, and not particularly great for solo diners.  So, ever since they emailed me to say an oyster bar had opened I've been itching to try it.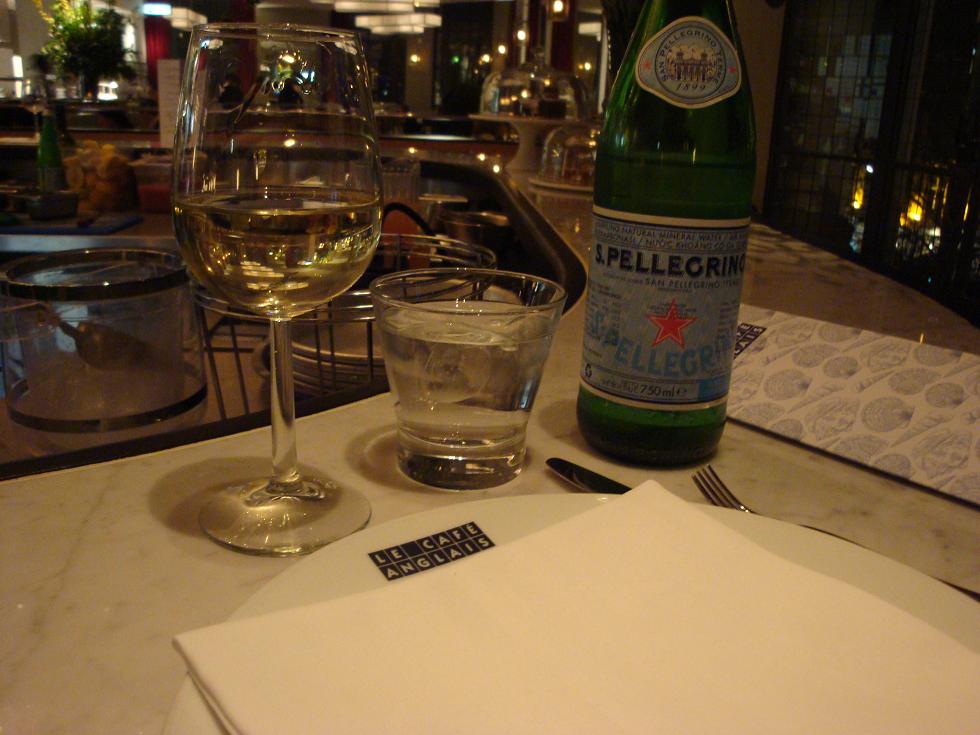 The menu is simple and, dare I say, looks almost cheap.  Six oysters start at £8.  You can pay more than that at the market.  My grilled fish of the day (at market price) was three sardines.  The waitress advised me the market price was £7.50.  Turns out that was not the market price, but the price to me…
Now, call me a heathen, but I like my oysters with shallot vinegar, lemon AND (thank God they had it) my favourite green Tabasco.  It's a little milder and makes them look like proper snot.  I don't really know what to say about oysters.  I love them and, occasionally, they make me ill.  The texture really matters as much as the flavour which I invariably obscure with the above condiments.  It is best if they are shucked to the point where spare shards of shell don't find their way into the gaps between my teeth, like tonight.  But there is also something mysterious about oysters that make them so appealing.  Café Anglais managed to add that je ne sais quoi sauce, and as it turned out, I will be fine tomorrow (this post written in the multi-tense style of a flashback-ridden thriller).
An acceptable glass of Picpoul de Pinet came with the first course.  I switched to Sauvignon Blanc for the Sardines.  It lacked a bit of zing, unlike the fish which was nicely charred and served on a plate so hot that it could probably have fried an egg, or baked a pizza.
The sardines came with a beautifully fresh pesto and I added a green salad which was well, but subtly dressed, like Jamie Redknapp….not.
The bill for one with two glasses of wine and a bottle of sparkling water came to about £36 including 12.5% service.  That feels like great value for the capital, and not only is the food good, but the oyster bar is especially welcoming to solo diners.  So next time you are on your Jack Jones in Bayswater or Notting Hill, I'd give it a go…or write to me at:
Oyster Bar
Le Café Anglais
8 Porchester Gardens
London W2 4DB
T:Â  020 7221 1415
E:Â  info@lecafeanglais.co.uk
W:Â  www.lecafeanglais.co.uk