After a visit to the Wine Gallery in Bordeaux where I tasted some of the best (or in any case, most expensive) wines in the world, La Brasserie Bordelaise was the destination for a bloody, but fatty, grisly and tough, entrecôte steak.  What could match the power of Château Latour or Cheval Blanc to accompany such a dish?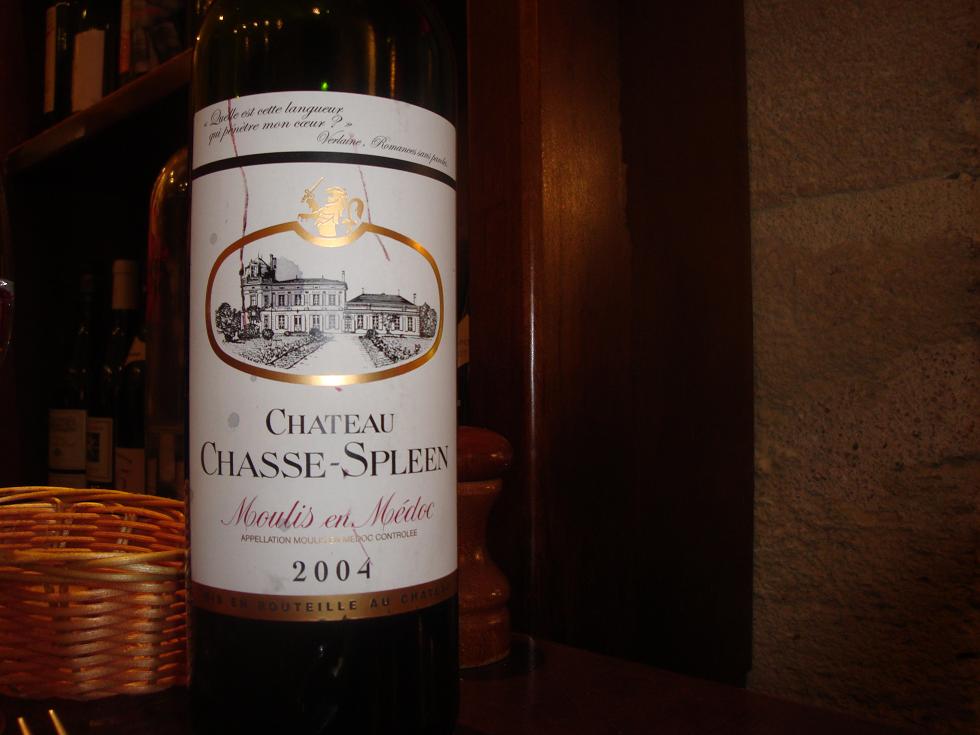 I've been learning a little about the quality (and price) of the wines of Moulis on this trip to Bordeaux.  So at €65, the 2004 Chasse-Spleen looked a reasonable bargain.
No, it's not Latour, Margaux, or Lynch-Bages, but it's better value for money.  Nutmeg, vanilla, Turkish Delight (rose flavoured) and some deep tannic black fruits.  Great match for steak (the mouthful that was actually edible).
As for La Brasserie Bordelaise?  Great atmosphere, and you have to queue with the Bordelaise cogniscenti to get in, even on a Monday.  No wonder.  The food is excellent, my steak excepted (although many much better looking rib steaks were served to French customers on adjacent tables).  But the service is, let's be kind, average.
When in Bordeaux, drink Moulis, eat somewhere less fashionable.
La Brasserie Bordelaise
50 rue Saint Remi
33000 Bordeaux
Tél. : +33 (0)5 57 87 11 91
EÂ : brasserie.bordelaise@orange.fr
W:Â  www.brasseriebordelaise.fr