In what turned out to be the fortunate circumstance of a cancelled flight, I found myself in Bordeaux for an unexpected extra night.  This gave me the opportunity to fulfil a bit of a dream.
Entering through the unassuming entrance of Max Wine Gallery you could be forgiven for thinking that you are entering a posh handbag or clothes boutique.  But, inspect further and inside you will find not Chloe or Hermès, but brands a bit closer to my heart, and liver.
Bottles of various top growths from Médoc, St Emilion and Sauternes are imprisoned within glass cases but with tempting little spouts indicating a tad of promiscuity to willing punters.  A wino heaven, although at a price.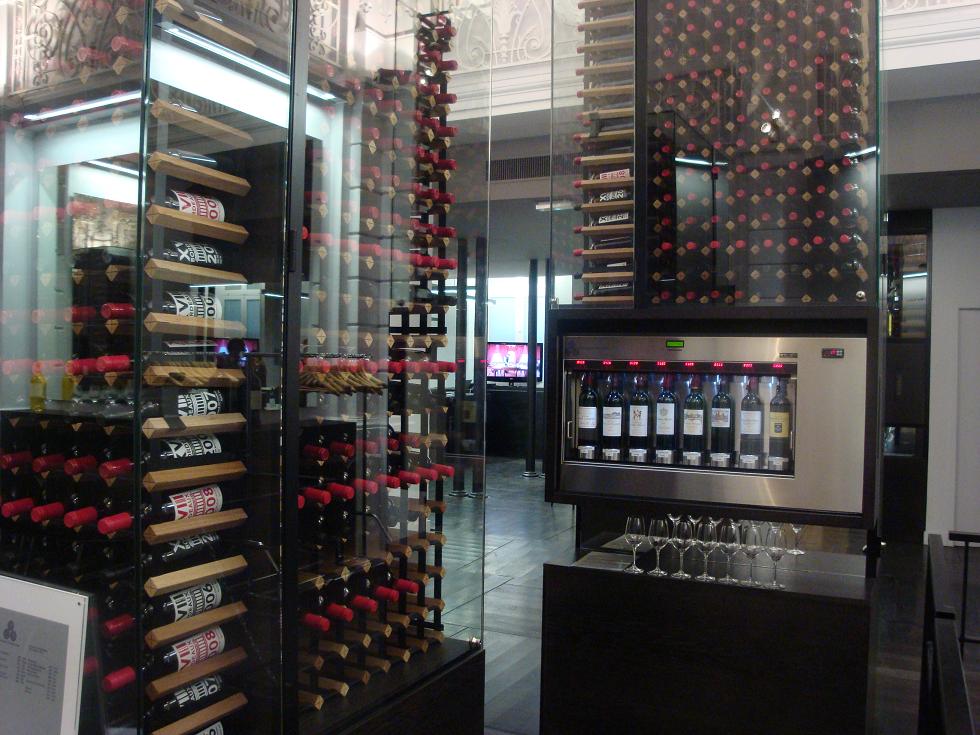 Lynch-Bages 2006:  Smells potent, smoky, heavy and purple if you know what I mean.  Has the legs of Marilyn Monroe even though only 13% ABV.  Tastes a little kedgeree which is a shame as L-B is normally one of my favourites.  However, clearly a serious wine.  I wonder if it will improve with age.
Calon-Segur 2006:  Another winery of which I have tasted a few.  Smells much softer and more fruity than the Lynch-Bages but tastes more bitter.  Bonfire toffee and cherry.  I would drink happily with steak.
Château Pichon Longueville, Comtesse de Lalande, 2006:  No awards from the plain French Society, or the Brevity Association.  The least smoky so far but the deepest smelling.  Fine tasting with lots of fruit and some mashed carrot and swede.  Toasty and warm, already drinking well on its own in my opinion, for those who don't mind a bit of tannin.
Les Forts de Latour, 2006:  Smells of wax crayons and tastes similar although rich, deep, tannic and fruity.  If this is representative I would leave the second wines of first growths alone in favour of the second through fifth growths' first wines.  Confused?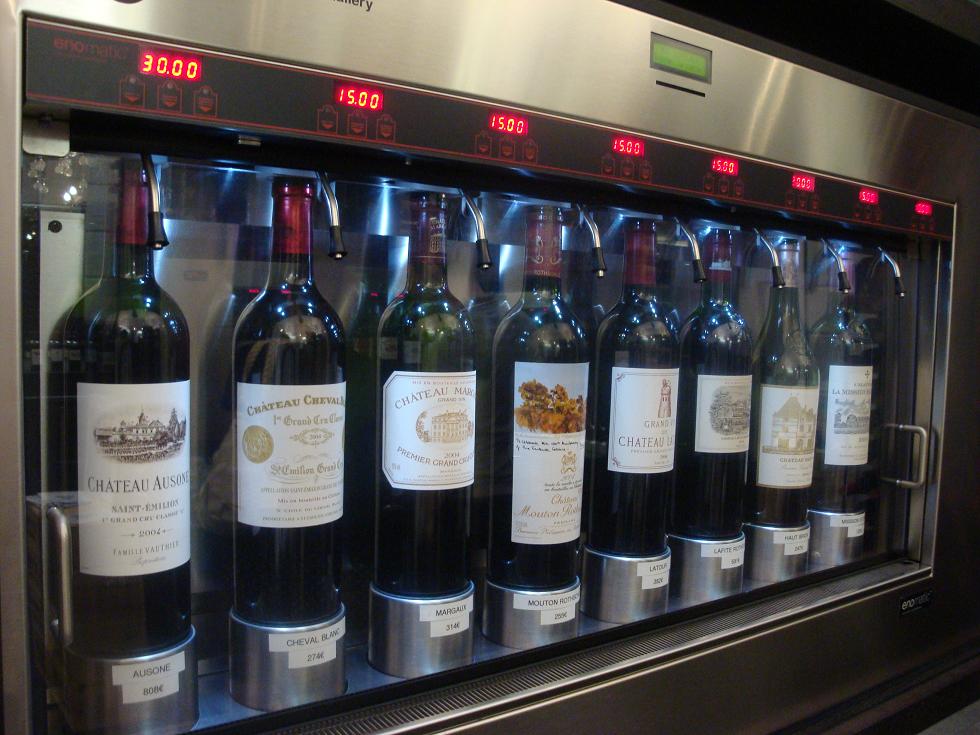 Château Latour, 2004:  Most elegant yet.  If this is representative (and you are a lot richer than me) ALWAYS buy first growths.  An explosion of fruits and tannins in the mouth that makes me drool.  I don't see the point in waiting much longer to drink this when it is so good now (2010).
Château Margaux, 2004:  I love wines from the Margaux commune and this most beautiful of châteaux has long been on my list of wines I must taste before I die.  Raspberry pavlova and vanilla cream.  Soft, luscious, gorgeous, and like Latour of the same year, drinking well right now.  So soft in the mouth it's like cotton wool.  I wonder if Marlon Brando drank this during his Godfather performance.
Château Cheval Blanc, 2004:  I tasted Beau-Séjour Bécot recently and Haut-Sarpe from the same year but, although nice, they are pale inferiors.  Bonfire toffee, blackcurrant and toast.  By far the richest and deepest of the wines I've tasted today.  I thought most St Emilion's were more approachable in youth than the Cabernet Sauvignon dominated Rive Gauche but it turns out this is 66% Cabernet Franc.  Bit tea-baggy and probably best left to soften for a few years (or decades).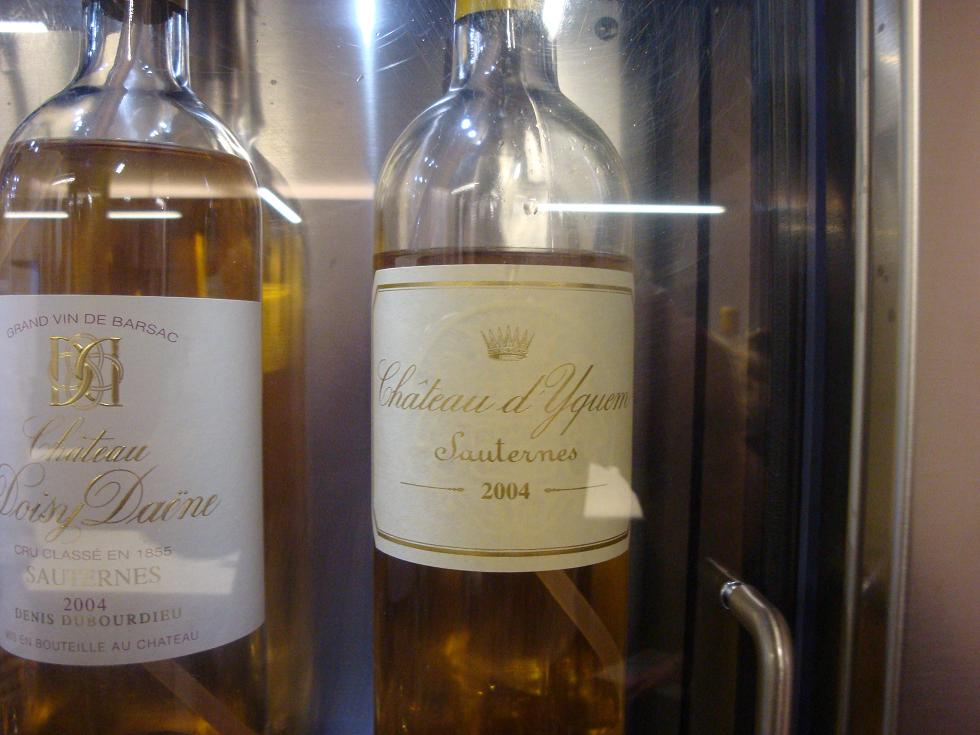 Château d'Yquem, 2004:  I noticed that the name of the Compte de Lur Saluces was missing from the front of the bottle.  I believe this was the first vintage to omit his name after he sold out to LVMH and retired?  I was in Sauternes last week and tasted some awesome wines from Yquem neighbours, Suduiraut and Guiraud.  Rumour has it that Yquem quality is falling whilst Climens is now jostling for the crown.  Sour grapes?
I have been dying, since birth almost, to try the real thing.  The smell of this wine is enough to give you a stiffy (or moisten you, if female).  Honey, lychees, apricots, pineapple, pear, honeydew melon, beeswax and a subtle pepper undertone.  Could there be more complex wine?  I have never tasted Manna, but this must be the closest I have ever been to heaven.  It justifies the enormous price tag for me, although my bank manager won't allow me to buy any.
So that concludes a €75 three hour blowout that involved drinking less, in total, than one large £3.50 glass of wine from an English pub, but delivered pleasure that you cannot put a value on.  And if I had a car here, I could probably legally drive home.  I wonder if this is what the British Government means by "binge drinking".
Max Bordeaux
14 Cours de l'Intendance
33000 Bordeaux
T:Â  +33 (0)5 57 29 23 81
E:Â  gallery@maxbordeaux.com
W:Â  http://maxbordeaux.com/