I am self-flagellating tonight, berating myself for being a man.  Claret coloured sores are starting to appear on my otherwise pale and tender back.  And I've never even heard of Opus Dei.  And I am not in the mood to tell you about my 6 ft leather bull whip – maybe another day.
I've been waiting a few weeks for the right moment to drink a bottle of Gaston Hochar's finest.  Tonight, I finally reached into the fridge and yanked the cork.  But, being a man, I didn't read the instructions before chugging a good glassful.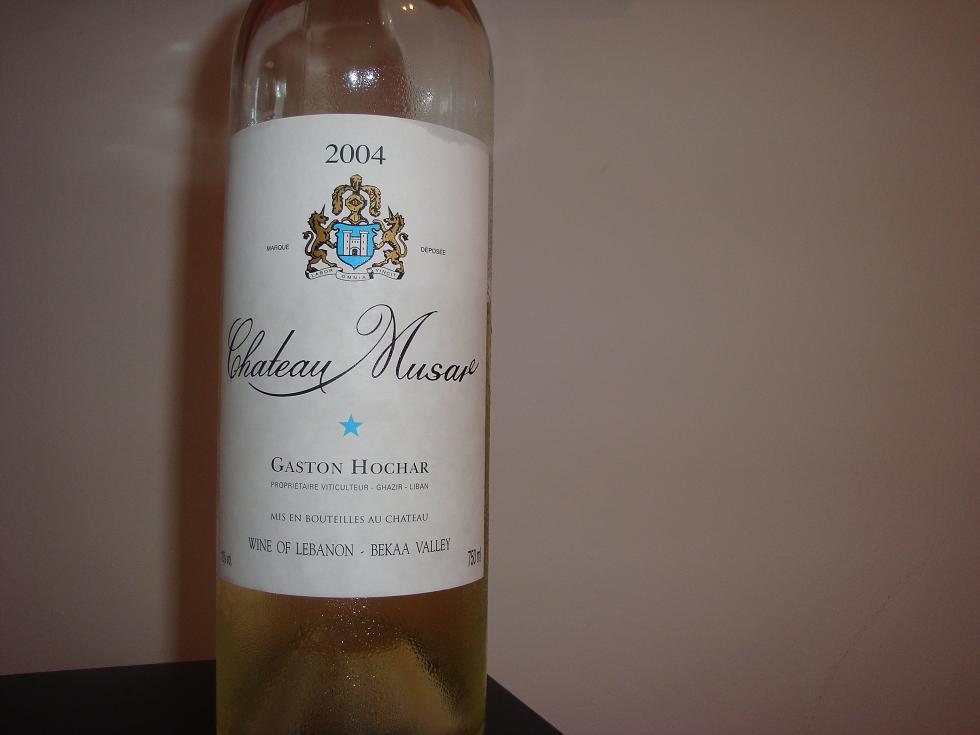 Having said that, had I read the label, the Chateau (sic) Musar would have contained 90% disappointment to compensate for one stirring, vital and possibly life saving sentence.  The label is written mostly in French.  Despite being designed to meet British regulations, I am advised that the wine was "mis en bouteilles au château".  Even if you accept that French labels make the wine sound more appealing (it has the opposite effect for me), at least an effort to get the language right would be appreciated.  A glance at the website home page reveals that even Musar cannot work out how to spell Château, for example.
The wine smelt citric and tasted like bitter lemon.  Very dry and possibly too dry for seafood, despite the lemon flavour.  Quite ugly and I started wondering if it might at least match cheese.  I got my notepad out and prepared to trash another over-rated, over-priced (£16) wine.
But, being a founder member of WART, I didn't put the bottle back in the fridge.  Most white wines are better at 10 degrees than 5.  As the wine warmed, I noted that the wine improved dramatically.  Looking at the reverse of the bottle, the crucial sentence was revealed, "Recommendation, serve at cellar temperature (15°C)", and that was in English!
Blimey.  What a dickhead.  After all my advice not to drink white wine too cold, I ate my own dog food.
At the right temperature (or at least warmer than 10°C), this wine reveals softer more honeyed flavours.  Really delicious, and well worth £16 after all.  Don't do it the disservice of drinking straight from the fridge.  Do drink it well before the recommended date of 2017, after all, you might die before then.
I was right about it going with cheese though.  Especially soft cheese.