On a stinking hot sunny day, 36 lobster-skin inducing degrees, what is a pale Englishman to do but find a shady spot, some food and a petit pichet of local rosé?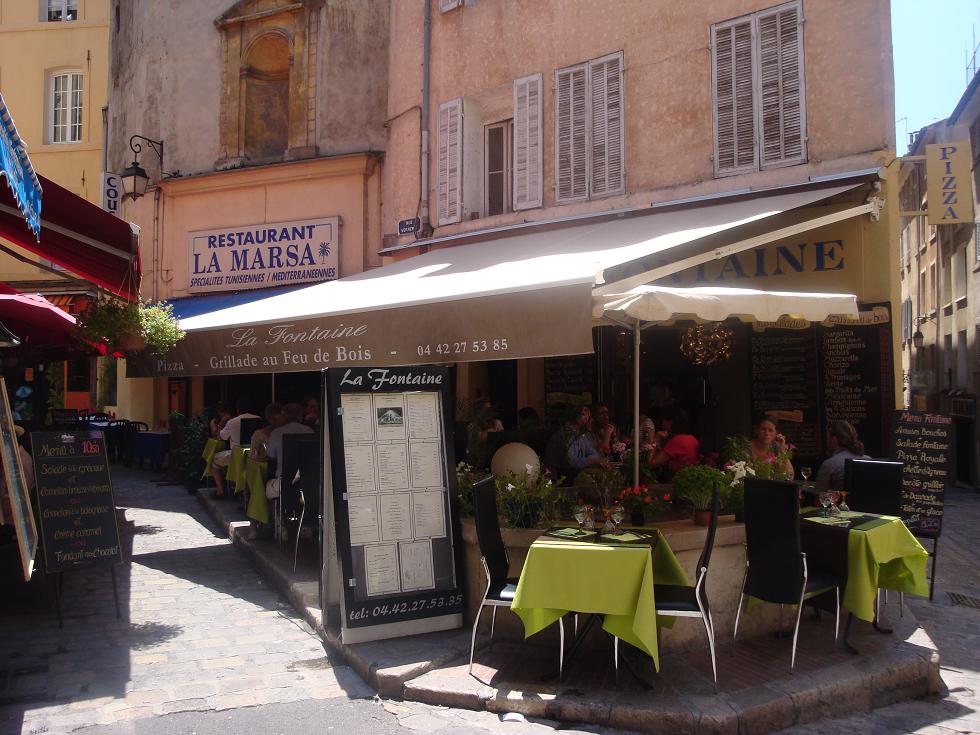 La Fontaine is in as charming a spot as one could find in a Provençal town. But Moules Frites was off… mèrde.
Tartare de boeuf, that other favourite of mine amongst Parisian café standards available all over France, was served plain but with little ramekins of onion, capers, gherkins and egg yolk.  That's just fine, I much prefer to mix it myself.  That way I can avoid the capers.
The wine was basic but I am discovering that rosé actually goes better with raw beef than red wine, especially in a heatwave.
I could have wiled away several hours sat outside this classy, but inexpensive and well run restaurant, especially if the rosé kept flowing.  But with the car keys in pocket and Cassis next on the list for dinner (Bouillabaisse?  Moules?  Huitres?) I have to summon the energy to walk uptown.  So, a quick café to beat off the drowsiness and a toothpick would have been nice but, well, this is France and, did I mention the heat?  Au moins la voiture est climatisée (je ne conduis pas).
La Fontaine
40, Rue de la Verrerie
Aix-en-Provence
France
T: +33 (0)4 42 27 53 35