Silence please.  There is a time and a place for a little reverence.  I have just opened my first bottle of a very important wine.  Château Lynch-Bages 2005.  A wine that even en-primeur, cost me over £50 per bottle.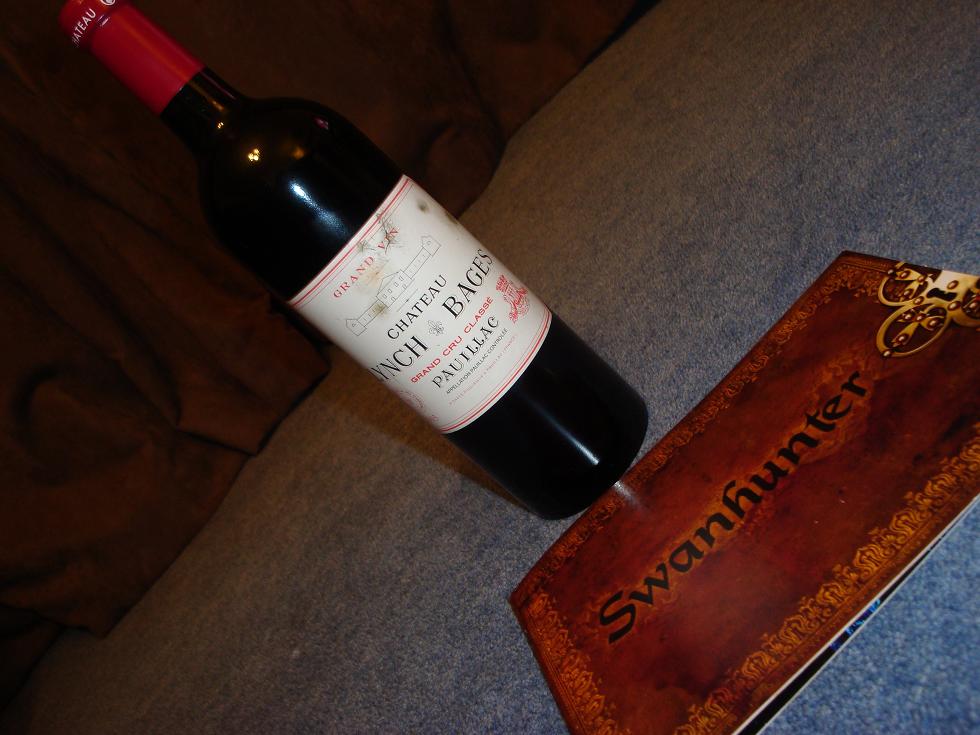 The Sunday Times Wine Club advised me to wait until 2010, but I could be dead by then and I am an impatient man….oh and I have 12 bottles so I can afford to experiment early.  So Fred had a placed a fillet steak on the skillet and I released the special one from its enclosure.
Actually, I now have only 10 bottles.  The first was really badly corked.   Lieutenant Pigeon's finest is still running through my nose.  The second bottle rather nice, once I decanted.  It was trifle in a glass.  All the components were there, sponge soaked in berry fruits, cream, custard in abundance and even little chocolate sprinkles.  No trifling wine – robust as you might expect from a Pauillac, yet with the grace of a singing swan.
Talking of music, last night I saw a world première of an opera.  Not often one of those happens, especially in Leeds.  Well, unless you count Opera North amongst your regular night's out.  This is the second world première we have seen this year.  Covent Garden, Schmovent Schmarden.  Come oop North if you want innovation!
Based on a Finnish fairytale and advertised as a good opportunity to introduce opera to children, it was about as suitable for kids as a Gary Glitter concert.  It was scary, challenging and, to be frank, barking mad.  Yet it was brilliant in many ways.
The audience looked like an arthritis convention, and about 25% were empty seats.  In the Howard Assembly Room, capacity circa 250, could they not find a few friends to turn up and watch, even free of charge?  No wonder we managed to grab the best seats in the house, middle for diddle and 4 rows back from the stage.  In a small venue, the connection with the performers, including the six piece "orchestra" is extremely intimate.  Andrew Rees as Lemminkäinen had the scary, steely, psychotic stare of Cuckoo Nest proportions, especially when riding the Devil's horse.  His mother played by Yvonne Howard, was everyone's worst mother-in-law nightmare.  The impossibly tasty Frances Bourne as Louhi, the voice of the swan, Elizabeth Cragg, and the two dogs, Graeme Broadbent and Nicholas Sharratt were all simply excellent.  The performance was totally excellent, the music challenging but interesting and new.  Only the libretto came across as a bit obvious.  Maybe Alasdair Middleton thinks we are all a bit thick.  Much more could have been done with the stage direction rather than words.  This probably explains why the highlight for me, and the reason why you should absolutely make a long trip to see the show, is the wordless song of the Swan on Death's river.  Enchanting, bewitching, beguiling, enthralling.
At the end of the performance I tried to start a Twitter meme #swanhunter.  The response was as mute as the swan.  I guess iPhones are mostly owned by the under 80s.
Château Lynch-Bages 2005 is available from Bordeaux Index at £775 per case.  Drink now if you like, or keep for several decades.
Swanhunter by the impeccable Opera North is touring "smaller" venues in the North of England.  Please go, but don't take your kids.