This is just the sort of place I imagined an upmarket New York restaurant would look like.  Solid, spacious, salubrious and snobby, and that is a compliment.  It is expensive in the evening but if, like me, you are on a budget, there are some great deals at lunchtime.  I visited in September 2009 and unlike former customer, Monica Lewinsky, I managed to keep my stains on the tablecloth.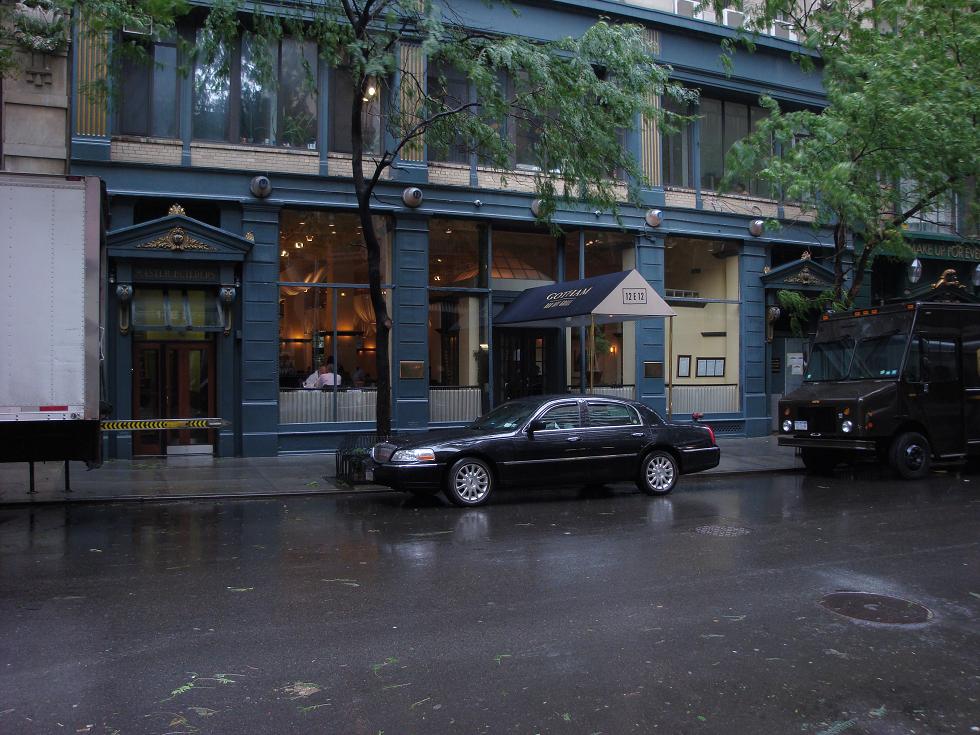 My first course was Asparagus salad, dainty and tasty with a Dijon dressing that rivals my own.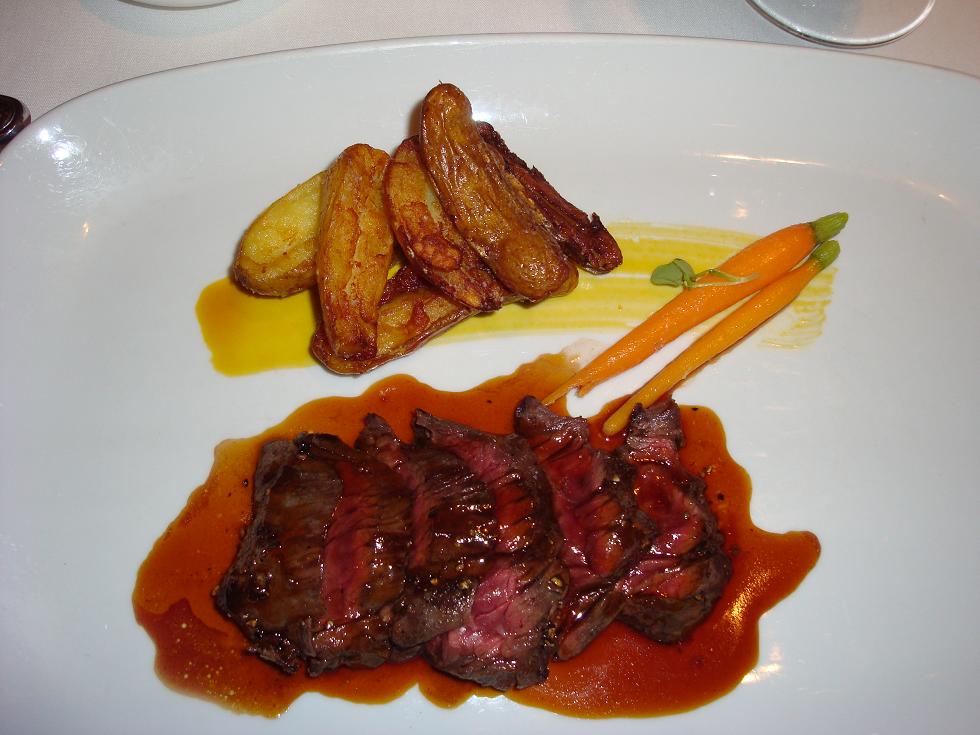 My second, Hanger steak (chef, Alfred Portale's own cut) was tender like fillet, tasty like rump, marbled like ribeye and portion sized for Twiggy.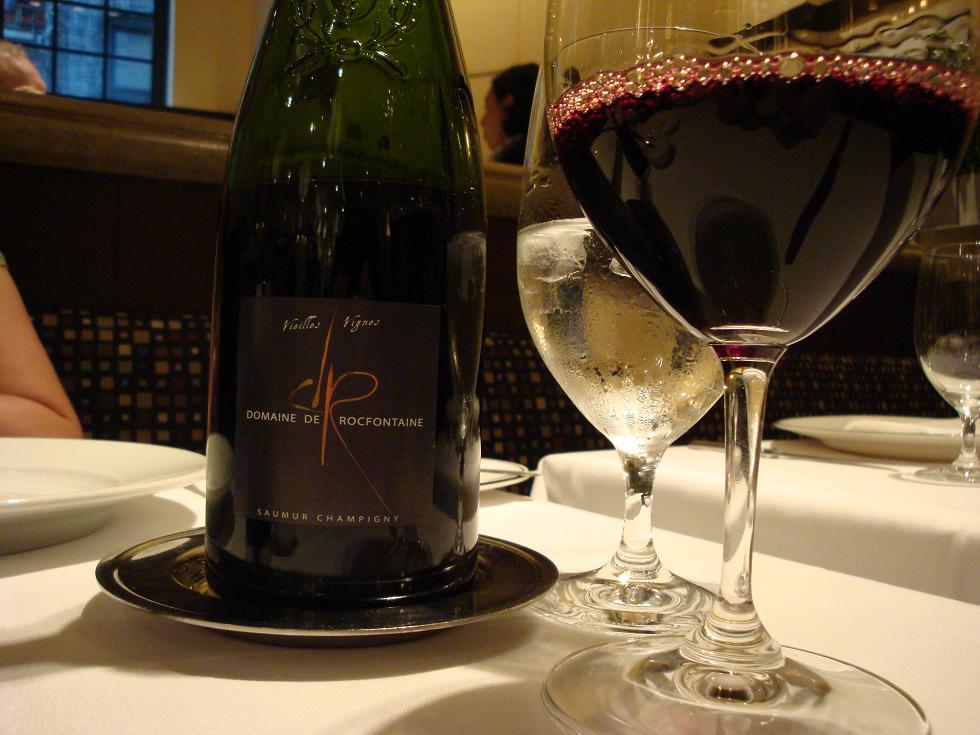 A Saumur, at only $31, was recommended with the Prix Fixé anniversary lunch menu.  The cheapest wine I could find on the main list was $40 and there were few that were not into three or even four figures.  I drank a bit of Saumur in France this Spring.  Always served chilled in Parisian bistros, this one was at "cellar" which turned out to be about 18 degrees C, not quite warm enough to assassinate the fresh flavours.  I think 12-14 would have been better.  A 2006 made from 100% Cabernet Franc, it tasted of smoky, barbecued banana and pineapple, but evolved to a tangy fruity beetrooty light-hearted, but far from frivolous, lunch wine.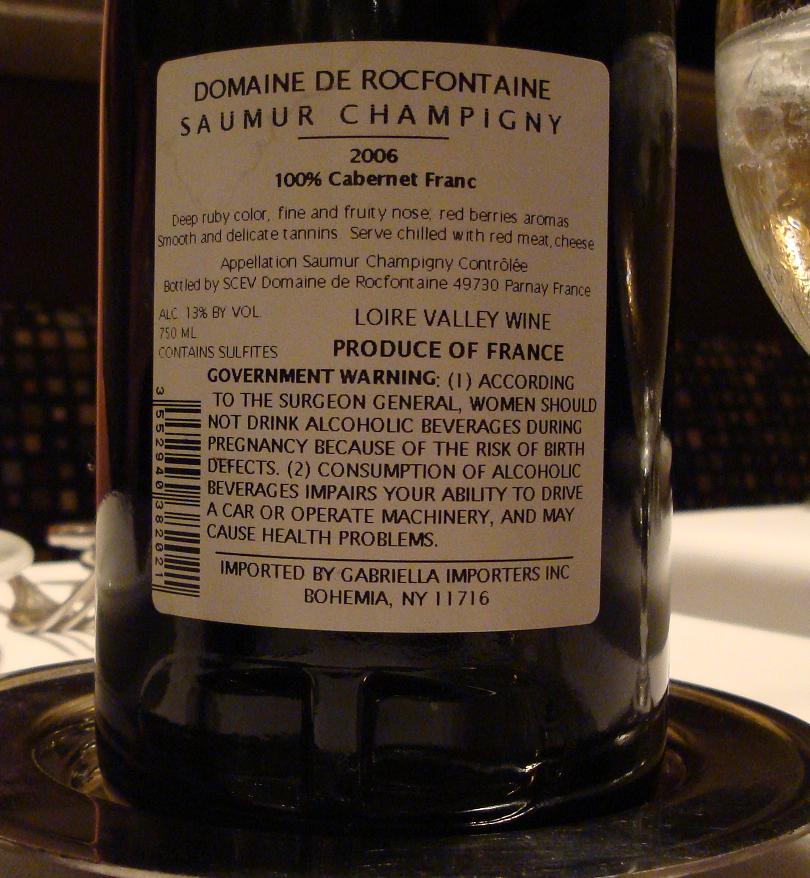 It is interesting to observe the differences in US labelling laws from Europe, and you can bet that the currently voluntary "consume responsibly" advice will very soon be turned into a legal obligation by our overbearing UK nanny state.
The Prix Fixé anniversary lunch is exceptional value at $25 (can you guess the anniversary being celebrated?) and the three courses = less than a single entrée at most similar quality places.  A decent steak plate can cost $50 or more in this city of contrasts (plus 20% service and maybe a little veg, that is more than the cost of eating your way through the entire menu at McDonalds).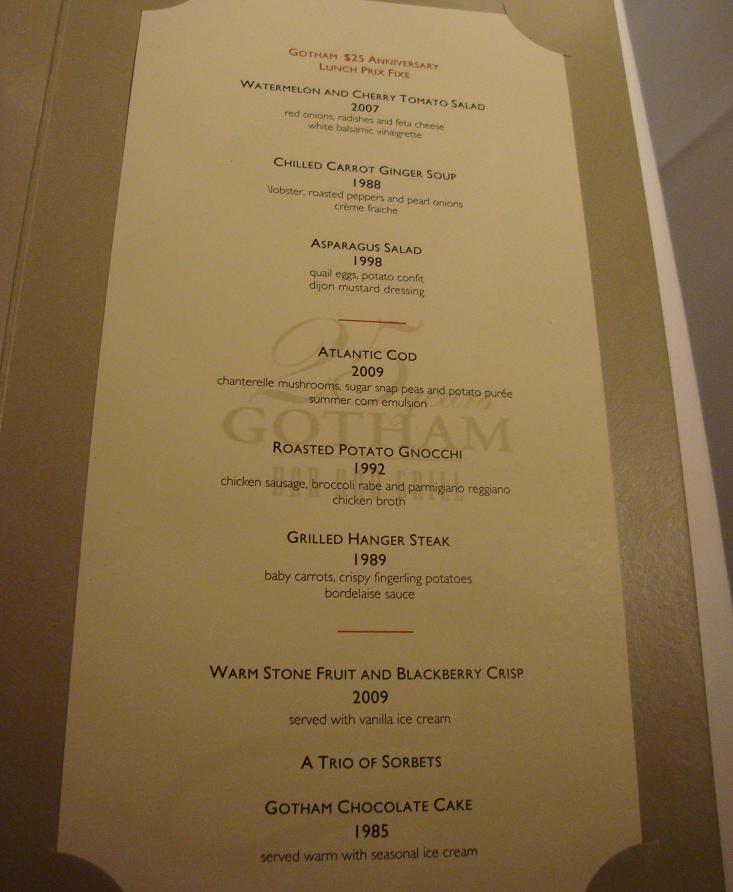 The average family wage across all five boroughs of New York City is about $53,000 before taxes.  On Manhattan alone, it is about double that, but take into account that there are some extremely wealthy bastards around, you don't need to imagine that there is also abundant poverty by American standards.  Just take a subway out to the farther reaches of the Bronx for example.  Fortunately, the super- rich provide some level of safety net via their taxes, so whilst the average price of an apartment on Manhattan is $1.6M, one in seven of New Yorkers live in social housing with government support (not much of which is amongst the downtown skyscrapers).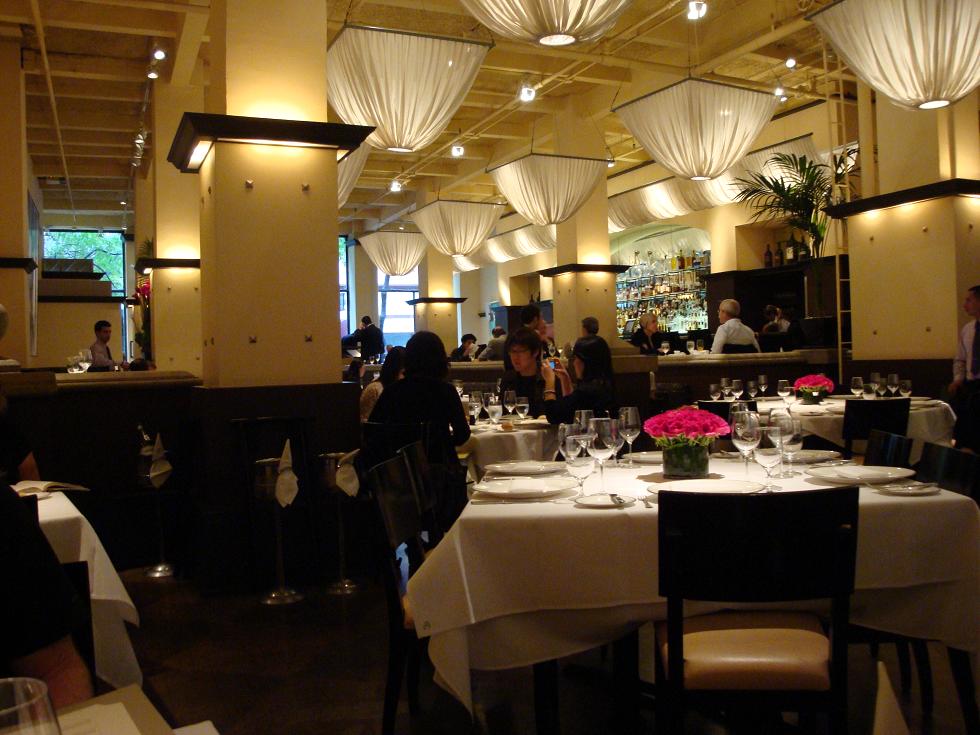 NY restos typically have a number of big round tables.  In London, square tables are pushed together for larger groups in a ruthlessly efficient use of space.  Yet on this island where a few square feet of open land will cost you more than Madoff made off with, Americans seem to value more eating in groups of 4, 6, 8 or even 10 around a space incontinent circle.  I was almost hoping to find our regular party of two allocated the last huge table where we could have sat opposite like Lord and Lady of the manor with a servant each.  But the current economic conditions deem that there is generally space for all and in our various NYC dining forays we were never promoted beyond an, albeit generously proportioned, twosome table.
I am not sure if the other diners were looking at my casual attire and wondering which cat had dragged me into their fine establishment, but I was watching them, and interesting characters they were too.  We had the real Cruella de Ville on the right hand table, and Abe Lincoln on the left.  Both enjoying arguably the best value meal in Manhattan and both investing their loose change in wine from the posh list.  It was the only place in New York where I felt under-dressed.  A Mallen streak, or a Brookes Bros cravat might have got me a better table.
I was delighted that my cousin, Sarah, who is a local, joined us for coffee.  Her current project is a book on death – readers of this blog might find her recently published book, Moveable Feasts a more relevant read!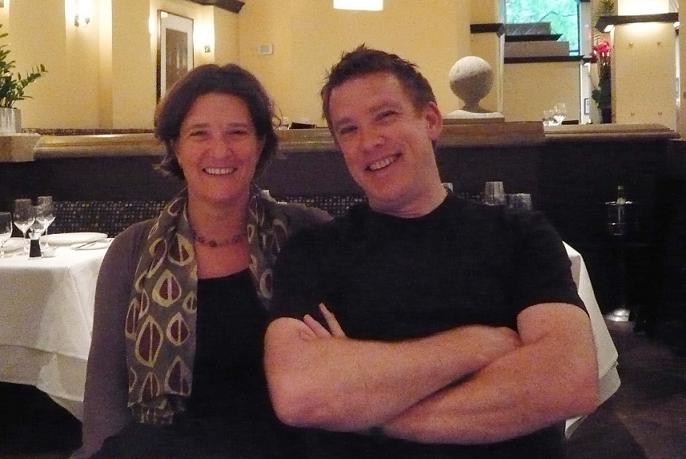 What possessed me to stray from my normal dessert wine for a Blandy's 10 year Malmsey NV Madeira?  Adventuwous Spiwit, Centuwion!  Toffee and parkin and bonfire night matched choc cake dessert and macchiato in a choca mocha meets the Fockers explosion.
The bill for two, including a bottle of wine, glass of Madeira, and a cheeky Armagnac I managed to squeeze in, came to $152 plus service, or £107 in "real" money.  In midtown Manhattan this really is loose change for such quality.  As Monica might have said, "that was a fair mouthful".
Gotham Bar & Grill,
12 East 12th Street, New York 10003.
T: Â +1 (212) 620-4020
W: Â www.gothambarandgrill.com