Beans on toast.  One of life's staple meals.  So simple, so healthy, so cheap, so erm, studenty?  Of course there are only two types of baked bean, Heinz and shite.  And there are only two types of toast, the type that sets my smoke alarm off, and the type that is undercooked and flabby.  The absolute secret to beans on is to make sure the toast is as crispy as possible before you soggify it with the beans.  Also helps if you cook the beans over a low heat for a decent amount of time to reduce the sauce.
So sitting in the flat to the tuneful, albeit duotonous, harmonies of Manchester Fire Brigade's finest, my mind inevitably wanders.  My challenge over the last couple of years has been to find the perfect wine match for this honourable meal, and I think I may have just succeeded in Spades.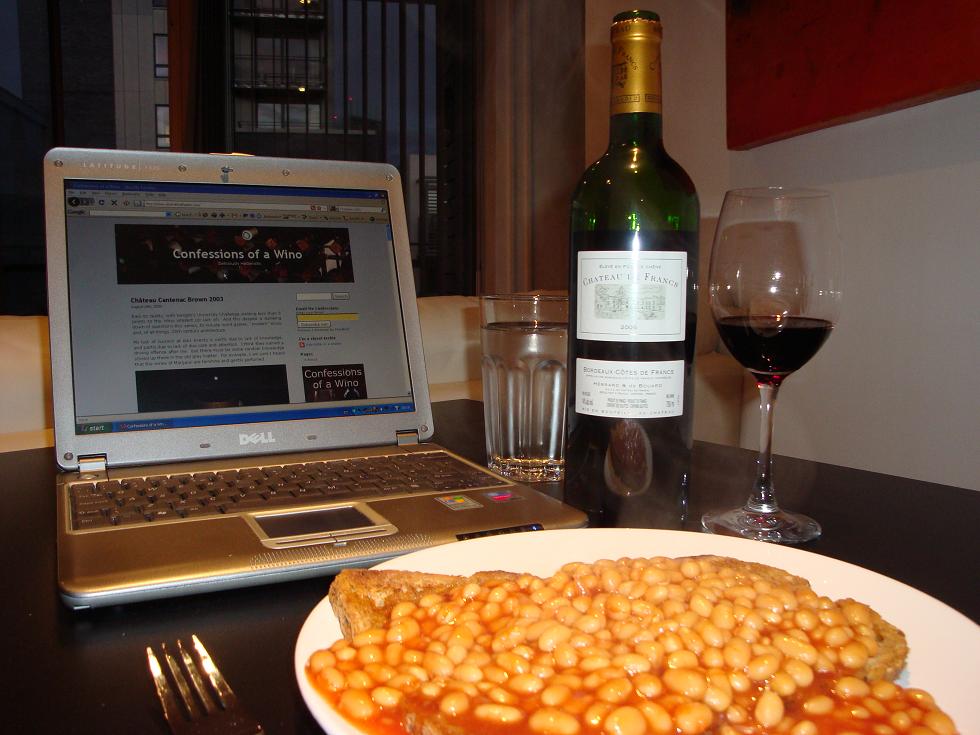 Château de Francs 2005 is from the Côtes de Francs in Bordeaux.  Elevé en fûts de chêne (aged in oak) it's a wine that gets you reaching for your ASCII map.  Made from 86% Merlot, it is a smooth, tasty, yet rich and smoky wine with sweet dark berries perfectly complementing the Heinz tomato sauce (with added sugar).  There is enough tannin to pluck out the slightly burnt embers of toast and the ensemble is a masterpiece of Clarinet Concerto in A Major proportions.
I got my stash from the Wine Society at £9.50 although they have clearly worked out that it is worth more, as the price at the time of writing has rocketed to £11.95, and they can't even get the picture right.  Ignore these minor faults and go buy some quickly before the 2005 sells out.