I have a theory that the more a place is off the beaten track the harder it has to work to get custom, the more it relies on regulars and, therefore, the better the food and wine.
32, Great Queen Street is on, well, you've guessed it. Â Just off the main streets of Covent Garden and close to the Freemason's Grand Lodge, I suppose I could have negotiated a discount had I rolled one trouser leg up and hopped inside holding a kipper to my ear.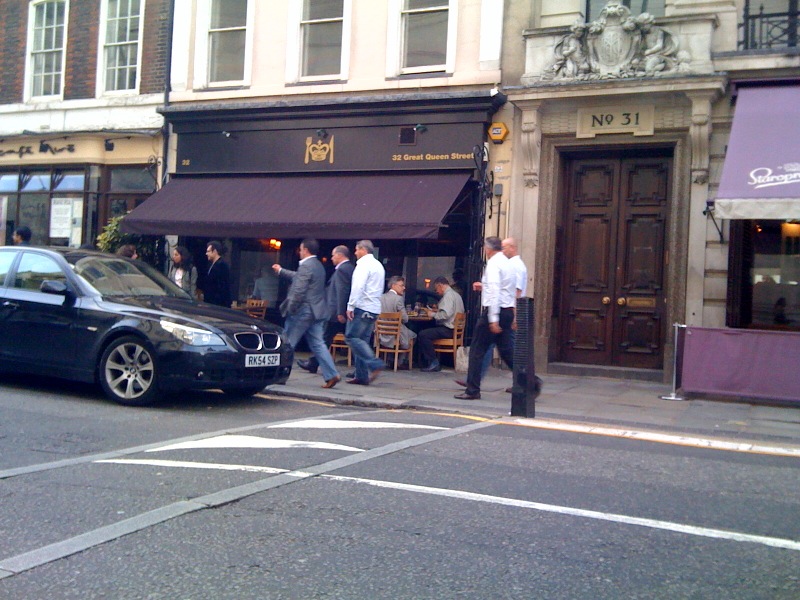 This was busy for a Wednesday night and, as a singleton, I was denied a table in favour of a bar seat.  Fine in theory but about as comfortable as dining whilst perched on Lance Armstrong's saddle with the bonus of being continually jostled by a Peloton of bar customers.  I found myself supping on a thimble sized glass of corporation finest whilst hoping that the food would be worth the hernia.
From a very impressive wine list, the Pic St Loup 2007 Bergerie l'Hortus spoke to me from Coteaux du Languedoc, and even in French I understood.  "Je veux t'encouler et je coûte £25.50".  It was no problem to chill it slightly when I asked, which was just as well because this is a hot, fiery, sexy wine.  Scorched bark, deep red fruits, high in acidity.  In short much better slightly chilled, especially in this hot weather.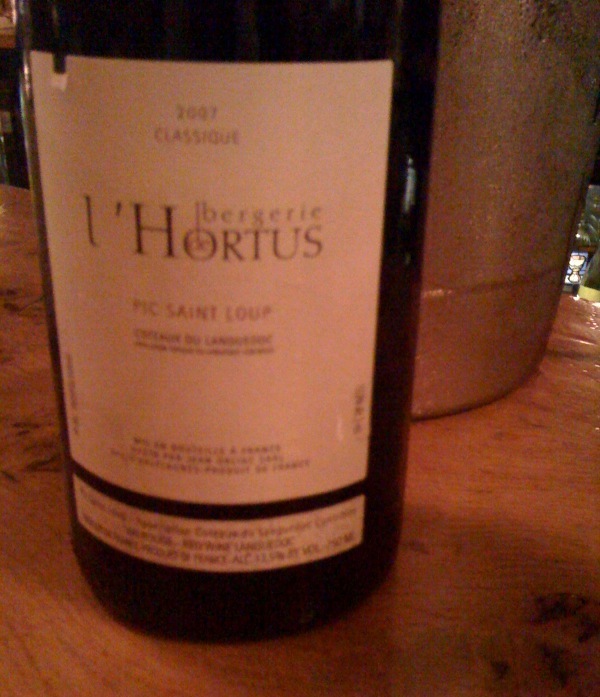 Actually the wine list is marvellous. Nodding winks to fashion (Albariño), and price (Cava) alike, it cut a nice balance between credit crunch and munch bunch.
Chicken Liver Parfait (£5.00) was super apart from nearly pinging one of my many fillings.  A case of tip top taste with hens' teeth included (and we know how rare they are).
My main was pig's cheek & lentils (£12.80) with sautéed spring greens (£3.80)  "typical of what we cook, the menu changes from service to service" said my waiter. I think this dish should be a permanent fixture, if there are enough pigs willing to have their smile removed and deep fried. I can only describe it as a Moby Dick sized piece of pork belly only much more tender and marginally less fatty.  It is the porcine equivalent of braised steak.  But they should call it the "chef's challenge" and award a free dessert to anyone who can clean the plate.
There is a certain charm here, despite the discomfort.  It feels like a cross between a back street Spanish tapas bar and a bustling Parisian bistro but with comfort food rather than fancy dining and a free orthopaedic massage thrown in – oh, erm that last bit was a dream.
In short, this place is hot, uncomfortable and bloody delicious.  Oh, and did I mention the fab wine list?
32 Great Queen St, London WC2B 5AA.
T: +44 20 7242 0622