If you want to enter a declining market and make a meaningful dent then you better innovate.  Naked Wines is doing just that and gaining publicity by the jeroboam.
Rowan Gormley's latest stunt was to hold a "crowd taste off" with AU$100,000 of Naked Wines purchase orders available to the winning wine makers.
The tasters were the 50 most active customers of Naked (fully clothed, I believe).  The winemakers were selected by The Government of South Australia and the Australian Trade Commission.  After rounds of tasting and price estimating, the final coup de théâtre was the winemakers themselves in a reverse auction to adjust their prices to see how much of the $100k they could take in orders.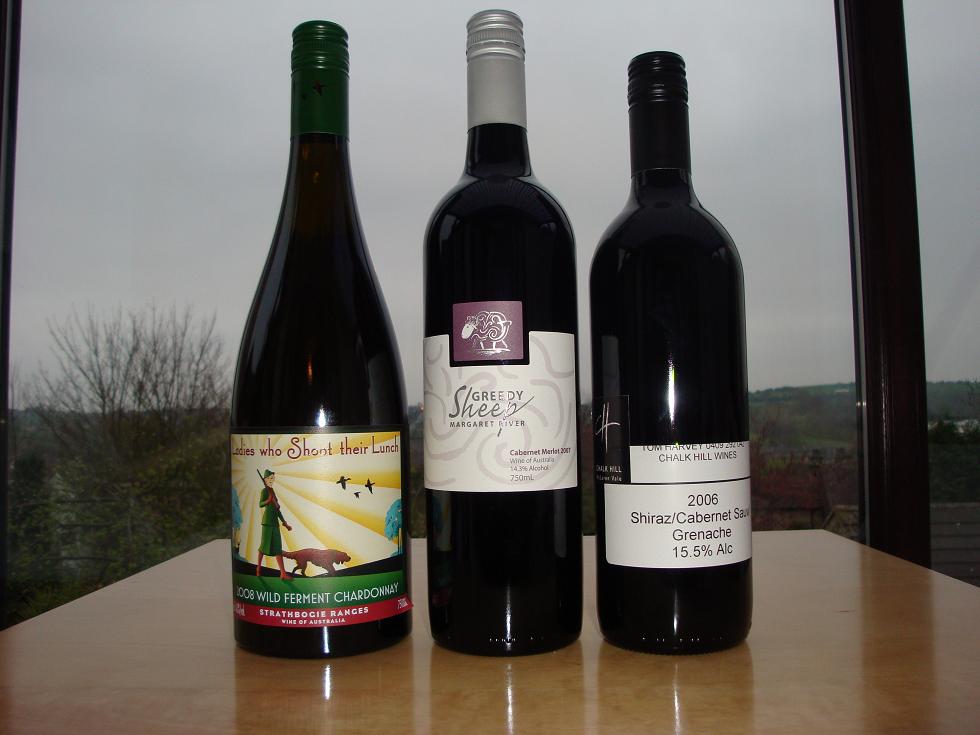 I managed to get my paws on three of the winners that will be going on sale via the Naked Wines website in the next few weeks:
The interestingly named Greedy Sheep 2007 Margaret River Cabernet/Merlot – 14.3%.
Even more bizarre nomenclature provided by Ladies who Shoot their Lunch 2008 Wild Ferment Chardonnay – 14%.
Making up the triumvirate, Chalk Hill 2006 McLaren Vale Shiraz/Cabernet/Grenache, almost boring by name but weighing in at a whopping 15.5% alcohol.
I'll leave you to judge the value of the marketing initiative.  Was it a win/win/win/win for Naked, the Australian agencies and the winemakers?  While you ponder, I am going to have a bit of fun and guess the prices of the wines when they go on sale.
Greedy Sheep Cabernet/Merlot was my favourite and a good robust tasty wine that I would buy for about £8.  It has the peaty seaweed smell of a glorious Islay Malt (Ardbeg or Lagavulin for example).  Flavours are intense blackcurrants, wet cake mix, plums and a touch of chocolate.
Ladies who Shoot Chardonnay is unusual but tasty and probably worth the same £8.  Buttery grapefruit and orange with rose hips and a touch of honey.  Potent but tasty and went especially well with barbecued Marlin (don't ask!).
Chalk Hill – I wouldn't buy this one but I suspect it will be just over a tenner if only to cope with the duty.  It is an Autumn fruits jambuster – not my favourite style.  Way too overpowering for me, but I must be on my own because the 50 live tasters rated this at 4.4 out of 5, second highest score of the evening.