I've been pretty unkind to Stresa.  It is a fabulous location for a quiet holiday and I spent just a few Autumn days there.  Plenty of boating, walking, cycling, even snow skiing a brisk 4 hour walk uphill away.  But I ate out at a few places in the town and mostly found it poor reward for my day's exercise.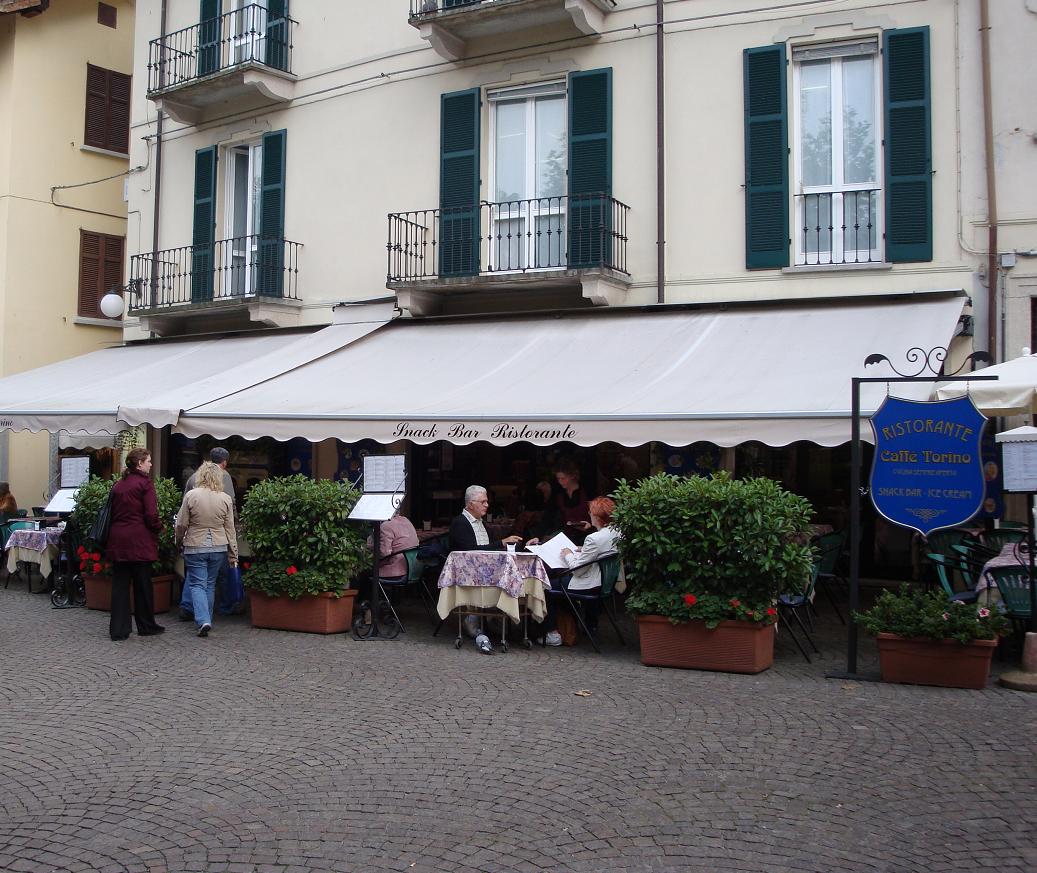 One notable exception was Caffé Torino where a superb meal for two with a bottle of wine cost only £1,340,056, or €54.30 at today's exchange rate.  The antipasto (below) at €8 is one of the best value plates I have ever seen.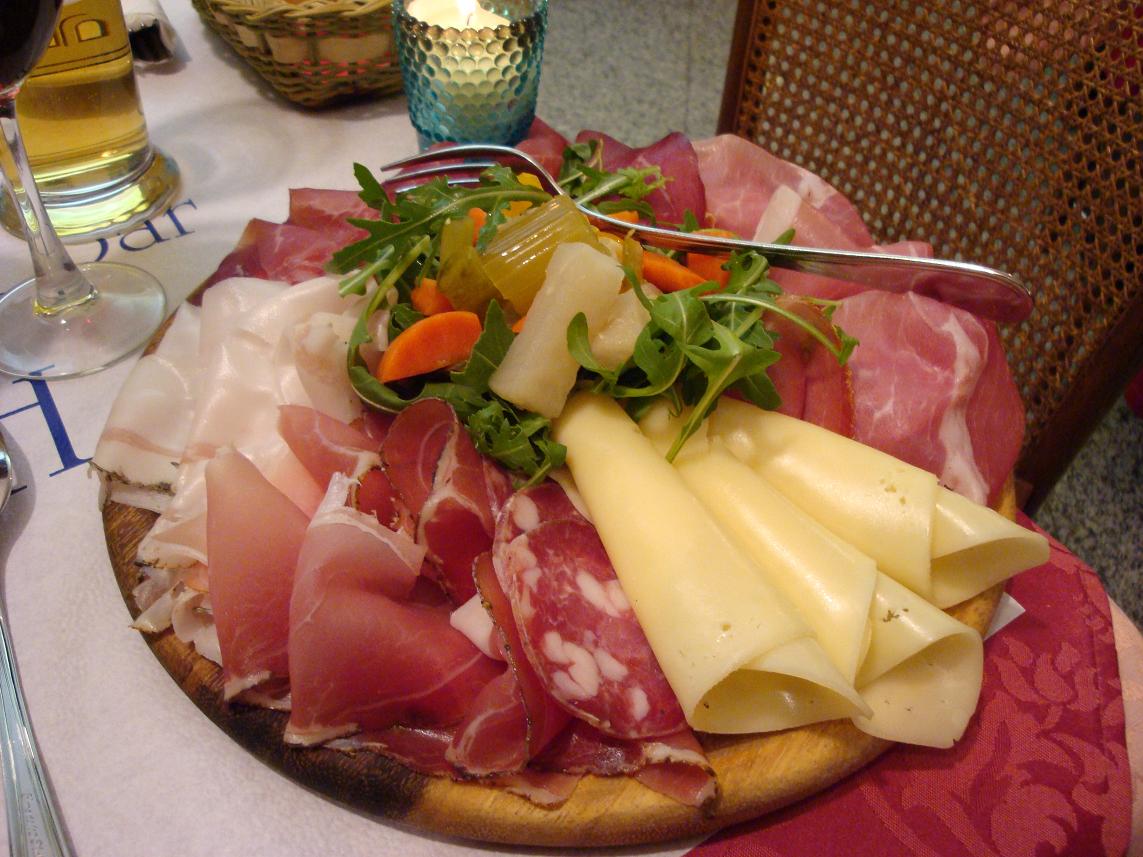 The Italian menu said Tagliere di Salumei di Mottarone which I translated as Viande Sechée or Succulent wind dried mountain pork and cheese from a nearby ski resort.  However the local linguist settled for the dreadfully American Cold cuts which turns this simply beautiful display into a CSI murder victim found in the cellar of a lonely spinster.
The wine was similarly low priced and it seems that €12 buys a pretty decent bottle.  I tasted Grignolino in a couple of places – a new wine to me – and I found its fundamental flavour to be salty.  This Michele Chiarlo 2006 was also a tad sulphuric, with some fizzy vegetables, possibly tomato.  Despite all this it was fruity and just acidic enough to be interesting, until you remember that in the UK you would be lucky to find a bottle of Echo Falls for twice the price and you remind yourself of the reason you came to Italy for a holiday.
One disappointment, since we were not far from where the wine was made, was the fact that it was served at room temparature.  My Italian, learnt from CD courses over the previous 3 months was crap.  However, the waitress managed just enough English to bring me an ice bucket when I showed her the back of the bottle which cleary recommended a serving temperature of 13-14°C.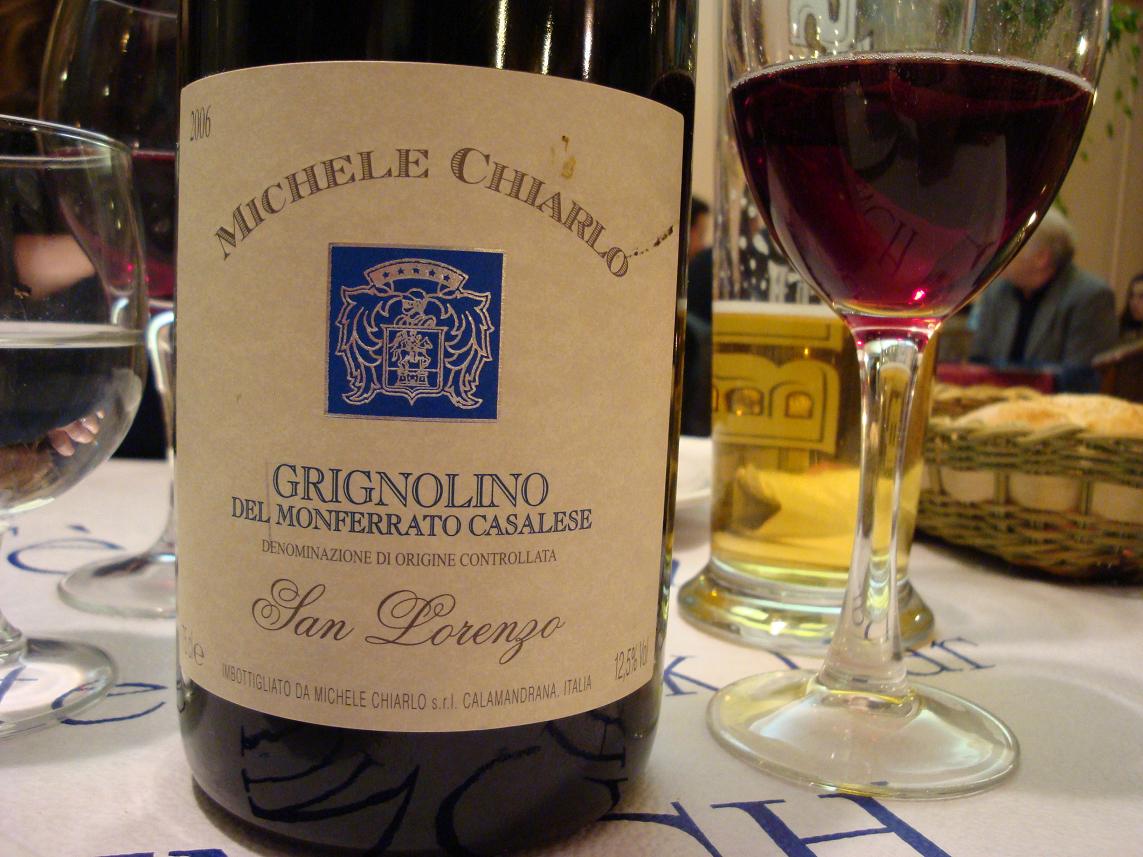 You will have noticed my nod to vegetarianism, with the pickled carrots on the top of the antipasto.  Ambitiously, I extended this into the main course with a cannelloni di ricottta e spinaci which was good and almost as cheesy as the desert, Torta della casa con pane éspagne – flakes of sponge like snowballs on a whipped cream bomb.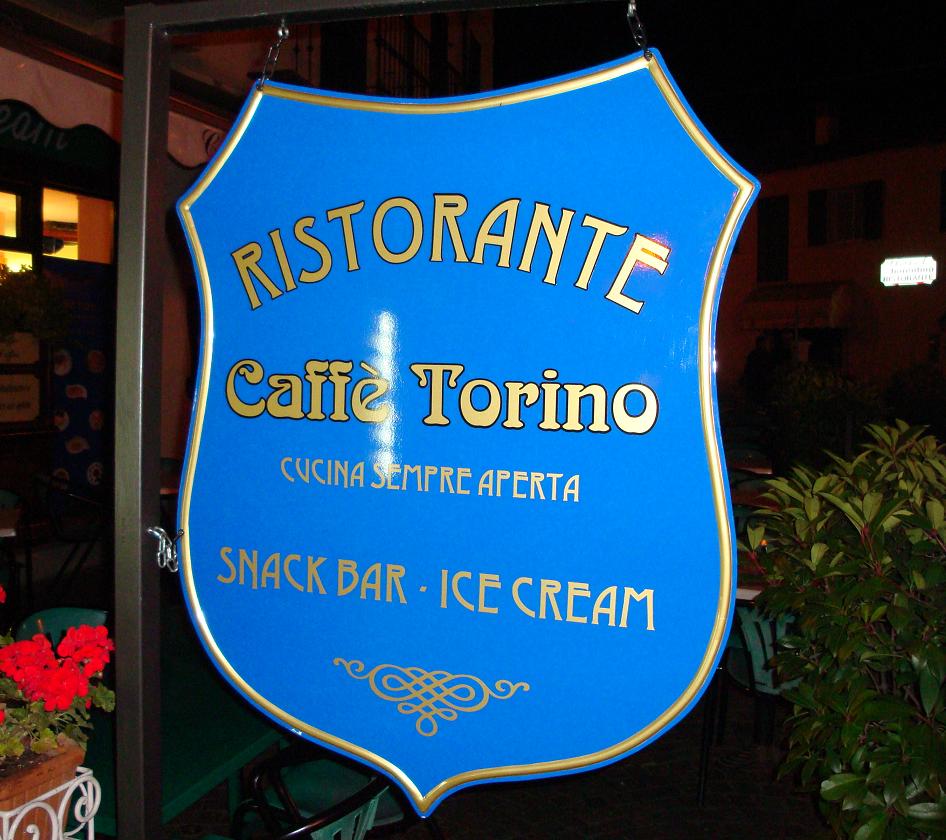 The macchiato was served the northern Italian way (with cold milk) and every person in the restaurant had theirs accompanied by a nice frozen Limoncello.  Assuming it was free, the look of disbelief that met my nod and wink towards the freezer was erm…frosty.  I guess at these prices, a couple of euros is good value for a digestif but I wanted to hold my bill below the critical support line of €55, now worth £2M more, since my last valuation, earlier in this post.
I consoled myself at Malpensa airport where I secured a litre bottle to take home and freeze.  It was lovely, and my home made macchiato was better.
Nonetheless, this was my best meal in Stresa and if there, I recommend you try this charming restaurant/snack bar.
Caffé Torino, Piazza Cadorna, N23 Stresa VB. Italia.
T:Â  +39 323 30652
E:Â  caffetorinostresa@hotmail.it