In the classic comedy series, Fawlty Towers, Basil plans a gourmet night to attract a higher class of clientele to the infamous Torquay hotel.  Kurt, the excellent new chef who fancies Manuel the Spanish waiter played by Andrew Sachs, until recently one of Jonathan Ross' closest acquaintances, manages to get totally pie-eyed and passes out just before the dinner is supposed to be cooked.  With guests already arriving, local restaurateur, André, comes to the rescue with a three choice menu of duck with orange, duck with cherry or duck surprise (duck with neither orange nor cherry), that never makes it to the table.  The culmination of this disaster scenario is Basil thrashing his Austin 1100 with a branch in one of the funniest, well known and most repeated scenes of the comedy solar system.
So when Alan and Heidi invited us to Casa Mia Grande, a well known Italian restaurant in Chapel Allerton, for a "gourmet evening", I quivered, took the car for a service, wore my stain proof pants and a shirt that could tolerate red wine spills.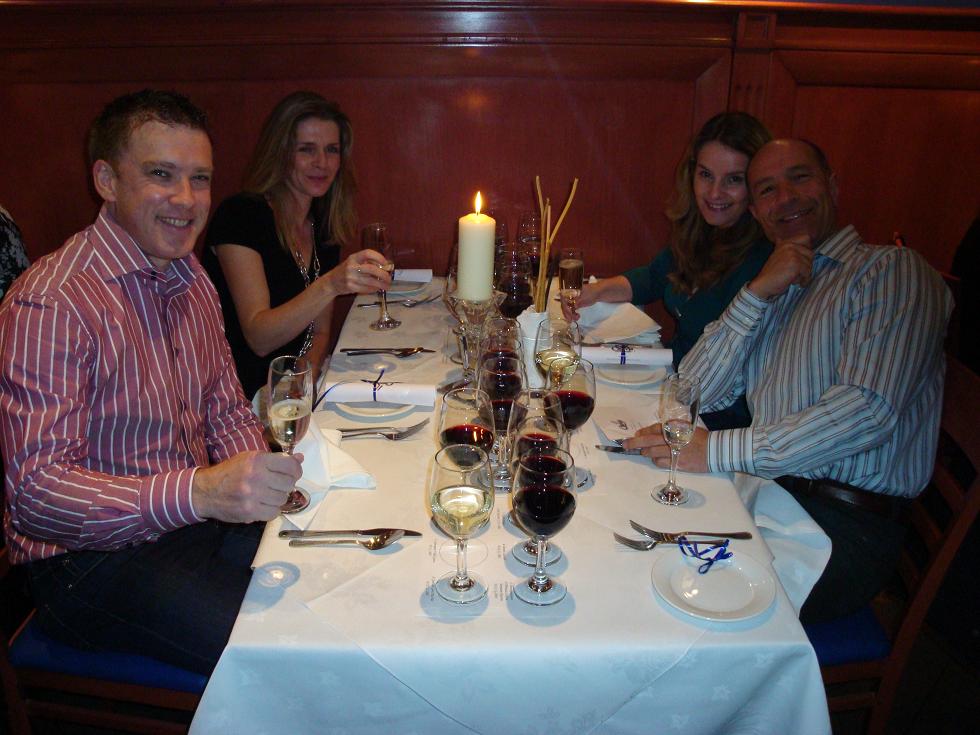 I needn't have worried.  Francesco had flown in Michelin starred chef, Nino di Constanzo from Il Mosaico and a fine meal he prepared.  I have not seen such attention to detail, so much thought, effort and consideration go into every dish since Morgan Meunier fed me.
We started with Liquid Aubergine Parmigiana.  An interesting and intense taste test to get us going.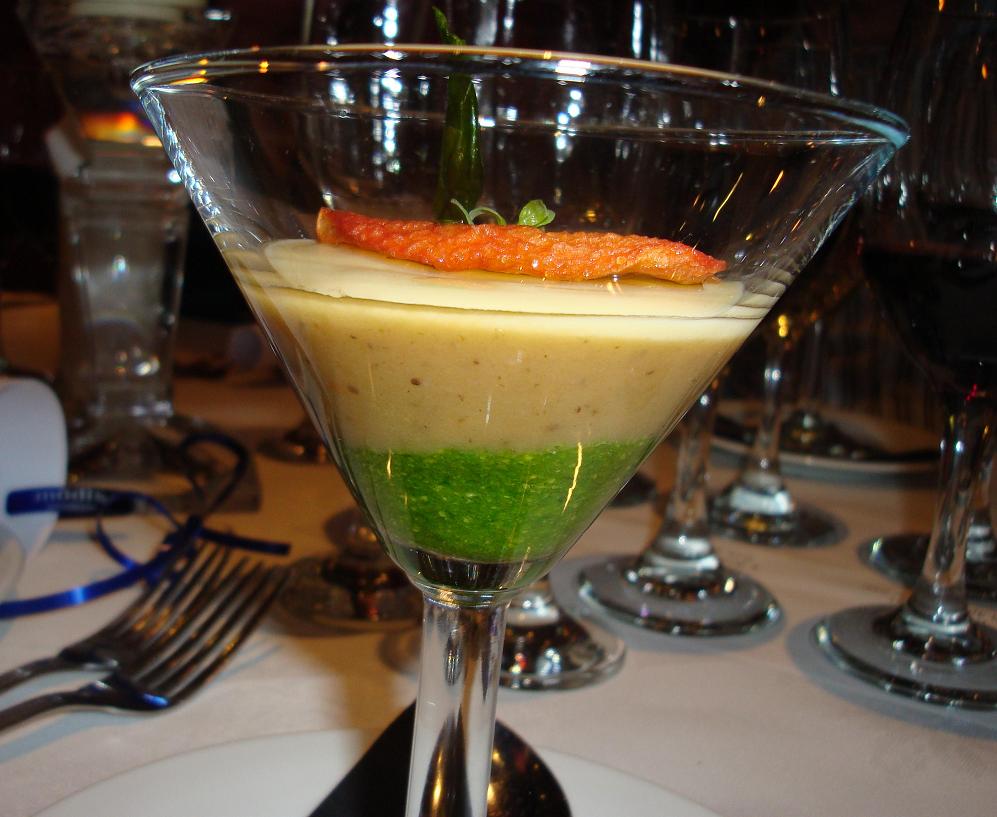 I am not going to bore you with all seven courses, but I would pick out the Tortelli di Stracotto al falso pepe e salsa di ricottta affumicata.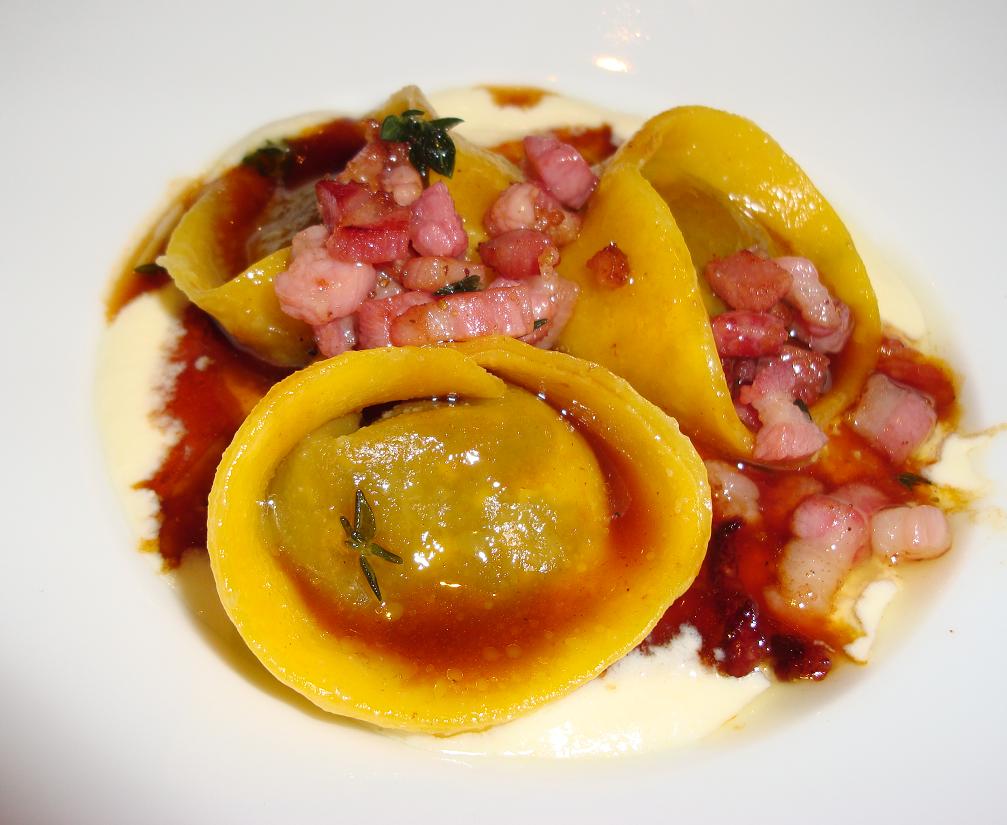 Stracotto apparently means cooked to death and Nino had been here since Monday preparing for this Thursday meal, mostly centred around well cooked Yorkshire beef.  However, a concession was made to Italian haute cuisine with the DHL delivery of €400 worth of finest white truffle from Alba, snouted out to order on Tuesday of this week.  Served with the beef carpaccio, I have to admit it may even be worth the money.
The main point of the evening for me was the wine, of course, and I thought they were all expertly matched to the food.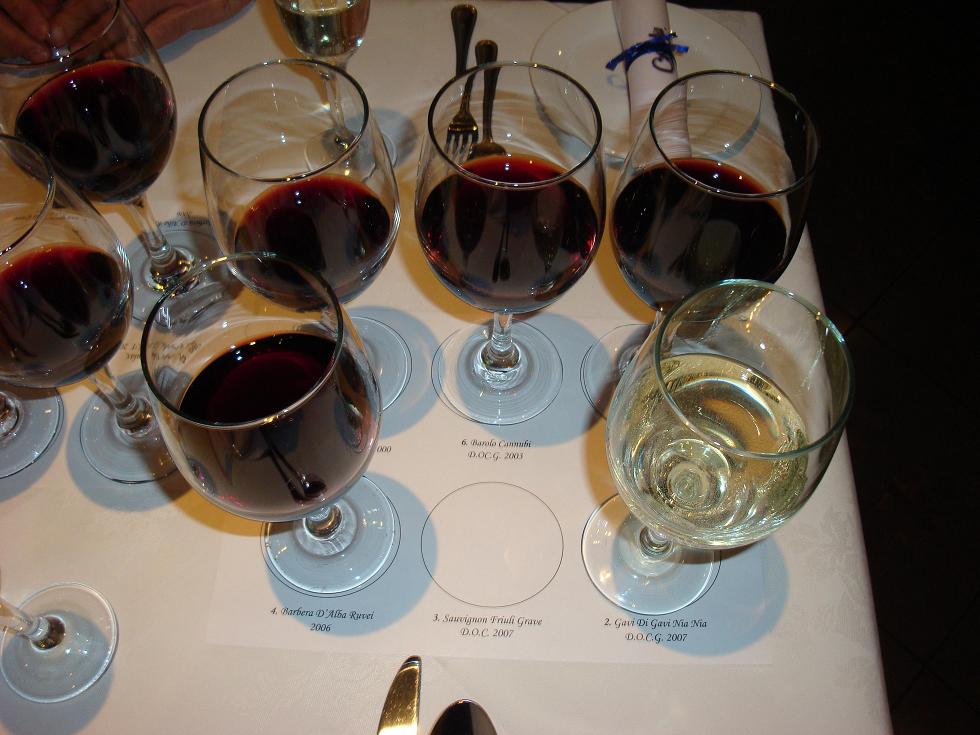 I'm going to allow Heidi to summarise her thoughts on the wine since my notes would probably test your boredom threshold.
Gavi di Gavi 2007 – Grapefruit
Friuli Sauvignon – Passion fruit
Barbera D'Alba – Cigars and blackberry (I wasn't as kind to this wine comparing it to chewing on an unlit cigar with black cherry sauce, but actually it was the best food/wine pairing of the night – super with the risotto).
Montepulciano Colline 2003 – Nutmeg and spice (and a touch of pine needles and balsamic I thought)
Barolo "Cannubi" 2003 – Pepper and plums.
Kardio Fulax 2000 Colli Aprunti IGT – by far the best wine of the night, rotting veg, horse's saddle and blackberries. Not sure why it was served with the cheese course though.
Oh, there was a Prosecco to start as well – we all rolled out quite pissed.
Francesco Mazzella needs congratulating on running a superb restaurant, and on creating a fab gourmet evening.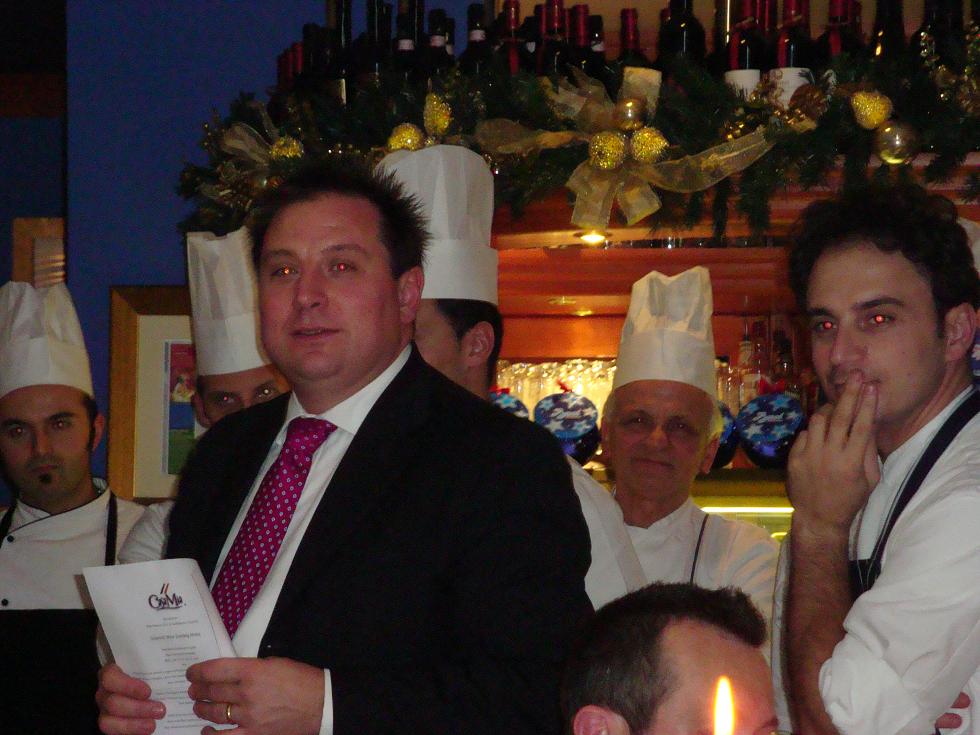 After the meal a whirlwind introduction to Nino, the star chef.  I asked him where he got his inspiration from and his answer was profound "me no speaka di Inglese, Signore".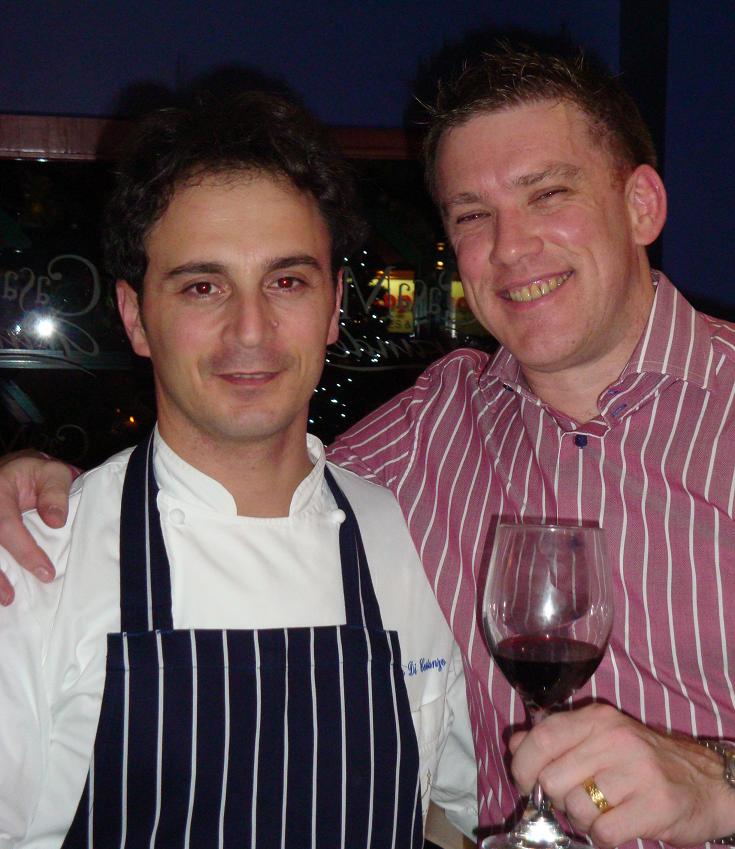 But arguably the best introduction I made that night was to charming Jen Scott-Russell of h'atelier, a milliner (or should that be millineuse) of some repute from Manchester's trendy Northern Quarter.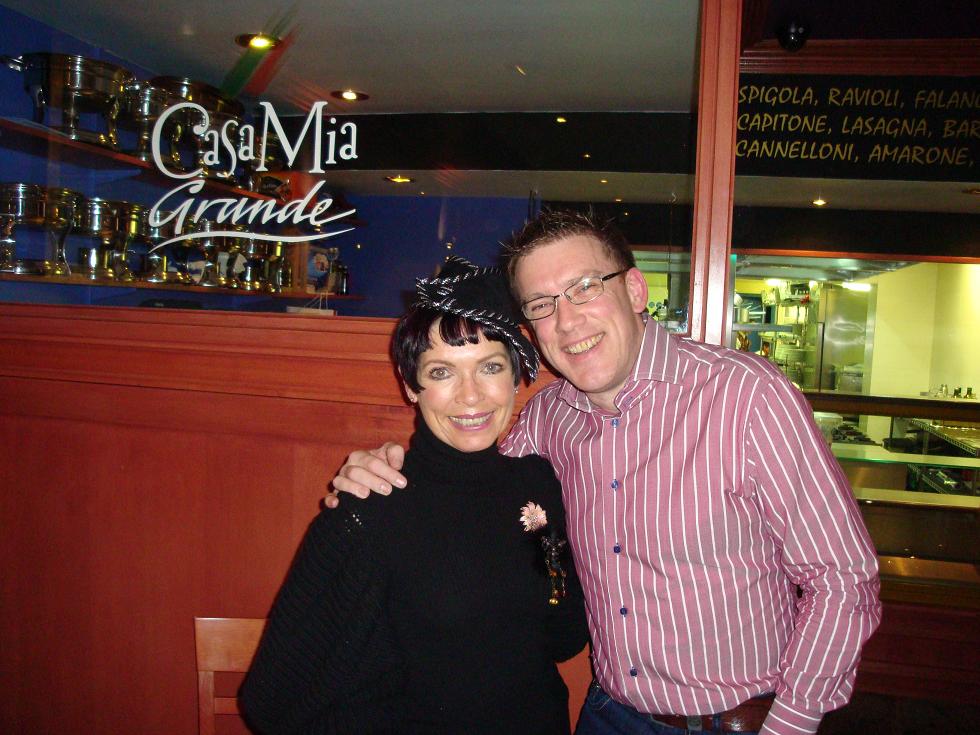 If you are going tonight (Friday) you are in for a real treat – I promise.  And not wishing to sound like a US governor, I'll be back to one of the Casa Mia restaurants very soon to try out the standard menu.
Casa Mia Grande, 33 – 37 Harrogate Road, Chapel Allerton, Leeds LS7 3PD
T: 0870 444 5157
F: 0870 444 5159
enquiries@casamiaonline.com
www.casamiaonline.co.uk
h'atelier, 14-16 Faraday Street, Northern Quarter, Manchester M1 1BE
T: 07738 636246
jen@hatelier.co.uk
www.hatelier.co.uk