Invited over to Darryl and Jayne's for a bit of Scouse spicy scram and a few bottles of wine, Darryl was not surprised to see me turn up with a couple of bottles of Riesling.
Our mutual mate, Tony, calls Riesling sugary shite but that is unsurprising from a man whose wine sophistication is measured by the fact that he thinks Beaujolais should be served at 25 degrees centigrade.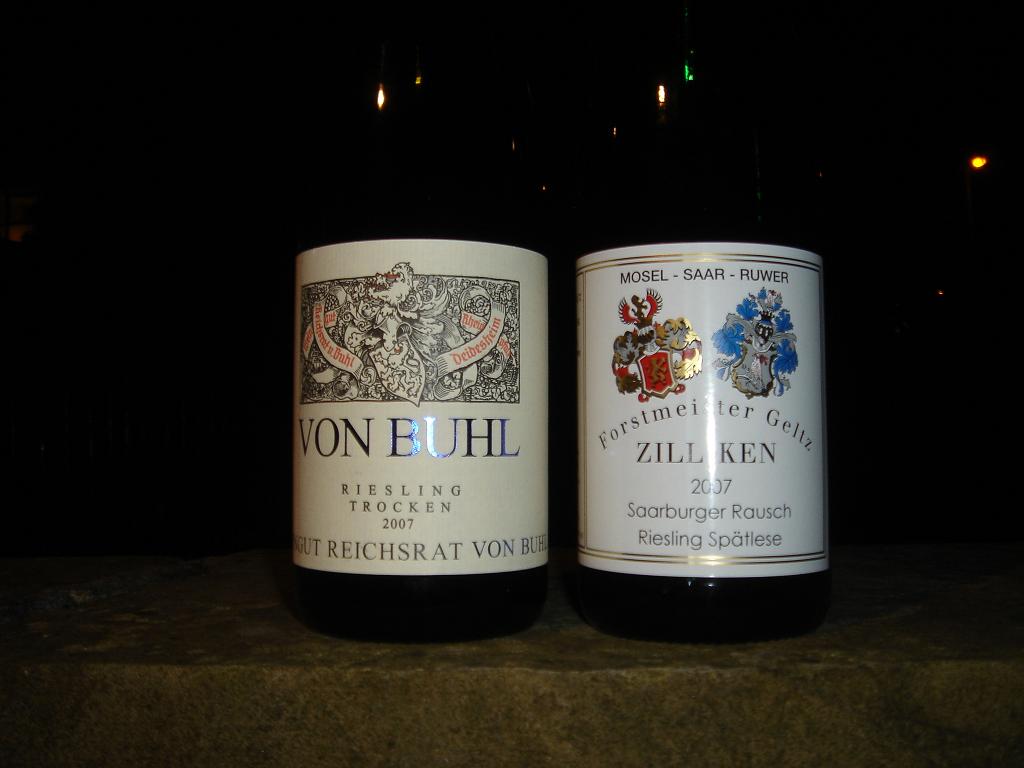 In fact the first one we opened, I had intentionally planned to be bone dry.  Von Buhl Riesling Trocken 2007 had an intriguing glass stopper that bought school chemistry lessons to mind.  Popping the stopper gave me the shock of seeing a little mist in the neck of the bottle, and a further surprise when the wine poured into a glass was slightly sparkling.  I assume this must be intentional because the wine tasted good.  Sour apples, a touch of grapefruit and a little sugar.  A very unusual and funky change from the white wine norm.
Tony's take was predictable.  "Tastes like a Lucozade top", by which he may well have meant beer with a touch of Lucozade, or indeed Lucozade with a touch of lemonade.  I liked it though – and Darryl and I successfully quaffed it with chicken satay and spring rolls.
The second wine was sweeter and lower in alcohol (7.5% vs. the Von Buhl's 12%), more typical of the type of German Rieslings that appear in this country, although all too rarely on supermarket shelves as far as I can make out.  Zilliken Saarburger Rausch Spätlese 2007 had an appealing lemony smell and a taste of refreshers.  We tried this with hard cheese to much success, although Darryl thought the £ per cl of alcohol ratio a bit high.
Both wines came from the Wine Society.  The Von Buhl was £9.95 although no longer seems to be listed, the Zilliken, £18.  I'd try them both if you can find them, although not necessarily on the same night…