What's in a name?  Or the way it is pronounced?  Or the way it is presented?  Hyacinth Bucket was famous for re-packaging her married name as "Bouquet".  Snob residents of Burnage in Manchester (pronounced burnidge since 1478) are heard to mutter that they come from Burnaaaarj (as the French would pronounce it).
Long ago, the Cockburn family must have realised that their own name needed a bit of thought.  Who is going to buy a bottle of port from a company that sounds like a naked barbecue incident?  And so they became Coeburn by pronunciation.
193 years later, and change is on the agenda again, as Cockburn's have decided to repackage port to make it more trendy, more appealing to the contemporary drinker, more relevant to the modern dinner table, and perhaps more attractive to the Buckets of the world.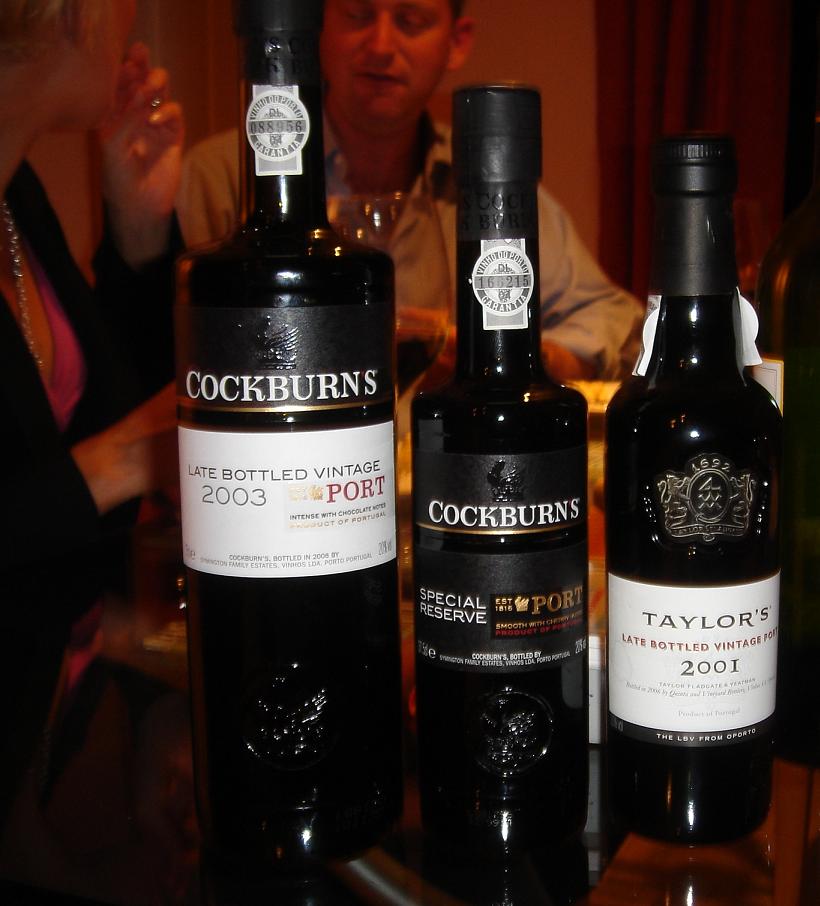 Maybe I am a Bucket because I received a couple of bottles and asked my opinion.  Naturally, I embarked upon a taste test.
Cockburn's Special Reserve is apparently the best selling port brand in the world.  Cockburn's Late Bottled Vintage (LBV) 2003 is slightly more expensive and plays to those that appreciate a 4 digit number on their wine bottle.
I have admitted before to being a marketing nut, and I think that packaging is really important in the touchy, feely, tasty world of wine.  It is all part of the ceremony - unpackaging the goods, and the longer it takes, and the grander it looks, then the better the contents taste.  Having said this, I am always suspicious when something that is exactly the same product as ever, is re-packaged for no other reason than to try to generate new interest.
In fairness to Cockburn's I know little about port, and rarely drink it.  But I think their new bottle design is smart, and the overt tasting notes are a welcome change to the sparse information we are used to seeing on a French wine label for example.
What really matters though?  It's the taste, stupid!  So I pitched the two bottles of Cockburn's into a scientifically prepared dinner party test laboratory.  As a benchmark, I threw in a bottle of LBV 2001 from Taylor's for good measure.  The port was served after dinner with optional cheese.
Cockburn's Special Reserve was quite nice, but simple.  Smelling of wet fruitcake mix with a touch of party poppers, it was very red and tasted quite smooth.
Cockburn's LBV 2003 was the pick of the three bottles by unanimous vote.  Woody, with old spice, cinnamon, nutmeg, orange peel and prunes, it was all of Christmas in a glass – a slightly scary thought mid August, but belly warming and distinctly satisfying nonetheless.
The Taylor's LBV had a touch too much sugar for me which detracted from the base flavours.
The experience has given me a new interest in port, and irrespective of the packaging, I'll definitely be drinking more of the stuff – all year round.
As for temperature?  I tried it at just off room – about 18°.  If you have an ice bucket left over from an earlier white wine, pop the port in for just a few minutes before serving.
Cockburns LBV 2003 is available in the UK from Asda and Morrisons at £10.68 RRP.