There is no hiding place for the rich these days.  All the summer High Society events are being gatecrashed by chavs.  Royal Ascot this year even tried to enforce a new dress code that ladies must (amongst other things) wear knickers, and not on display.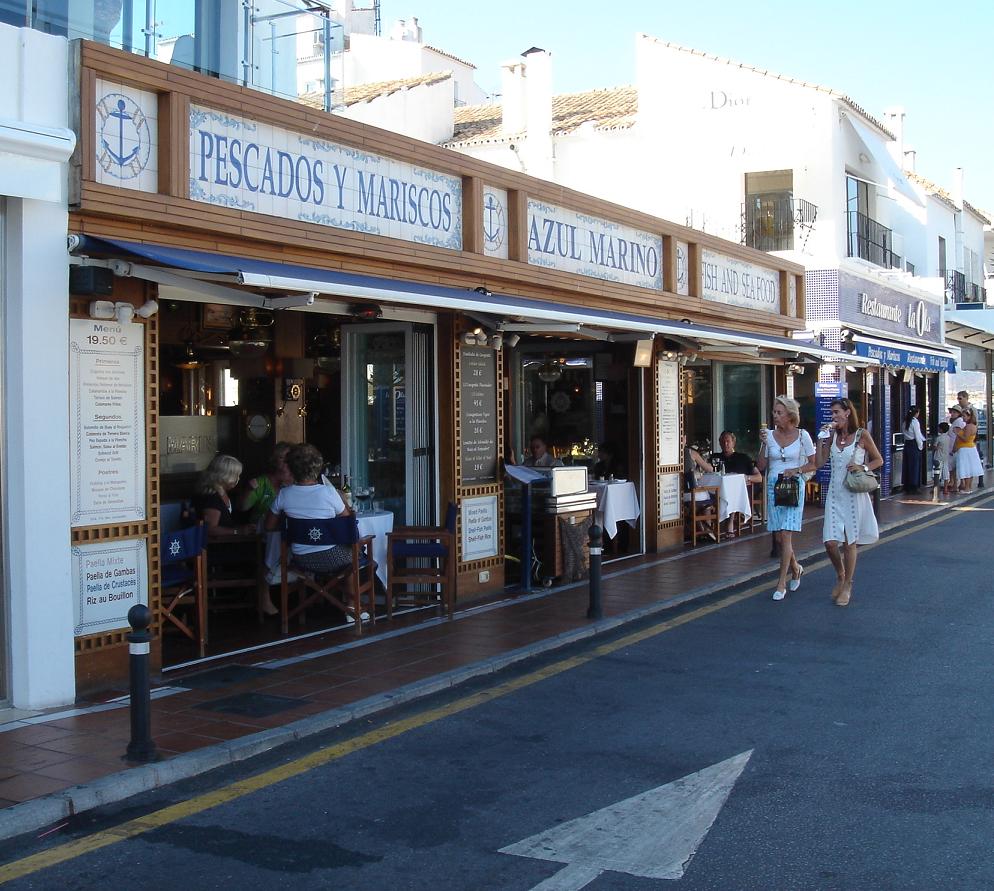 We are supposed to be heading fast into the biggest recession since the 1920's and yet I see no evidence of spending slowing.  As every generation passes, it becomes more affordable to travel to, and participate in, the rich playgrounds of Europe.  You don't need a yacht to blend in at Puerto Banús, but if you haven't got one, it helps if you have several tattoos and can chunder at top volume into the early hours, or simply pass out, drunk, on the front of some expensive clothes shop at 4am.
The world famous prostitutes of Puerto Banús draw similar class lines, with prices pitched accordingly, although at both price points there seems to be a massive over-supply problem that is being addressed by aggressive marketing tactics.  A Brazilian, and by this I mean a woman from Brazil, approached me, "You is beautiful" she whispered in my ear.  You are beautiful I corrected.  "Oh thank you!"  No, not at all what I meant, sorry, goodbye…
For the avoidance of doubt, I am pretty sure that the ladies that inadvertently strayed into my photo above are not prostitutes, nor chavs.  I strongly suspect they are part of the yacht owning classes, as they don't seem at all disturbed by the large white arrow pointing at them.
Behind, you will find Azul Marino, right on the harbour front and, therefore, one of the more expensive seafood places in Banús.  We called in for tea, which for southern readers means early dinner.
Having drunk only white and rosé so far, we conceded to Jeffo's demands for red wine and ordered a bottle of Muga Rioja 2004.  Apparently aged 24 months in oak, it tasted like plum juice squeezed into cold black tea.  But Jeffo likes tannic wines so another bottle was ordered, even at thirtysomething euro which is steep for such an easily forgotten wine.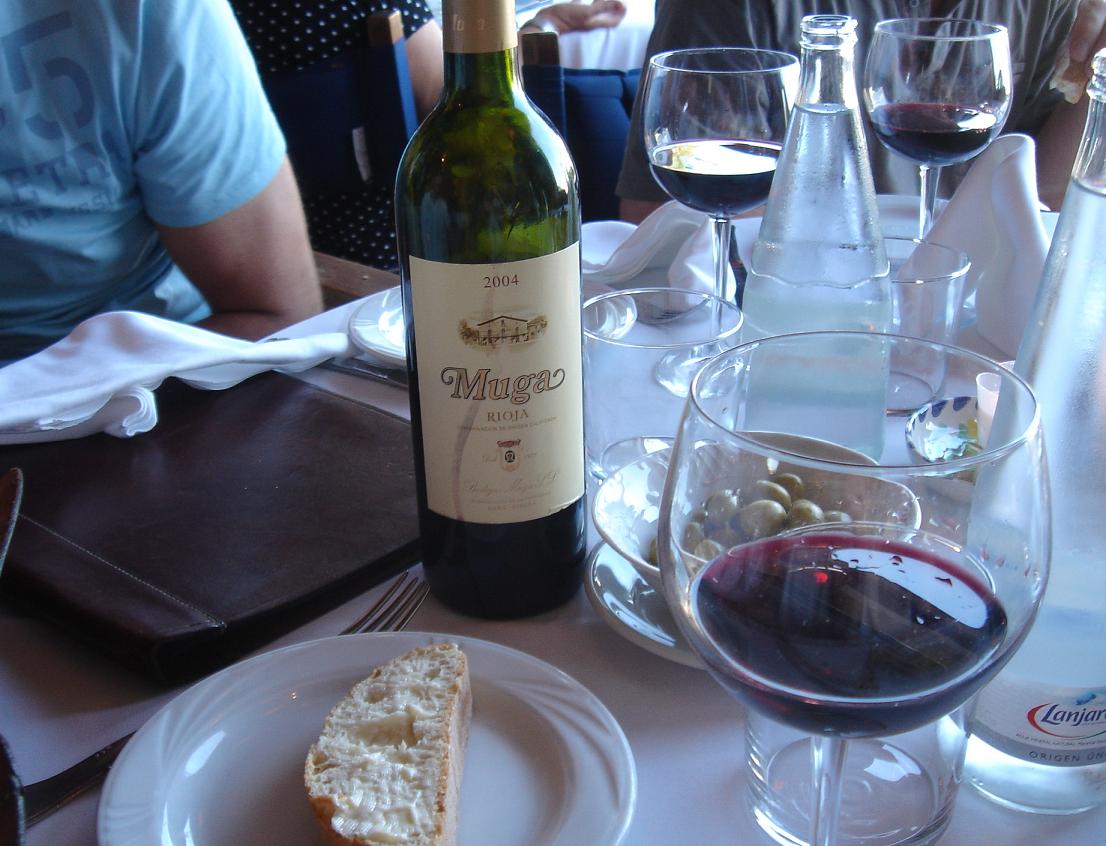 Eating from the very reasonably priced Menu Capitan, baby squid a la plancha was served with caramelised onions and turned out to be a dream.  Rabbit casserole to follow was possibly a little heavy for the warm weather, but a classic dish, all the same.  Three days into our trip, coffees all round were not, for once, accompanied by brandy, as the eyelids heavied.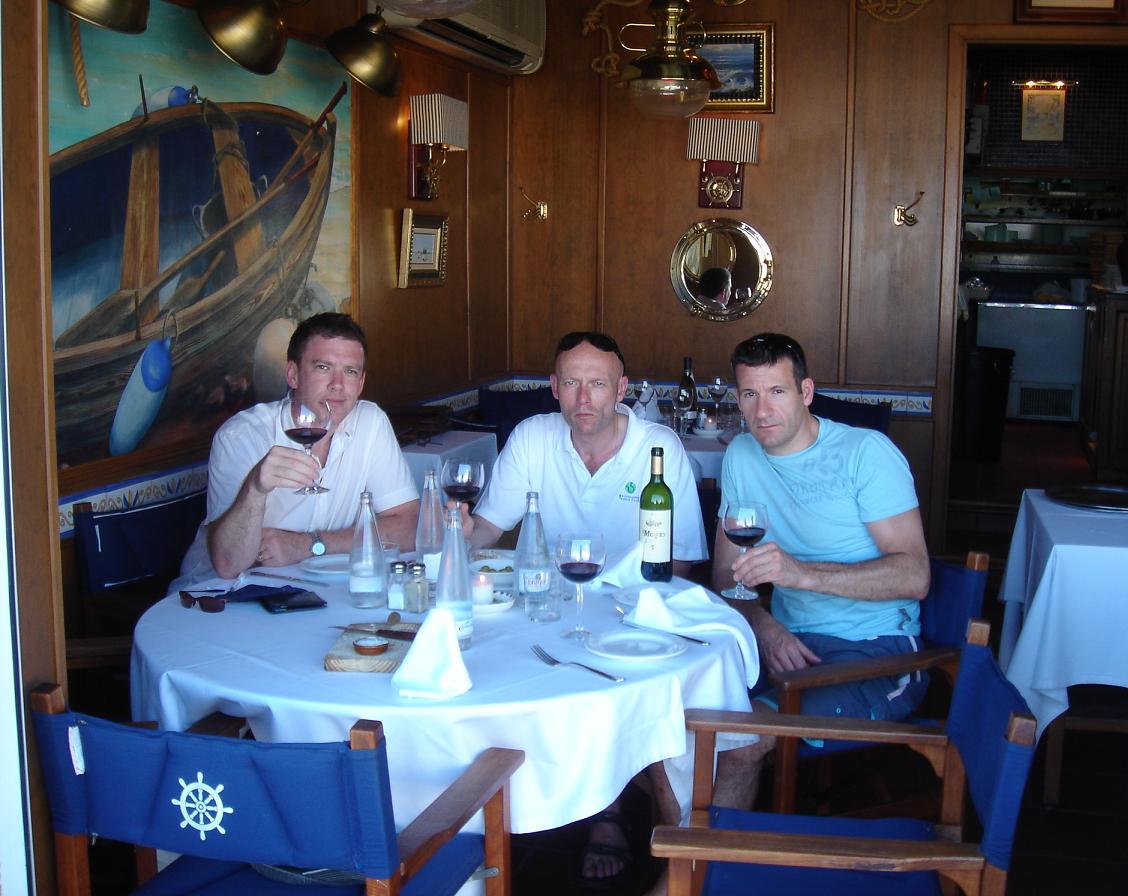 Me, Glenno and Jeffo (above from left) were clearly in the mood for a pre-evening snooze.
Azul Marino has a nice atmosphere that was totally spoilt by a sound system permanently stuck on a Phil Collins CD – I thought the French were the last defenders of this 1980's has-been, but it seems the Spanish have equally poor taste in music.  Before he sues me for defamation, I should point out to Phil that, I liked him a lot in Genesis, even when he "came out" from behind the drum kit.
If you can find a space for your yacht in the Banús marina, I would trot down to Azul Marino and give it a try.  For the record, in case you were wondering, I am not going to reveal whether I belong to the yacht owning, or chundering chav classes.  Make your own mind up.
Azul Marino, Muelle de Ribera 14, Puerto Banus.
T: +34 952 811 044
W: www.buenas-mesas.com/eng/azul-marino