It used to snow more often in the north of England.  One childhood memory of Cheadle Hulme in the 1970s, had us creating a roadblock from several snowballs as big as a medium sized Yeti monster, only to get caught by one of the parents.  It took so much more effort to deconstruct the abominable frozen white barrier without the adrenalin filled laughter that drove and inspired us through the construction phase.
On Easter Sunday 2008, we looked out of the window at 7am – whiteout – awesome….let's off to the hills for a walk!  I have one life rule on walking – I'll do anything as long as there is a pub at the end.  And so we found ourselves at Barley, Lancashire, and the Pendle Inn.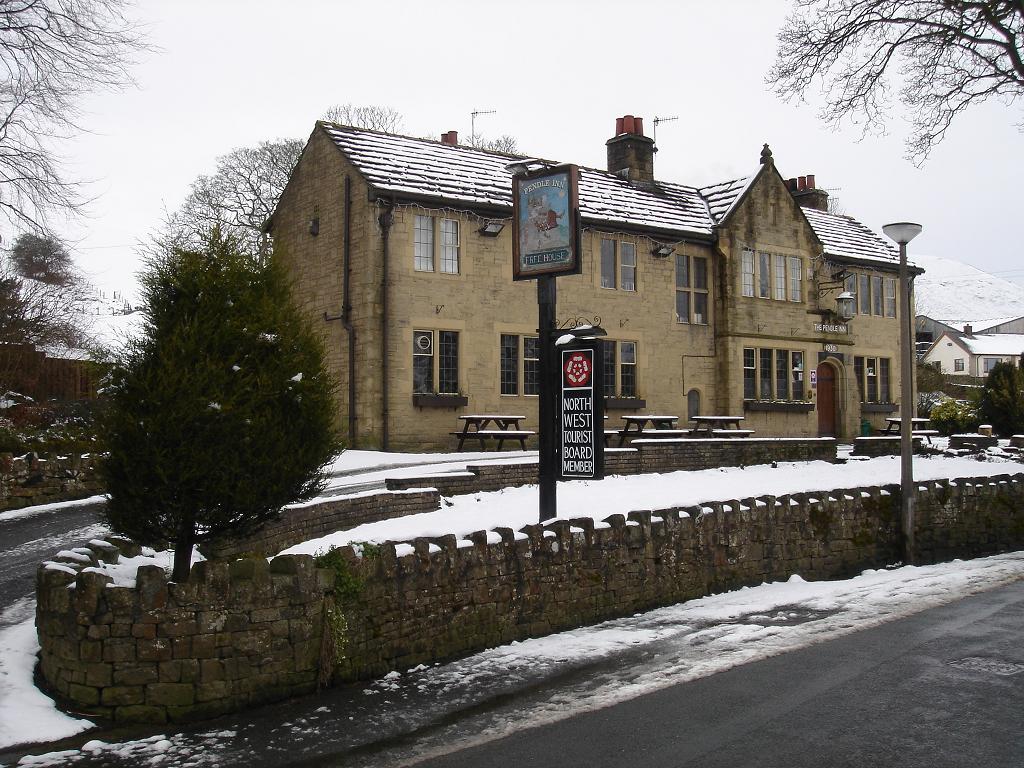 As you know, since I vowed to lose a bit of weight, I have to earn my meals, so we selected a modestly challenging 7 mile walk up Pendle Hill.  I nearly sprinted up the first steep climb and was rewarded with a stunning view.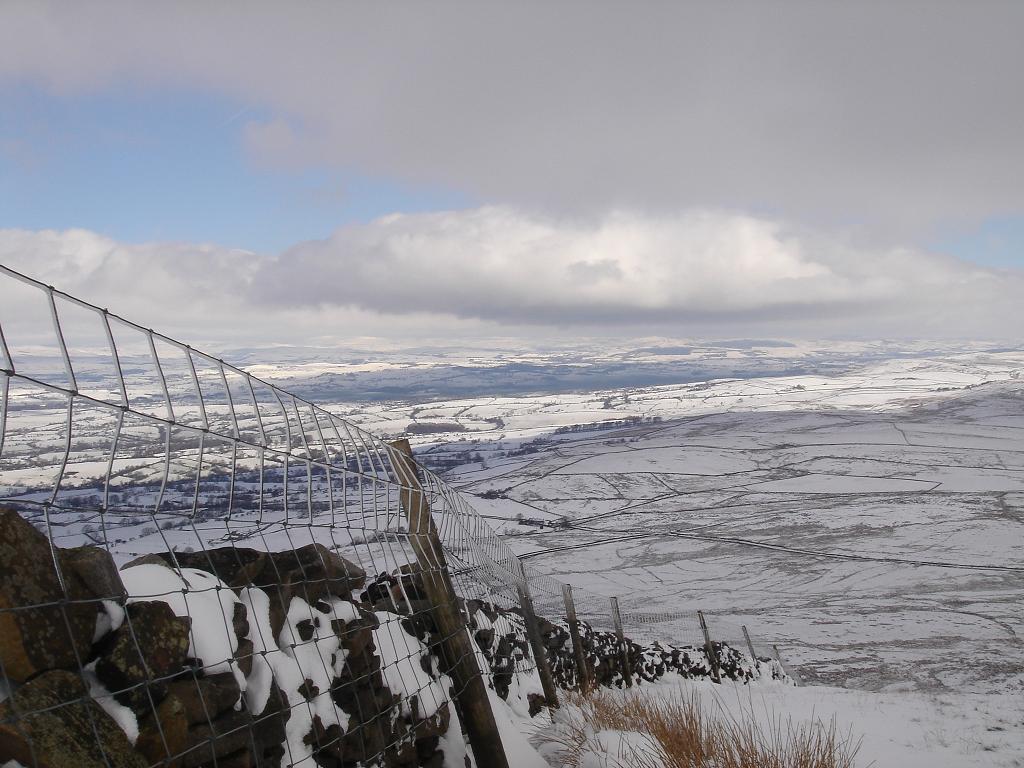 Fred was not quite as happy as me about the speed of the ascent.  It was probably an ill-chosen question to wonder whether she felt at home on a hill that, on All Hallows Eve, sees tourists by the coven pay homage to the Lancashire Witches.  I digested the snowball manfully, and we moved on.
The landscape at the top of the hill is quite lunar.  Pendle Hill is steep on most sides but the path across the top is more like a six-lane motorway than an alpine pass.  But the sun had come out and that makes for an exhilarating experience and we strode off with great gusto…….in the wrong direction.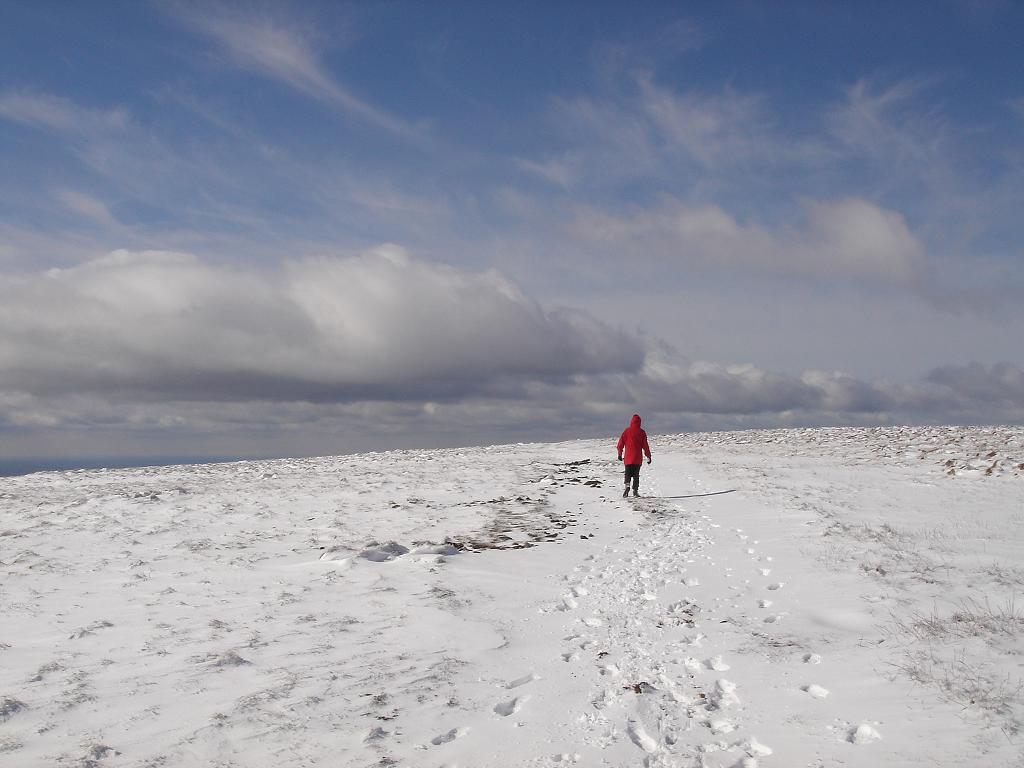 I am not known for my map reading skills and following footpaths 12″ deep in snow is a challenge for the hardiest orienteerist.  This was to be the first of many wrong turns that extended our walk by about 5 miles.  It got to the stage where I stopped admiring the scenery and started wondering where we might end up ordering a taxi from, to get back to Barley.
Eventually we found Ogden reservoirs and located our position on the map.  Pendle Inn was a mere mile away and I was Hank Marvin.*
I figured the extra miles entitled me to chuck the diet in the bin for the day, so I ordered a full fat chicken ham and mushroom pie with chips and veg.  With a couple of pints of Moorhouse's Pride of Pendle (4.1%) to warm the belly, this was as close to nirvana as you can get on a wintry day.  Although in a tourist area, the Pendle Inn is a proper local pub full of dogs and, well, locals.  The food is superb and traditional.  The beer is well kept and delicious.  There is a large conservatory and plenty of tables.  It would be churlish to criticise the wine list.
If you want to know more about pubs in Lancashire you should definitely check out The Southport Drinker which is an entertaining and informative weblog that reports from further afield too.
Pendle Inn, Barley, Burnley, Lancashire.  BB12 9JX.  T: 01282 614808  W: www.pendleinn.co.uk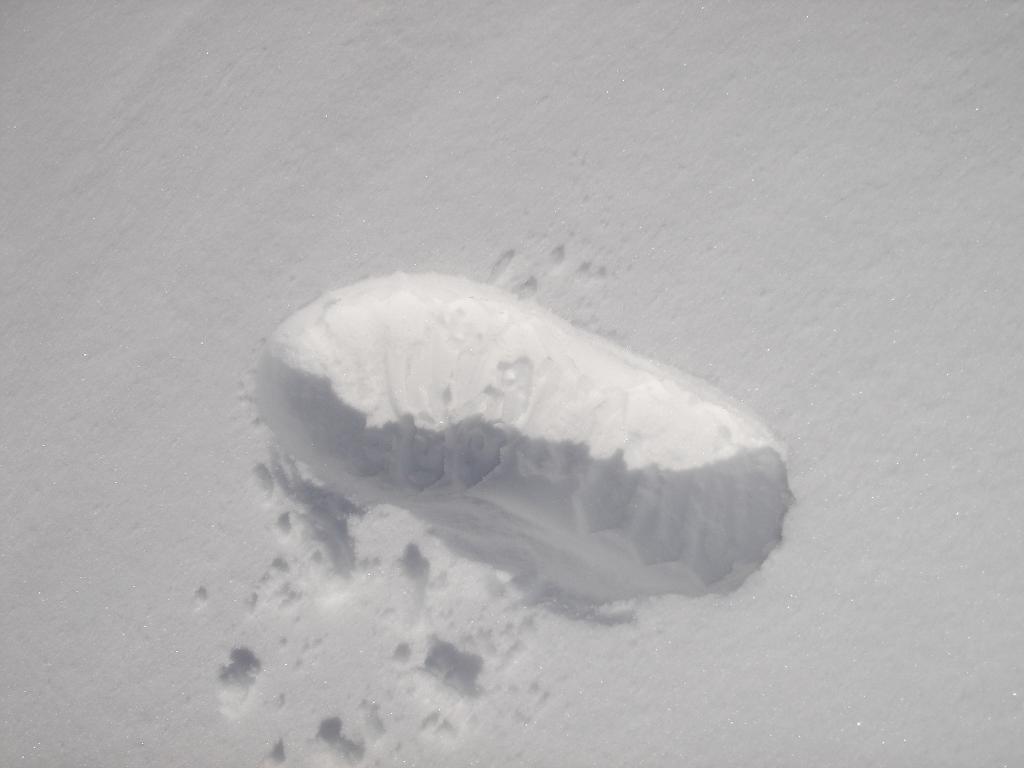 * Hank Marvin is often used round these parts as rhyming slang for "starving".