Cacophony.  That's the only word to describe the number and range of restaurants on Charlotte Street.  This bustling part of London seems to be the very epicentre of eating out.  I was dining with someone who knew the area and we agreed on Italian so he suggested Bertorelli's which I learnt had been founded by the Bertorelli family some 90 years ago.
So I was, frankly, bloody annoyed to find that Chez Gérard Group now owned the restaurant and had turned it into yet another one of their chains.  I've always considered Chez Gérard to be high on price and low on quality and you may remember my Livebait experience…  I find most chains, in any case, are a triumph of formula over inspiration, of laziness over perspiration.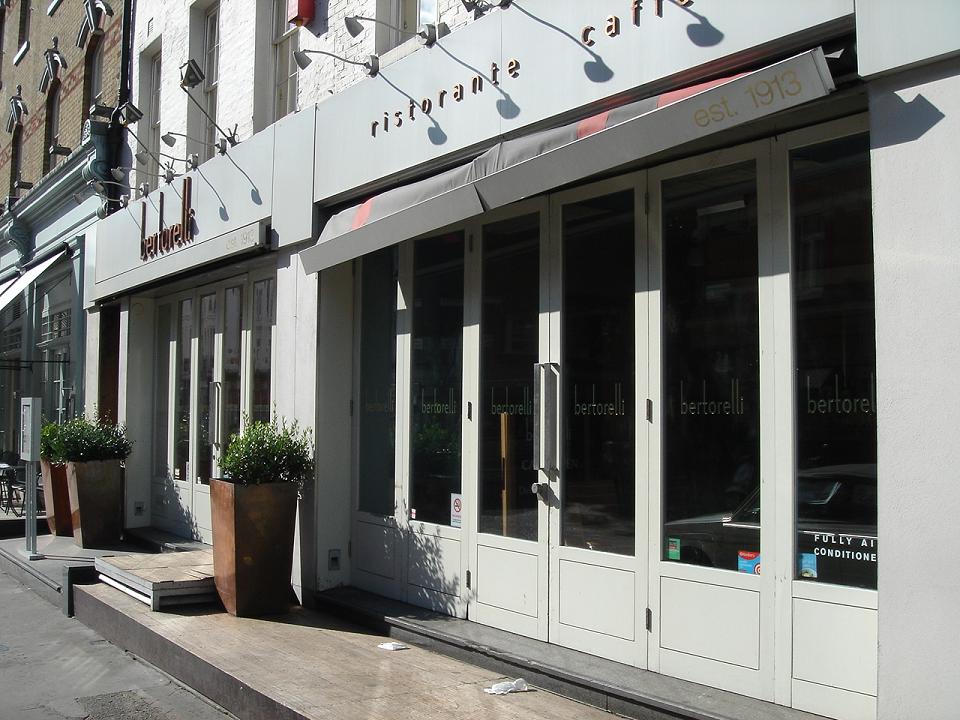 In fact the experience was good.  We tried a bottle of Bardolino Classico at £20.50.  Light, fruity and mostly plums.  Not exciting but competent and drinkable, especially with a decent liver, bacon and spinach ensemble.
But actually from the food, the star of the show was a simple chicken salad starter.  Service was attentive, polite and professional (but not very Italian).
The bill came in at over £100 for two (inc service) which looks expensive to a northern gnat's chuff* like me, but then for London that is pretty average.  And on this occasion they didn't ask me for two tips (which was nice).
I recommend that you try it next time you are in the area and form your own opinion.  Will I be going again?  Not for a while.  Not until I have tried the 34 other restos on Shallot Street.  You don't want me to review a place twice do you?
* Gnat's Chuffs are known to be tight in the UK.  So tight that their wallets are rarely seen in public, they steal coffee sachets and biscuits from hotel rooms and eat Morrison's Economy Jam on their Tesco Value bread.  I am a mere junior at this art but I have friends from whom I learn diligently 😉
Bertorelli.  19 Charlotte Street, Fitzrovia, London.  T:  020 7636 4174  F:  020 7467 8902 (I can't find a website which is annoying because I forgot to look at the wine list to see if the ubiquitous Sancerre Les Collinettes was up for grabs).