Everyone who knows me, knows that I think that Malbec is the best thing to come out of Argentina since news of Maradona's (drug abuse enforced) retirement.
On my last Malbec post, Denis requested a recommendation for a good starter bottle.  This prompted me to think about both ends of the value spectrum.
I have just tasted a superb Malbec from Asda (UK subsidiary of Wal-mart), at time of writing on special offer at just four of our English pounds (I think it's still less than a fiver at full price!).  The wine is Malbec Reserve, Famatina Valley 2004 which the label says is produced by some outfit called "La Riojana".  I guess it must be blended from a variety of sources then, but no harm in that if it tastes good.  And my hand of god says it does!
When I first opened the bottle I got a smell of marzipan (what?) bramble jelly and vanilla.  Fortunately the marzipan turned into gorgeous deepest darkest burnt brown sugar whilst the other flavours remained yet became more subtle.  Very moreish and yet I doubt you will wade your way through the full bottle alone as it's just slightly too sickly in volume.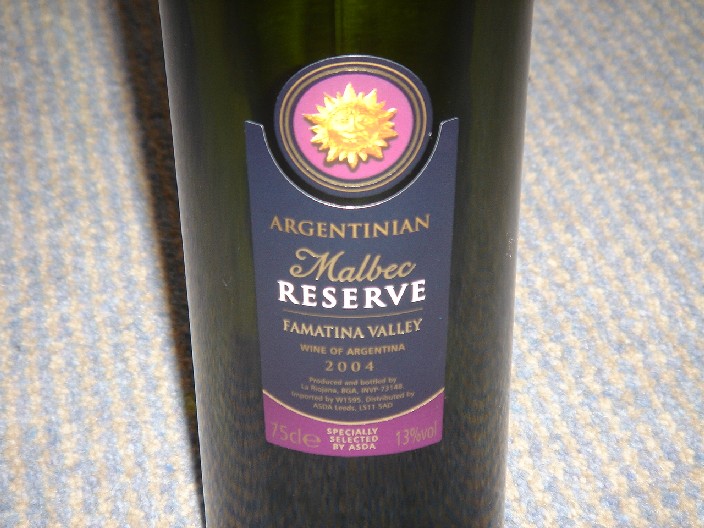 I am a massive fan of the Wine Society but I have to say that I prefer this Asda wine even to my beloved Faldeos Nevados 2005!  What a bargain and a thoroughly decent young chap of a wine.  Well done to the Asda wine buyers.
So what about the other end of the value spectrum you ask?  One night in Feb 2007 I paid a visit to the Gaucho Grill in Manchester.  You've heard me mention before that the Gaucho (branches in London and Manchester) serves the best steak I have ever eaten.  Quite good value too.
If only that could be said for their wines… I had my suspicions aroused when I saw a Susana Balbo Malbec (I bought for £11.95 from the Wine Society) on the Gaucho menu at £42!!!! That's an extortionate 250% mark up.
But that  is nothing compared to what they stiffed me for.  £72 for a bottle of Piedra Negra 2002 Mendoza Malbec Gran Reserva.   A quick Google search found Tanners Wines offering this at £18.60.  Now assuming that the Gaucho buys this only slightly cheaper than I can (say £15) then this amounts to a whopping 380% mark up.  How the hell is that justified?
Has anyone else spotted outrageous mark ups on restaurant wine?  I intend to blog on this subject in the future (as it happens I know a couple of good places with a sensible mark up policy – more anon).
For now, shame on you Gaucho.   You might get away with this outrageous policy in London but in Manchester we are on to you.
Oh for the record, I noted a full flavoured wine, spicy and very bitter at first, cherries, chocolate and cigar butts (and I must warn you that I am a reformed smoker so this is not a compliment).  All in all an average wine that was little better than the Asda Malbec and miles short of the Susana Balbo.  If you  really fancy a good steak, go to the Gaucho but stick to one of the cheapest wines – they are OK you know (although still well overpriced).