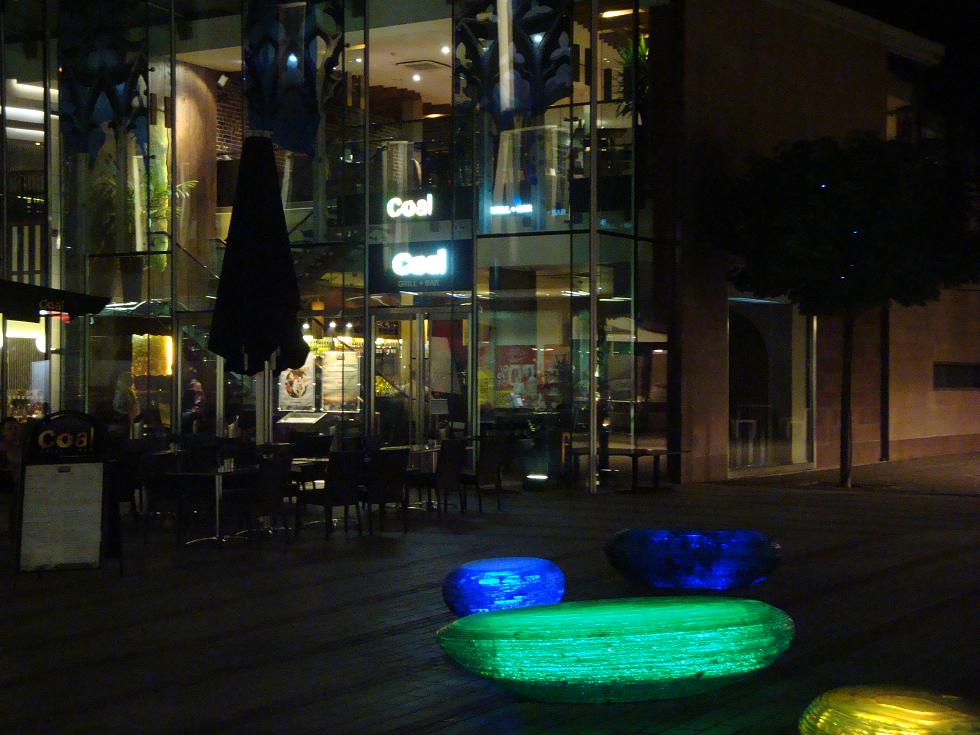 Compared to London in the best of times and the worst of times, Exeter city is beautiful, but only within a guillotine blade width of the cathedral. And in this tale of two cities, Exeter is almost uninhabited. But like most of provincial England, the restaurant scenery is so familiar and populous it could be Stockport, or Slough, Â Scunthorpe or Staines. Desperately avoiding chain store massacres, I chanced upon Coal, which was bucking the trend on a late summer Tuesday evening, in that trade was brisk and I didn't recognise the name from the FTSE brands directory.
The menu is sort of Argentinean/Mexican fusion; the wine list mainly predictable but with some interesting South Americans.
I ordered whitebait to start. The accompanying glass of Muscadet, let's be kind, tasted of vinegar. At least it was balsamic I suppose which, to its credit, added an acetic piquancy to the heavily breaded sprats which looked to have been perfectly frazzled in dirty engine oil. Hunger was a great sauce and not having eaten all day….I admit I polished them off, on the assumption I could always find some Milk of Magnesia later.
A decent 12oz T-bone steak with all the trimmings in London is likely to cost you about half a hundred quid. I got one with a large glass of Etchart Privado Malbec for less than a pony.
Two vinegar drenched, yet dry, mushrooms looked on enviously at 3 juicy grilled cherry tomatoes. I needed the steak knife to cut through the tip tray sized portion of congealed cow by-product (possibly Emmental) that concealed, or maybe more accurately, congealed the potatoes "gratin". Not good.
The beef that I had tentatively ordered medium-rare, but came rare (not complaining!), was the evening's highlight. Well seasoned and with a charcoal trellis pattern that revealed the smoky cattle-branded flavours that I love in a well cooked steak, the fillet bit was soft, juicy, mouth-watering. The sirloin which represented the remaining 85% of the steak was equally saliva-generating and both were washed down with a fine, fruity, and not overly tannic wine that was served at approximately the right temperature, which is a massive plus for me.
OK, so fans of Hawksmoor and Goodman are unlikely to drive down the A30 to try this otherwise average place. But if you do by chance find yourself in the West Country, you could do worse than explore your carnivorous tendencies here. It might not be a far, far better thing that you do, than you have ever done, and it is doubtful that you will get the best rest you have ever known. However, unlike Sydney Carton, there is a better than evens chance that only the meat will be guillotined, or hung.
Coal Grill & Bar
18, Bedford St
Princesshay Square
Exeter
EX1 1GJ
T: +44 1392 420070
W: www.coalgrillandbar.co.uk
Also (frustratingly) branches at Bristol, Basingstoke, Guildford, Wimbledon, and even bloody Sheffield! At least you can get good steak knives there.